Nuclear fusion: a triumph of human ingenuity
Clean, limitless energy is no longer a utopian fantasy.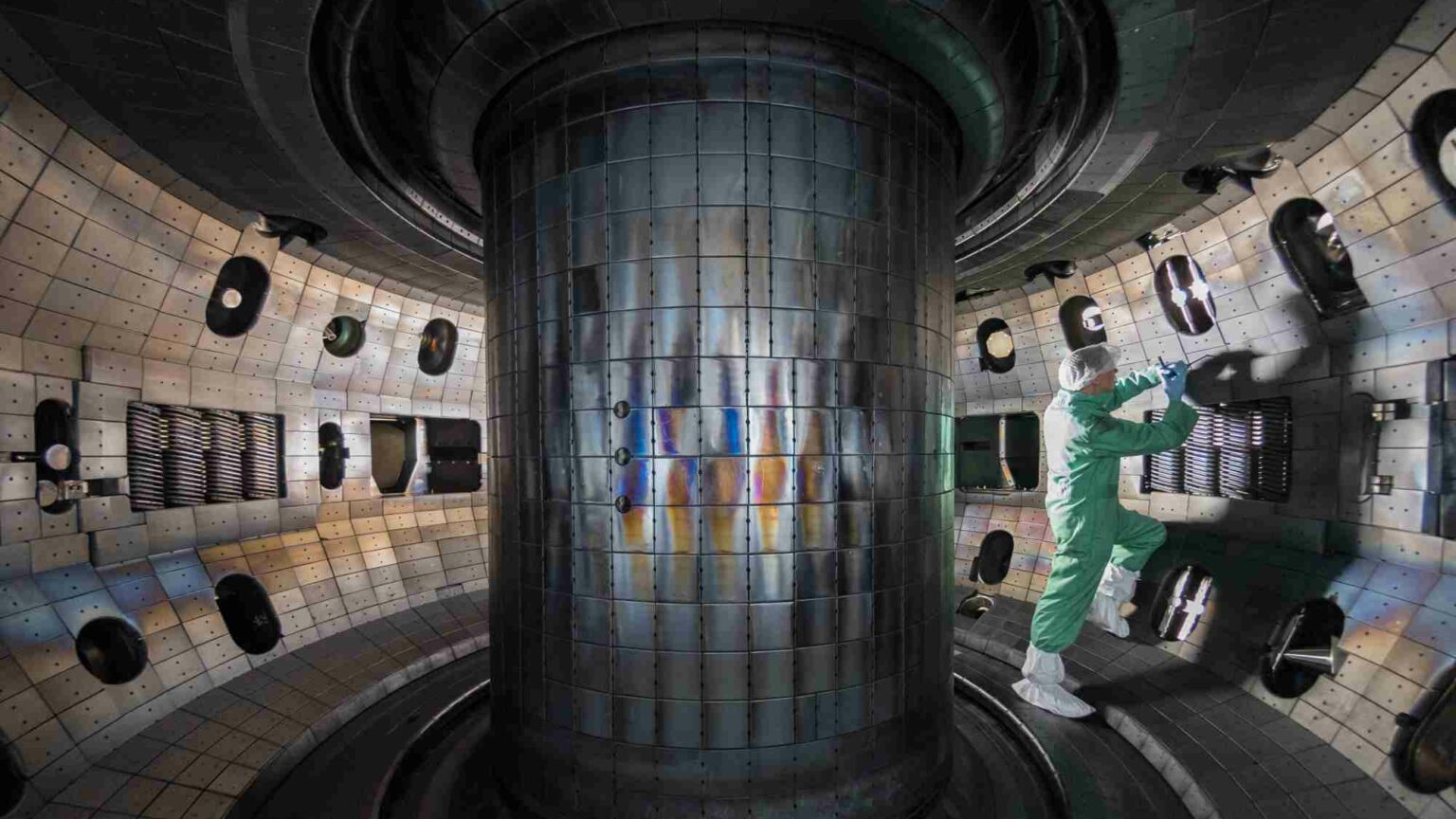 For five seconds in December 2021, scientists created the Sun on Earth. Using a device called the Joint European Torus (JET) at a facility in Oxfordshire, scientists produced the highest sustained nuclear-fusion energy ever recorded – 59 megajoules to be precise. This is roughly equivalent to the amount of energy required to boil 60 kettles' worth of water.
This feat, which was announced last week, is of huge significance. Okay, the numbers are small and 60 kettles' worth of water may not sound like something to get too excited about. But don't be fooled – creating nuclear fusion on Earth is a huge challenge. It requires heating gases to 150million degrees Celsius inside a vacuum, which forms a plasma 10 times hotter than the Sun's core. These temperatures can only be contained using intense magnetic fields. This is a jaw-dropping piece of engineering.
But there was something even more significant about those five seconds of nuclear fusion. They showed that this particular fuel mix – which engineers plan to use in commercial fusion power plants – produces sustained energy. This is a crucial step towards realising a future powered by nuclear fusion, which is a near-limitless energy source.
At the moment, nuclear power – which is responsible for about 10 per cent of the world's electricity – is generated by fission. This involves splitting atoms like uranium, and it creates radioactive waste that lasts thousands of years. Nuclear fusion, however, does not produce long-lasting nuclear waste, let alone the greenhouse gases generated by burning fossil fuels.
The Sun's energy is produced by nuclear fusion. Superheated hydrogen gases form a plasma that brings together hydrogen atoms. The combination of these to form helium releases a tremendous amount of energy. Many of the hydrogen atoms involved in the process are near limitless in supply, which means the energy produced is almost limitless, too.
So, in short, the promise of a limitless energy source on Earth that does not harm the environment is no longer a utopian dream. The successful JET experiment was a vital proof of concept. Indeed, JET is a miniature version of the International Thermonuclear Experimental Reactor (ITER), which is being constructed in France. The aim of ITER is to operate at 500 megawatts (for at least 400 seconds continuously). The $22 billion ITER, which is 80 per cent built, will begin experiments in 2025 or 2026.
Brett Rampal, director of nuclear innovation for the US-based Clean Air Task Force, offered an upbeat assessment of JET's five-second success: 'It proves that a lot of what ITER is planning to achieve is possible.'
This success will only speed up the race for commercial nuclear fusion. Concerns over climate change have already propelled a wave of interest in fusion research by private companies. The Wall Street Journal reports that around 35 firms globally are racing to be the first to create net-energy machines and to commercialise them by delivering electricity to the power grid. Fusion companies have raised at least $4.3 billion towards this effort, according to company announcements and data tracked by the Fusion Industry Association and the UK Atomic Energy Authority.
While sustained nuclear fusion as an energy supply is still some way off – the more optimistic estimates reckon 30 years – the five-second JET experiment is excellent news for two reasons.
First, it should rekindle our faith in humanity's capacity for problem-solving – this, after all, was a triumph of applied science. And second, it offers a much-needed rebuke to the pessimism that dominates Western culture. It shows that it is possible to control nature, understand it and use it consciously to improve life on Earth.
Of course, there are still huge obstacles that stand in the way of nuclear fusion as a viable power source. But this experiment showed that human ingenuity really can solve the problems facing the planet.
Picture by: Rswilcox, published under a creative-commons licence.
To enquire about republishing spiked's content, a right to reply or to request a correction, please contact the managing editor, Viv Regan.