Keir Starmer was heckled – so what?
Westminster has become hysterical in the face of this completely mundane incident.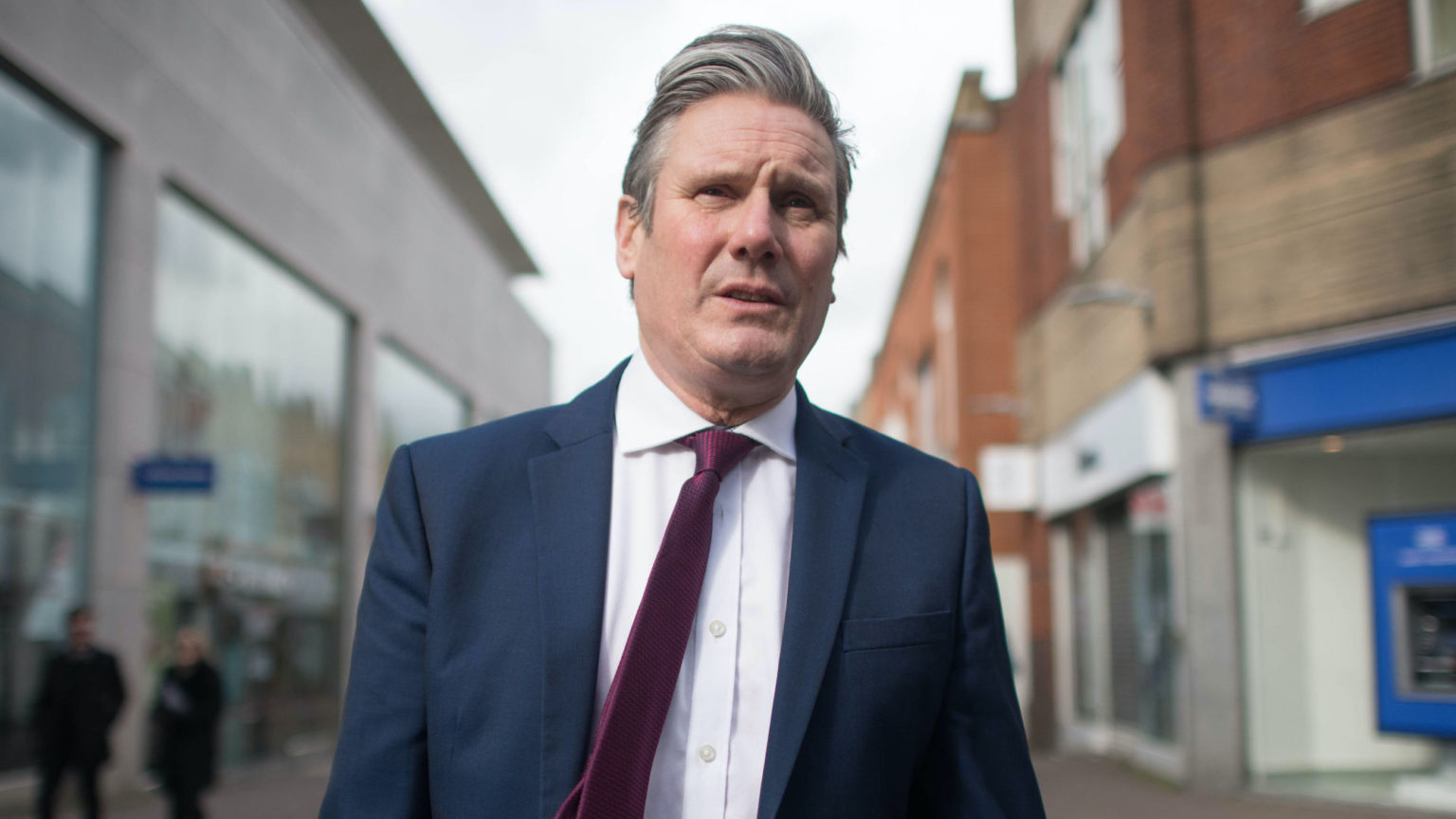 Anyone reading the commentary about what happened to Keir Starmer last night would probably come away thinking that the Labour leader was attacked, threatened and perhaps even suffered a near-death experience. Hyperventilating MPs and journalists say Sir Keir was the victim of a targeted assault by the far right – incited, encouraged and whipped up by the prime minister, no less.
So let's be clear about what actually happened to the Labour leader in Westminster yesterday. Keir Starmer was heckled. That is all. The hecklers were unpleasant and said some quite mad things. But as the video footage makes clear, no one so much as laid a finger on him, threw anything at him or came close to posing a physical threat.
Yet this entirely mundane incident has brought the Westminster village into a fit of hysteria. It has been exaggerated and distorted beyond all recognition.
The fact that one idiot heckler accused Starmer of being a 'paedophile protector' and shouted 'Jimmy Savile' has become a pretext for all kinds of trumped-up claims.
The Savile jibe has been linked to Boris Johnson's words at Prime Minister's Questions last week, when he claimed that Starmer, in his previous job as director of public prosecutions, spent most of his time 'prosecuting journalists and failing to prosecute Jimmy Savile'. A low blow and a questionable claim, for sure. But because of this, Johnson is accused of having 'enabled and actively encouraged' the so-called attack on Starmer.
Of course, to believe this you'd have to think the hecklers were there to protest against Starmer. In reality, they were in Westminster anyway, protesting against the vaccination programme. They had tried (miserably) to replicate Canada's 'freedom convoy', travelling the length of the UK to end up in the capital. If anything, this was a protest against Johnson's policies. One of the jibes thrown at Starmer was: 'Why haven't you been opposing the government?'
The anti-vaxxer protesters tend to hold a whole host of mad, conspiratorial beliefs. Some believe that the vaccine programme is breaking the law, that they can opt out of laws as they please under Magna Carta, and, of course, that the country is run by paedos. The idea that they were being whipped up, encouraged or incited by a prime minister they hate, and who imposed the very policies they are angry about, is absurd.
Even more strange have been the attempts by some in Westminster to compare — or at least link — the heckling incident to the killings of MPs David Amess and Jo Cox. 'I'll tell you why I'm angry, because not long ago a friend of mine was killed in his constituency surgery', wept LBC presenter Iain Dale. Starmer's heckling occured, politicians and journalists popped up to remind us, 'in the shadow of Jo Cox'.
It's worth recalling how surreal things were in the aftermath of Amess's death last October. MPs lined up to blame the stabbing of their colleague by a suspected Islamist on anonymous internet trolling and people generally being mean to politicians. Now this fatal knife attack has been shamelessly compared to little more than an angry heckle.
As the Cox and Amess cases show, there can be genuine threats posed to MPs from far-right and Islamist extremists alike. But these threats are forever being conflated with incidents that are merely unpleasant. When politicians have had nasty confrontations with protesters in the past – even those which constitute physical assault, from the eggings of John Prescott, Jeremy Corbyn and Ed Miliband to the traffic cone thrown at Iain Duncan Smith or the milkshaking of Nigel Farage – they at least had the good sense to recognise these were not on a par with being shot or stabbed.
The Starmer heckling incident arrives in a context where politicians are desperate to shield themselves from angry criticism. Authoritarian legislation has been proposed to limit noisy and annoying protests (the Policing Bill), to prosecute so-called trolls (the Online Safety Bill), and to disqualify irascible members of the public from standing for election (the Elections Bill). It is not hard to see how exaggerating the impact of last night's set-to will allow politicians to place more barriers between themselves and the public.
And of course, there is the partisan dimension to all this. Whenever Johnson makes an outré comment he is accused of stirring up hatred, unleashing dark forces or ginning up fascism in some way. The Savile comment was bad form, but we shouldn't forget that Johnson's critics have previously accused him of 'inciting violence' (again, without any evidence of said violence) for using the word 'humbug' in parliament. 'This is why words matter', screams the Mirror's front page today. It's as if we are always just one Johnson comment away from an uncontrollable outbreak of far-right violence.
Johnson's opponents, on the other hand, are free to demonise others as they see fit. Consider Keir Starmer's coinage 'the Johnson variant', an attempt to blame Johnson for a more transmissible strain of the coronavirus. Labour frontbencher David Lammy, who was heckled alongside Starmer yesterday, once accused pro-Brexit Tory MPs of being 'worse than Nazis' (surely, there can be no lower form of life?). Even the conspiratorial accusation that the establishment protects paedos has been made by Labour higher-ups in recent years with impunity.
Of course, it is impossible to say for sure whether the wild response to this Keir Starmer incident is a product of cynicism or just hysterical groupthink. Either way, there is something deeply unhealthy about it all.
Fraser Myers is deputy editor at spiked and host of the spiked podcast. Follow him on Twitter: @FraserMyers.
To enquire about republishing spiked's content, a right to reply or to request a correction, please contact the managing editor, Viv Regan.