The beauty and importance of Sidney Poitier
In everything he did, he refused to be defined by his skin colour.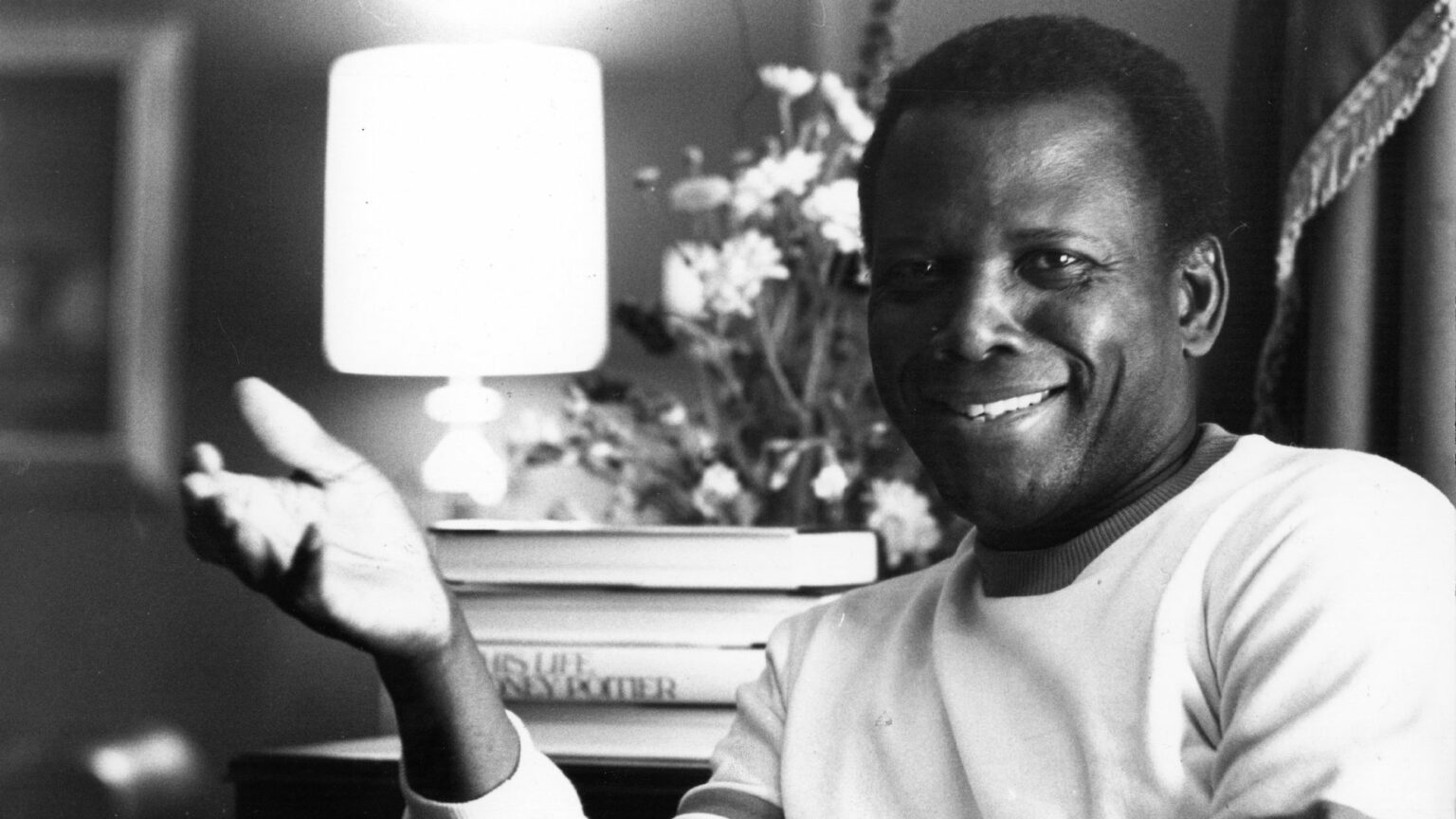 With the death of Sir Sidney Poitier at the age of 94, I am reminded that I'm not a great one for emoting on social media over the deaths of famous people. I call those who whip up sorrow on social media 'tearleaders' who enjoy getting together to competitively mourn dead celebrities. It can occasionally be amusing, though. When such people sought to self-immolate after the death of David Bowie, I spent five minutes waking up my husband and telling him about the demise of the artiste, and that people were weeping in the streets, and that it was like the Queen Mother dying all over again. He listened silently, then replied (due to the extreme speed and broad West Country accent of my voice), 'Well, it's nice they feel that way – but still, all that fuss about Dane Bowers!'.
In 2016 I wrote 'the Year of Tearleading is coming to a pleasing close' with the death, at a whopping 104 years, of the writer ER Braithwaite. Surely no one could get weepy about such a long life ending – let alone one so well-lived. Eustace Braithwaite was an extraordinary man. From Guyana, he was a pilot in the Royal Air Force during the war before earning a doctorate in physics. Failing to find work in his field he became a teacher at an East End school, publishing a novel in 1959 about his experience – this became To Sir, With Love, the 1967 film in which I first saw Sidney Poitier, on television in my teens.
Sidney Poitier! Without wanting to come over all Nabokovian, even his name seems to hold the promise of sex and sensuality. It makes me think of the Elizabethan Sir Philip Sidney and his sequence of 108 love sonnets. And it's impossible to say 'Poitier' without pouting. I said to my mum once, as a little girl, 'Mum, who do you think is the most handsome man in the world?', and she just sighed and said, 'That Sidney Poitier… I'd leave 'ome for 'im!'. The essential unfairness of life was brought home to me the day that I realised there were women in the world who were paid to kiss Sidney Poitier – he even married one of his co-stars, Joanna Shimkus, in 1976.
There were black entertainers before Poitier, with the minstrel and vaudeville traditions in which the performers were required to behave like light-hearted half-wits in order to deny the atrocities of slavery and its aftermath. This was shamefully not tackled until the 1960s. There was the great Paul Robeson, driven from Hollywood by his Communist sympathies. But Poitier was the first black actor so beautiful that it would have been senseless to cast him as anything but the leading man. He had the kind of magnetism that makes the weary cliché of the word 'star' when applied to a human make sense. As Martin Scorsese put it, 'He had a vocal precision and physical power and grace that at moments seemed almost supernatural'. Much has been made of his 'dignity', which I would suggest was a gravitas which came from knowing that he was doing something no black man had ever done before – and had better be done properly or the chance might not come knocking for others of his kind for a very long time.
He played men of science and of academia and of action. Virgil Tibbs, from In the Heat of the Night, was a detective and expert in forensic deduction who insisted on being called Mr Tibbs. In To Sir, With Love, Poitier tells his delinquent, mainly white, teenage pupils, 'You will show respect to me and each other at all times. You will address me as "Sir" or "Mr Thackeray". Boys will be addressed by their last names; the girls will be likewise addressed, and as "Miss".' He approached politics with the same stylish seriousness with which he approached his work. There's a 1963 photograph by Rowland Scherman of Poitier, Harry Belafonte (who met Poitier when they were young, struggling actors, so poor that they would often buy a single seat to a theatre, changing places between acts) and Charlton Heston standing beneath the statue of Abraham Lincoln before or after the civil-rights march on Washington. Like the rally's leader, Dr Martin Luther King, they are all dressed immaculately, as if attending a wedding or a funeral. This trio, with their differing politics (Belafonte politically to the left of Poitier, Heston to the right) are a depressing reflection of how degraded American politics has become since then by the rise of woke woo-woo, when every box must be correctly ticked or the correspondent declared evil and worthy of a witch-hunt.
It's not just the political culture, but also popular culture, that feels degraded. A few black actors such as Denzel Washington and Idris Elba may have broken through as leading men, but they have done so while the overriding ethos of black culture is that of the 'thug life' typified by gangster rap in the US and grime in the UK. Once more, racist whites can point and sneer at men who appear to have little interest in anything except drugs, guns and 'bitches' and have made the n-word so common again that over-privileged whites often make the mistake of thinking it perfectly okay to repeat it, thus getting a sweary scolding from black people when they do.
In the immaculately dressed Barack Obama (who called Poitier 'a singular talent who epitomised dignity and grace') we saw something of Sidney Poitier, especially in 2008, when he said: 'Brothers should pull up their pants… you are walking by your mother, your grandmother, your underwear is showing. What's wrong with that? Come on. There are some issues that we face, that you don't have to pass a law, but that doesn't mean folks can't have some sense and some respect for other people and, you know, some people might not want to see your underwear – I'm one of them.' We also see Poitier in today's black gentleman scholars, like Thomas Sowell and Trevor Phillips.
Where we do not see him is in the antics of Black Lives Matter and their pathetic white groupies – can we imagine the look on Poitier's face if he'd seen white students queueing up to lick the boots of understandably mocking young black men in the US last year? Joe Biden says that 'with unflinching grandeur and poise – his singular warmth, depth and stature on screen – Sidney helped open the hearts of millions and changed the way America saw itself'. But we can imagine Poitier's reaction to Biden's statement during the 2020 election, that 'if you have a problem figuring out whether you're for me or Trump, then you ain't black'.
Poitier was a man of immense self-possession, and at a press conference in 1968 he finally snapped: 'You could ask me many questions about many positive and wonderful things that are happening in this country, but we gather here to pay court to sensationalism. We gather here to pay court to negativism… you ask me one-dimensional questions that fall continually within the "negro-ness" of my life… I am artist, man, American, contemporary, I am an awful lot of things so I wish you would pay me the respect due and not simply ask me about those things.' At a time when the segregation and fetishisation of race is being pushed as a radical act, we have lost a shining example of the fact that the colour of our skin is one of the least interesting aspects of our fascinating humanity.
Julie Burchill is a spiked columnist. Her book, Welcome To The Woke Trials: How #Identity Killed Progressive Politics, is published Academica Press.
To enquire about republishing spiked's content, a right to reply or to request a correction, please contact the managing editor, Viv Regan.