Mario Draghi: Italy's king without a crown
With the uncritical support of the media and the EU, he is now odds on to become Italy's next president.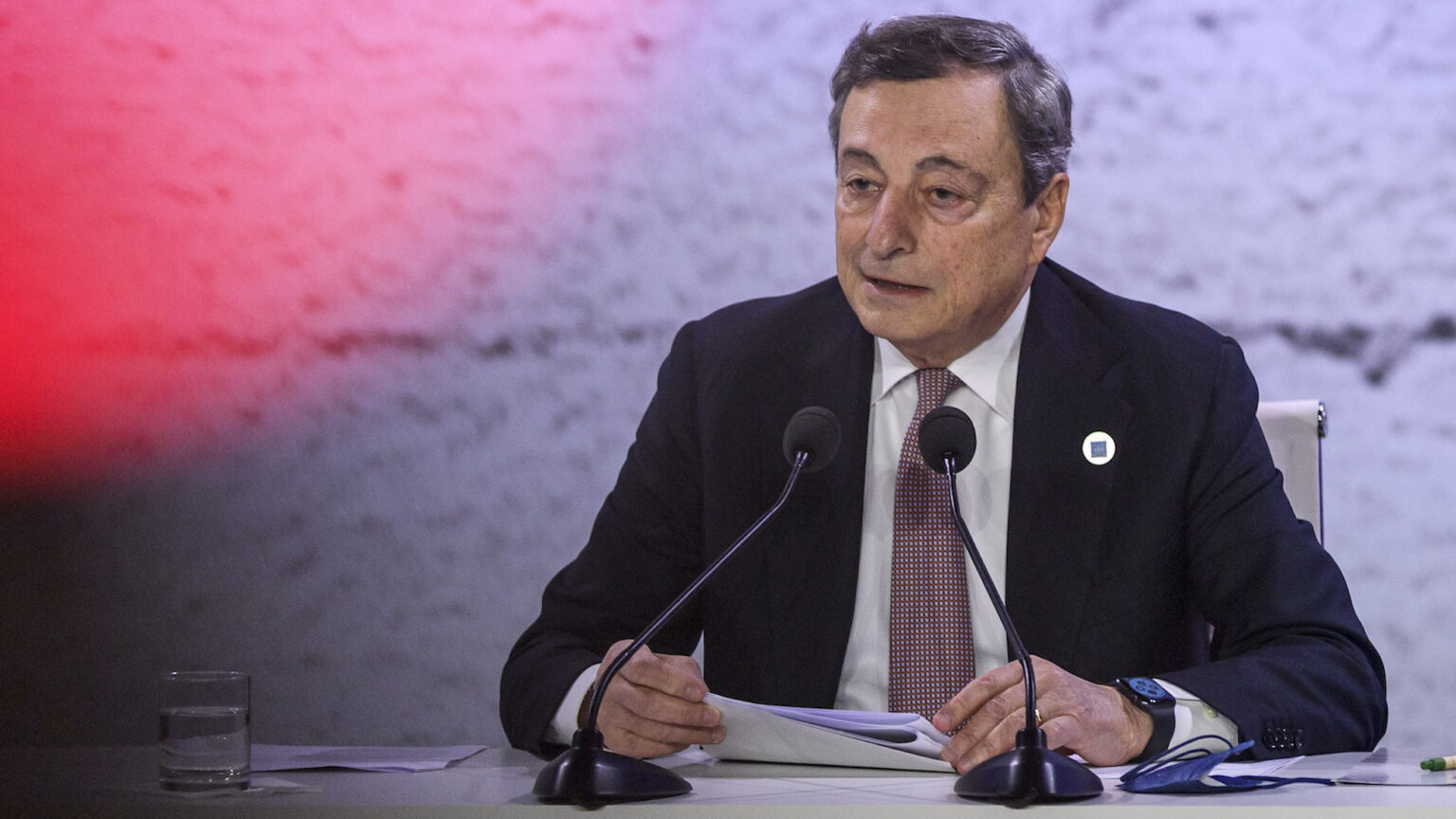 The Italian parliament will convene in January to elect Italy's next president. Even though Italy is a parliamentary and not a presidential republic, the presidency is highly coveted by most grandee politicians. It is traditionally regarded as the ultimate prize in any political career. And it is also becoming more and more crucial to Italian politics, as the clout of the elected parties in parliament starts to wane.
The odds-on favourite to succeed current president Sergio Mattarella is Mario Draghi – the current prime minister, former president of the European Central Bank and former chief of the Bank of Italy.
Most party leaders support his appointment, but a Draghi presidency is by no means a certainty. As he is prime minister, Draghi would have to resign before he could become president. This would trigger an early election, which most of Italy's current MPs are keen to avoid.
Many among the centre-left Democratic Party and the populist Five Star Movement could lose their seats to centre-right parties. Moreover, parliament is set to be downsized at the next election. Due to reforms voted in by a referendum last year, the Senate will have 200 senators instead of 315, and the Chamber of Deputies will move from 630 members to 400. So an early return to the polls appears unlikely, as a considerable number of MPs stand to lose their seats, their salaries and their perks whichever way the voters swing.
This all works against Draghi. And yet the pressure to make him president is still huge.
All of the country's leading newspapers are rooting for him. The GEDI Group, which publishes centre-left titles La Repubblica and La Stampa, has been lavishing praise on him since he formed his government. The (supposedly) more middle-of-the-road Corriere della Sera has done the same. Their reasoning is that Draghi is Italy's last chance at reform. They say that without him the country would be lost. Of course, no one individual can actually change a country's long-term trajectory in such a short period (Draghi has only been running Italy since February 2021). But the mainstream media have been trying to make Italians believe it is possible.
Admittedly, Draghi and his government can take credit for a speedy and effective vaccine rollout, having sorted out the mess former PM Giuseppe Conte left behind. But they have also limited Italians' civil liberties, particularly the freedom to protest. Recently, police dispersed hardcore protesters in Trieste's docks with water cannons.
Whatever Draghi's government does, he seems to be unassailable in the press. When in September the government mandated that all Italians must have a Covid 'green pass' (vaccine passport) to keep their jobs, commentators were united in support. Nobody in the mainstream media acknowledged that this went against the first article of the Italian Constitution, which states that Italy is founded on the freedom to work. And when China and Russia shunned Draghi's G20 conference on Afghanistan, Corriere della Sera framed this as a victory, claiming that he had put 'multilateralism' back on track.
Fellow politicians are promoting Draghi, too. Former PM Matteo Renzi has taken credit for masterminding Draghi's ascent to Palazzo Chigi – Italy's Downing Street. He says that Draghi is the only worthy candidate for Il Quirinale (the president's residence). Minister of economic development Giancarlo Giorgetti, who is the League's number two and Draghi's closest ally in government, went so far as to suggest that President Mattarella should remain in place for another year, which would allow Draghi to see out the end of this parliament as PM and then move straight to the Quirinale. Even Giorgia Meloni, leader of the right-wing Brothers of Italy, wants Draghi to become president, despite not being part of his parliamentary coalition. Then again, Meloni may find a snap election appealing, as her party would be expected to win it.
The European Union also sees Draghi as its darling. He was, after all, the man who fought tooth and nail to save the euro in 2011. Leading Brussels bureaucrats and the EU's most powerful countries, France and Germany, have been lavishing him with praise recently. What's more, Italy, whose public debt is equivalent to more than 134 per cent of GDP, owes its financial stability to the EU's quantitative-easing programme, which was devised by Draghi. As president, he would be seen as a safe pair of hands for Italy's creditors just as Italy's finances are tied even more tightly to Europe's. Italy is set to receive the largest share of the EU's Next Generation fund, set up to help member states recover after the pandemic.
It used to be said that industrialist Gianni Agnelli was Italy's king without a crown. His company, Fiat, was accused of bending institutions to its will. Now Draghi looks set to inherit his mantle.
The road to the Quirinale could still be long and bumpy – you never know what the Italian parliament will do next. But Draghi's power shows no sign of abating.
Daniele Meloni is a journalist and speech writer who worked for the president of Lombardy. His book on Boris Johnson and the new 'Global Britain' will be released this month in Italy.
Picture by: Getty.
To enquire about republishing spiked's content, a right to reply or to request a correction, please contact the managing editor, Viv Regan.