Women are not just 'bodies with vaginas'
Trans-inclusive language is dehumanising women.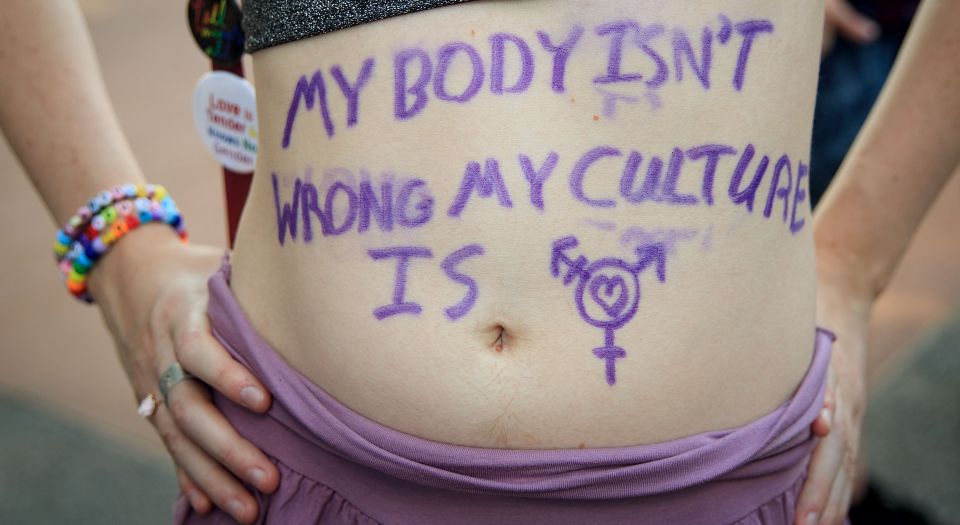 On Friday I read a headline so enraging it made me want to whip out my bloodied tampon and lob it at the editor of the publication it appeared in. The offending title ran, 'Historically, the anatomy and physiology of bodies with vaginas have been neglected'. It was from the cover of the world-renowned medical journal, the Lancet.
The dehumanising description of women as 'bodies with vaginas' elicited anger across social media – from both bodies with vaginas and those without. But in an era when identity trumps biology, the word 'woman' is treated as if it were offensive, and the Lancet is not alone in trying to find politically correct alternatives.
Indeed, the Lancet's 'bodies with vaginas' frontpage was quoting a review of an exhibition at the uber-woke Vagina Museum in London. The Vagina Museum describes its mission as to 'erase the stigma around the body and gynaecological anatomy' and to 'challenge heteronormative and cisnormative behaviour'. It is run by young women who genuinely seem to believe that 'transmen are men' and that, as such, some men menstruate.
The push to break the link between biological reality and identity is catching on. The British Academy is currently advertising an event to discuss smashing the shame around menstruation. At the same time, it is upholding the new taboo about gender's relationship to biology – and so, predictably, the forbidden words 'woman', 'female' and 'girl' do not appear in the promotional text.
Similarly, earlier this year, midwives in Brighton were advised to ditch the words 'mother' in favour of 'birthing parent', and 'breastfeeding' in favour of 'chestfeeding'. This was apparently an attempt to be inclusive towards those who give birth but don't identify as women. Are we allowed to ask why females who identify as men are apparently triggered by the words 'mother' and 'breast', but not by giving birth – a definitively female experience?
Nevertheless, it seems those who hold the keys to our institutions are determined that prostate-owners and vagina-holders everywhere should submit to this new language. These gatekeepers don't seem remotely concerned about the consequences of the 'trans-inclusive' language they are pushing. A refusal to define men and women has led to absurdities, from the housing of rapists who identify as women in female-only prisons to the end of single-sex hospital wards.
Even politicians fear offending our woke overlords by saying the w-word. Labour leader Sir Keir Starmer's startling admission that it 'was wrong' for Rosie Duffield MP to say that only women have cervixes shows that the truth about women's biology is now unspeakable.
Since 2018, Kellie-Jay Keen, founder of campaign group Standing for Women, has been fighting back against the erasure of the word woman with the simple yet apparently radical act of repeating the dictionary definition. Keen's billboards, t-shirts and adverts – bearing the phrase, 'Woman, wʊmən, noun, adult human female' – have popped up across the globe.
'One only has to take a cursory glance at the history books or a dystopian novel to see that a fundamental tool of the destruction of rights is language', Keen tells me. 'I'm not surprised to see gutless, dishonest politicians engage in mental gymnastics to avoid saying what they really know: that only adult human females are women.'
Keen's now well-known slogan was first placed outside the Labour Party conference in Liverpool in 2018. The outcry that followed led former Liverpool mayor Joe Anderson to pledge to 'remove stickers and work with the police to identify those responsible'. The following week, Liverpool council voted unanimously in favour of a motion declaring that 'trans women are women' to show their collective disgust at the dictionary. Nonetheless, the truth remains – women are adult human females.
Not that the truth has much bearing on the trans debate. Women wearing t-shirts designed by Keen have been kicked out of political parties, denied service in bars and harassed by transgender activists. But they have also sparked a national debate about whether 'woman' should refer to biological sex or a sense of gender identity.
However, it is difficult not to wonder if something deeper is at play in the insistence that anyone can be male or female. Perhaps this wresting of mind from body, and the disconnection of identities from biological reality, underscores a new phase of consumer capitalism. After all, wombs can now be rented from surrogates and the self has become a lucrative new product, to be made and remade according to customer wishes.
Maybe it is no great surprise, then, that women are being erased as a group. And in their place, we have mere individuals who perform a set of biological functions. The fleshy, messy reality of being human is increasingly viewed as something to be discarded – as a barrier to realising one's 'authentic' identity. The reduction of women to mere 'bodies with vaginas' is more than just a product of sexism – it is a product of a world in which the self and our identities have been commodified.
Jo Bartosch is a journalist campaigning for the rights of women and girls.
To enquire about republishing spiked's content, a right to reply or to request a correction, please contact the managing editor, Viv Regan.