Europe's shameful campaign against AstraZeneca
More and more evidence shows that the Oxford jab is safe and effective. The smears of European leaders will cost lives.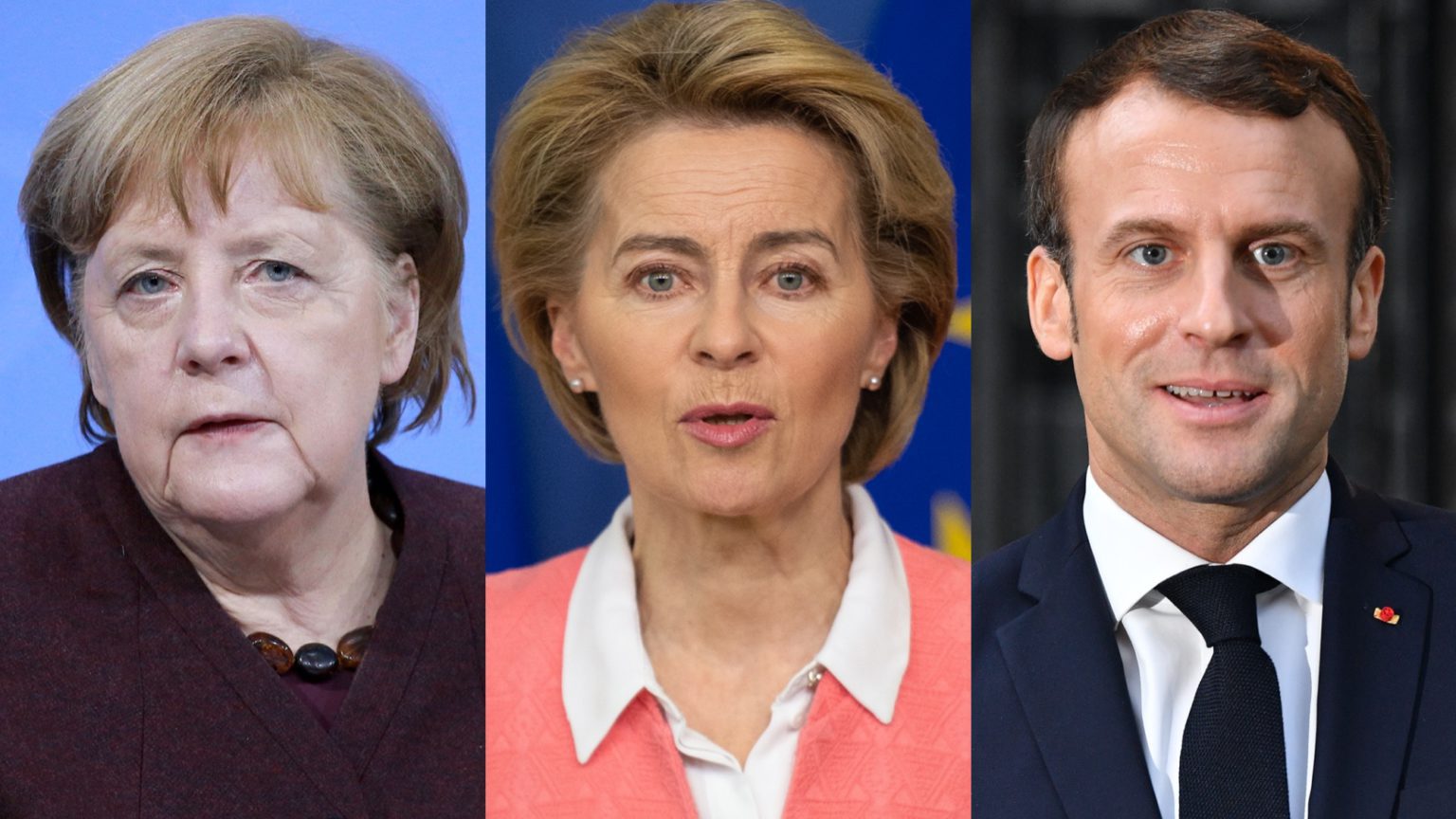 Imagine the outcry if a 'populist' world leader went around saying that Covid vaccines don't work and are dangerous. They would be held responsible for thousands of needless deaths. The outrage, in the press and on social media, would be deafening and relentless.
Yet this is effectively what Europe's leaders once said about the Oxford / AstraZeneca vaccine. They had no evidence for these claims. And yet they have not been held accountable for them.
At the end of January, just hours before the European Medicines Agency approved the AstraZeneca vaccine for all adults in the EU, French president Emmanuel Macron claimed the jab was 'quasi-ineffective' for the elderly groups most in need of protection. 'It doesn't work the way we were expecting it to', he claimed. Around the same time, the German government, via a leak to financial newspaper Handelsblatt, tried to portray the vaccine as just six per cent effective for those aged over 65. Chancellor Angela Merkel, aged 66, then publicly announced she would not take it.
As has become clearer with every passing day, the AstraZeneca vaccine is in fact extremely effective at preventing severe illness – and is, so far at least, offering excellent protection against each new Covid variant. Both Macron and Merkel eventually reversed their stance, but the seeds of doubt had already been sown.
European governments also cast doubt on the safety of the AstraZeneca vaccine. The appearance of blood clots in some vaccinated people led to numerous countries suspending the use of AstraZeneca.
The EMA made repeated assurances that the jab was safe. But, as one Italian health official admitted, Italy's suspension of the jab was 'political', not scientific. Italy was following decisions made in France and Germany. The Polish prime minister's chief of staff warned that AstraZeneca had become the victim of a 'planned disinformation campaign'.
It was clear at the time that the blood-clotting issue had been overhyped – and there was no proof these clots had been caused by the vaccine. In recent weeks, a major study, looking at data from more than 1.3million patients, found that there was no difference between the rate of blood clotting in those who had taken the AstraZeneca vaccine and those who had taken the EU's preferred Pfizer / BioNTech jab. What's more, it appears that you are at far greater risk of developing a blood clot if you refuse either jab and develop Covid-19.
So what was behind the AstraZeneca bashing?
Firstly, the EU was at loggerheads with AstraZeneca over contract and supply issues. The EU hugely botched its vaccine-procurement process, and this was most apparent when it came to AstraZeneca.
The EU made a key strategic error: it prioritised getting the lowest price and avoiding liability. The EU tried to knock down AstraZeneca's price, even though it was already being sold at cost, for no profit. In contrast, the UK sought far more vaccines than it needed and didn't worry about the cost. It also ensured that its contract with AstraZeneca prioritised the UK.
When the deals were wrapped up, the EU could proudly boast that it had saved millions of euros. But this was a false economy. The delays caused by the extra negotiations would come at a cost – of billions of euros in lost economic output, thanks to longer lockdowns, and of course the many additional lives lost to the coronavirus.
Secondly, there was Brexit. Brexit Britain had not only developed a leading vaccine, but was also using it to vaccinate Brits at astonishing speed. The EU simply could not tolerate being shown up by a recently departed member state. A month into the EU's vaccination rollout and the best EU officials were able to say was that it was doing better than Africa. European Commission president Ursula von der Leyen attacked the whole UK vaccination approach for, as she saw it, compromising 'safety and efficacy' for speed.
This smear campaign against AstraZeneca has done real damage in Europe, particularly in France where people were already sceptical of vaccines. And European leaders' distortions have also reverberated around the world. This has been particularly damaging in the developing world where the pandemic is still raging. European leaders trashed the safety and reliability of the one vaccine that is affordable to the world's poorest nations.
This could cast a long shadow, far beyond this crisis. What pharmaceutical company would ever bother to produce a vaccine at cost, forgoing billions in profit, knowing the thanks it won't get from world leaders? Nothing like the opprobrium directed at AstraZeneca has been aimed at any of the for-profit vaccines – not even the ones that failed to make it through clinical trials or the approval process.
All in all, this has been a sordid episode for European leaders. They cannot be allowed to get away with it.
Fraser Myers is assistant editor at spiked and host of the spiked podcast. Follow him on Twitter: @FraserMyers.
To enquire about republishing spiked's content, a right to reply or to request a correction, please contact the managing editor, Viv Regan.