The hollowness of Scottish independence
The SNP doesn't trust Scottish people to have private conversations, let alone run their own affairs.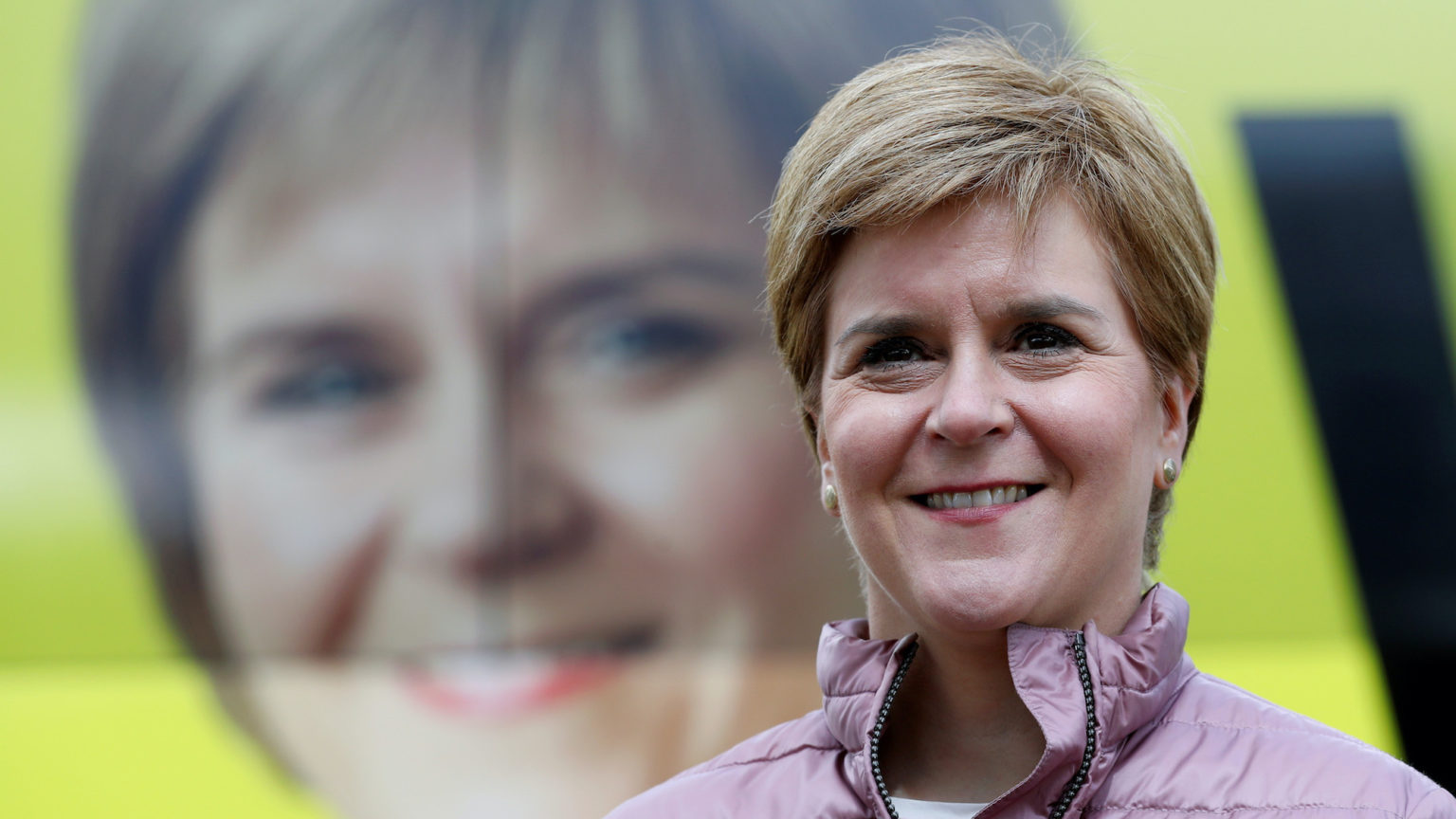 There is no doubt that the Scottish National Party will win this Thursday's Scottish Parliament elections. It will probably regain the overall majority it lost in 2016. But even if it doesn't, the SNP will still form the next government of Scotland.
It is a remarkable achievement in its own terms. Come Friday, this one-time party of cranks, having been confined to the margins of Scottish politics for much of its 80-odd years of existence, will have won its fourth successive parliamentary election. Its opponents are nowhere. Labour, the dominant force from the 1970s until the 2000s, is still flatlining, despite the best efforts of its spritely new leader Anas Sarwar. And the Tories seem unable to make much headway after the gains of 2016. At the moment the SNP's preeminent position in Scottish political life looks unassailable.
The SNP's electoral success is even more remarkable when one considers how dismal its governance has been, especially in those key areas of devolved policymaking: education and health. It has overseen a seemingly inexorable fall in standards of literacy and numeracy, with Scotland now the worst performing educationally of the home nations, continuing to slip down the PISA rankings. And the attainment gap between well-off and poor pupils, which it had promised to tackle in 2016, remains as wide as it has ever been. The SNP has also managed the decline of 'our NHS', as it insists on calling it, spending far less on it than even the parsimonious Tories down south, and allowing waiting-times targets to be repeatedly missed. And as reported in The Economist, Scotland's drug-death rate per person is now three times higher than the rest of the UK, and 10 times that of Europe.
Even its pandemic response has not been the success the SNP's cheerleaders would have you believe. Yes, first minister Nicola Sturgeon has proven a more convincing communicator than prime minister Boris Johnson – largely because the authoritarian regulation of everyday life sits more easily with the nanny-statish instincts of Sturgeon than it does with the liberal-ish sentiments of Johnson. But the SNP was still guilty of making the same egregious mistakes as the Tories in England, in particular the shameful decision to discharge vulnerable elderly people from hospitals into care homes at the peak of the first wave.
Not that this poor record in government will hurt the SNP. It continues to do what it has always done since it came to power in 2007 — play the blame game. Its failings are always those of hated 'Westminster'; its struggles the product of its membership of the Union; its failings the fault of the English Tory establishment. The SNP may be in power in Scotland, but it is in its opposition to power in England that its appeal lies.
Even more so, of course, since Brexit – which the SNP presents as an English, Tory imposition on a largely Remain-supporting Scotland, and the main justification for its pledge to hold a new independence referendum within the first half of its prospective five-year term.
And it has worked. Brexit has fuelled the SNP's continued ascendancy north of the border. Polls suggest as much – with support for independence rising since the EU referendum – as does more probing research, with the pull of EU membership shown to be greater for many who voted 'no' in 2014 than the pull of the Union.
Indeed, what is most interesting about the SNP's political trajectory since 2016 is the extent to which it has come to frame its ultimate objective – an independent Scottish nation – in terms almost entirely of its opposition to Brexit. Hence its current manifesto claims that independence will allow Scotland to do two things above all: 'to protect our NHS from Tory governments', and 'to escape Brexit'.
'To escape Brexit.' That is how it conceives of the value of independence. Not positively, in terms of the potential of self-determination and of the possibilities of nationhood, but negatively, in terms of freedom from evil Tories and from Brexit and all those who voted for it. Independence, for the SNP, has become merely another way for it to express its opposition to Westminster and English voters; another way for it to continue to mine its long-standing anti-political vein, while expressing its equally long-standing anti-democratic tendencies.
But then, the SNP – certainly in its post-devolution incarnation (the SNP opposed European Communities membership in the 1975 referendum) – has never really taken independence seriously. If it had, it would not be committed to leaving one Union only to subsume itself within the far larger, far more undemocratic European Union. It is a commitment that makes a mockery of the SNP's claims to want economic control, as a means to resist, as Sturgeon put it recently, Tory austerity measures. After all, not only would EU membership entail entry into the Eurozone and a loss of monetary control; the EU is also a long-standing champion of, well, austerity measures. Just look at what it has done to Greece.
Worse still, by framing independence predominantly as a way to 'escape Brexit', the SNP avoids having to debate or outline its vision of an independent Scotland. When harder questions of currency or borders, let alone democratic deficits in the EU, are raised, the SNP and other so-called nationalists dismiss them as daft or as scaremongering.
But perhaps the ultimate exposure of just how hollow is the SNP's independence talk lies in its treatment of the Scottish people themselves. From the moment it assumed power all those years ago, it has subjected them to sin taxes on booze, nudges on food, endless lectures about their lifestyles, and increasingly brazen attacks on their freedom of speech. It has repeatedly shown that it doesn't trust people to make basic decisions about their own lives, or even to have private conversations. No wonder it doesn't really trust people to govern an independent nation, preferring instead the managerial embrace of Brussels.
Tim Black is a spiked columnist.
Picture by: Getty.
To enquire about republishing spiked's content, a right to reply or to request a correction, please contact the managing editor, Viv Regan.