Capitol riot: the terror attack that wasn't
Numerous Capitol riot myths, pushed by the media, have completely collapsed.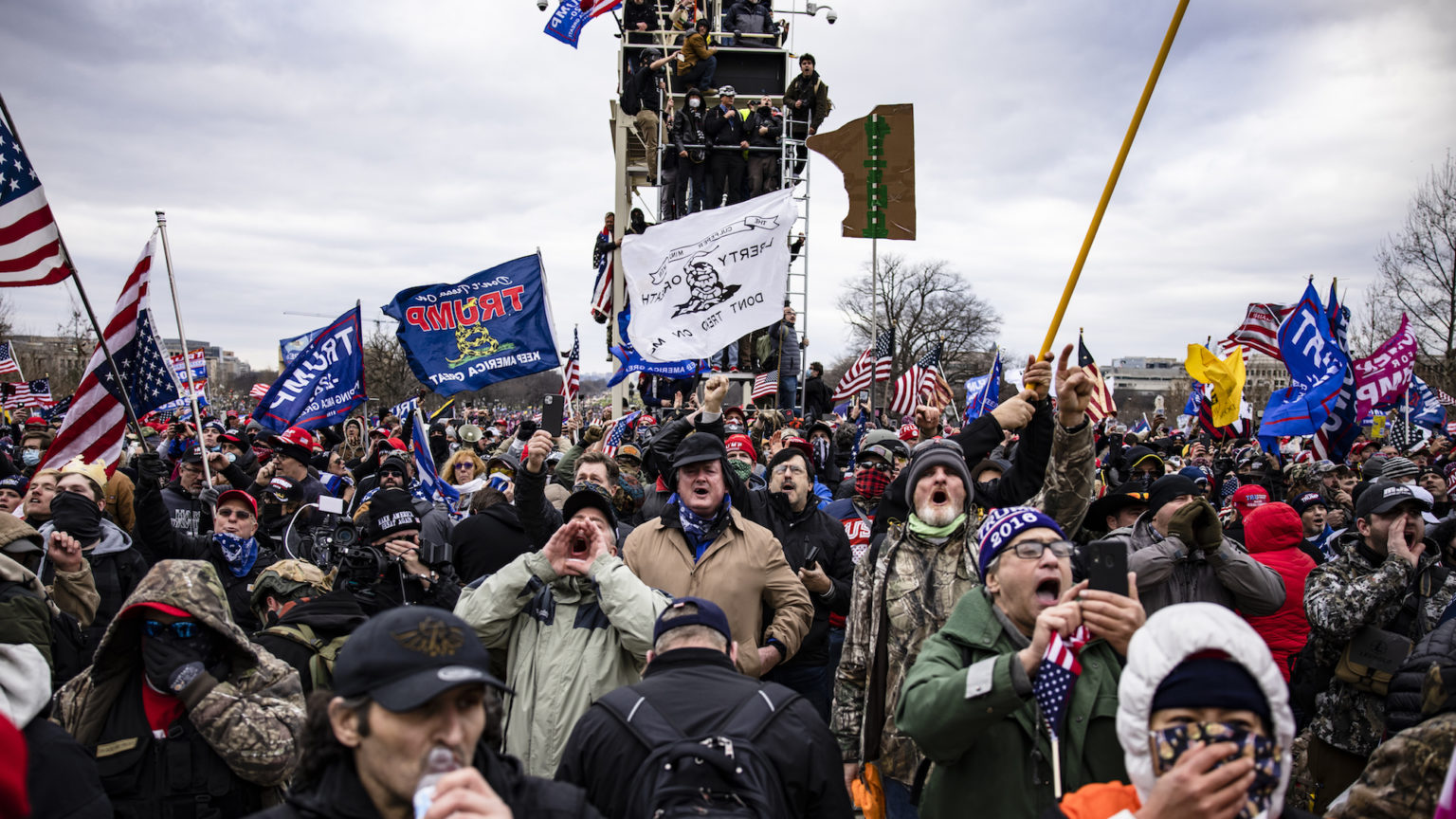 When a crowd of Trump supporters stormed the US Capitol in January, America's liberal elite went into meltdown.
'Insurrection' was the catchword. Commentators called for a 'domestic war on terror' in response. A terrible blow had been struck at the heart of American democracy, they said – and it was all Donald Trump's fault.
Reports of the day's events told a grim story. Most shockingly of all, in the frenzy a policeman was brutally murdered by the crowd.
Except he wasn't.
At the time, numerous outlets, including the New York Times, reported that police officer Brian Sicknick had been bludgeoned to death with a fire extinguisher by crazed pro-Trump fanatics.
But this turned out to be completely untrue. And it's not just that there was no beating. Washington, DC's chief medical examiner has since announced that Sicknick died of natural causes. The day's events might well have 'played a role' in his death. Two men are accused of pepper spraying him. But his autopsy revealed no evidence of reaction to chemicals, and no sign of internal or external injuries. In short, the mob did not kill him, as had been alleged.
Why does this matter? As Glenn Greenwald has highlighted, it shatters the myth that the Capitol rioters were a murderous mob – a myth which helped fuel the overheated reaction to the riot. Who could disagree that tough action was needed to fight far-right terrorism when murderous extremists could apparently overpower and kill the police? But of the five people who died, four were Trump supporters. In fact, the only person actively 'killed' in the Capitol riot was a Trump supporter – shot dead by police.
The crucial distinction – that Sicknick was not murdered – conveniently got away from the press. So did several other key issues. Many commentators referred to the riot as an 'armed insurrection'. But as Greenwald highlighted in February, there was (and still is) no evidence that any rioter wielded a firearm inside the Capitol. And the only shots fired were fired by police.
As well as 'insurrection', another word bandied about was 'coup' or 'attempted coup'. This made no sense. Some protesters were taking selfies. Some seemed genuinely amazed that they had gained entry to the building. Anyone who looked at the events with an open mind would have seen the reality. These scenes were not what you expect from an organised coup attempt.
And Trump did not 'incite' it, either. He encouraged his supporters to protest about the outcome of the election result outside the Capitol, telling them, 'If you don't fight like hell you're not going to have a country anymore'. For that, he should be condemned – trying to frame his electoral defeat as an act of mass fraud was wrong and dangerous. But he also told his supporters to act 'peacefully and patriotically'. He said nothing about breaking and entering.
Not for the first time, outlets ran with the story they wanted to be true. This is a sign of how the American liberal media have morphed into something far removed from their real purpose. You have only to look at coverage of 'fiery but mostly peaceful' Black Lives Matter riots, or of Joe Biden's 'more humane' camps for migrant children, to get the picture. These publications aren't so interested in the facts. They are more concerned with countering what they have convinced themselves is an existential threat to the nation – Trumpism, or whatever takes its place.
What makes this all the more worrying is that the side of politics this section of the press is wedded to is in power. The Democrats poured fuel on the fire of the media's Capitol hysteria. Remember Alexandria Ocasio-Cortez's breathless (and factually questionable) recital of what she saw at the Capitol riot? Consider how Nancy Pelosi even managed to allege Russian involvement in the riot, calling the protesters 'Putin puppets'.
The Democrats are already acting on this 'terror' threat. Legislation for a new domestic terror law has been reintroduced to Congress. It promises to expand America's anti-terror bureaucracy and assign special resources to investigating 'hate-crime incidents with a nexus to domestic terrorism'.
The 'murderous' riots have also been used as a pretext for clamping down on speech. 'Several experts' close to the administration are reportedly pushing for Biden to appoint a 'reality czar'. This truth-telling figure would help push back against the apparently rising tide of fake news – the other thing that is supposed to explain the Capitol riot. Imagine that – an administration that has itself spread falsehoods appointing an agent to determine, for the public record, what is and isn't true.
And it's not just the Democrats and the liberal press that are mixed up in this dystopian mess. Social-media giants are part of the problem, too. Let's not forget that they booted Trump off their platforms based on the falsehood that he incited a violent coup. This set a dangerous precedent for censorship to come.
Big Tech, the media and the Democrats have exaggerated and exploited these riots to push for draconian and illiberal measures. That – and not bewildered Trumpists running around the Capitol – is the real threat to American democracy.
Paddy Hannam is editorial assistant at spiked. Follow him on Twitter: @paddyhannam.
Picture by: Getty.
To enquire about republishing spiked's content, a right to reply or to request a correction, please contact the managing editor, Viv Regan.