How identity politics revived anti-Asian sentiment
Asian Americans continue to suffer from America's fixation on race.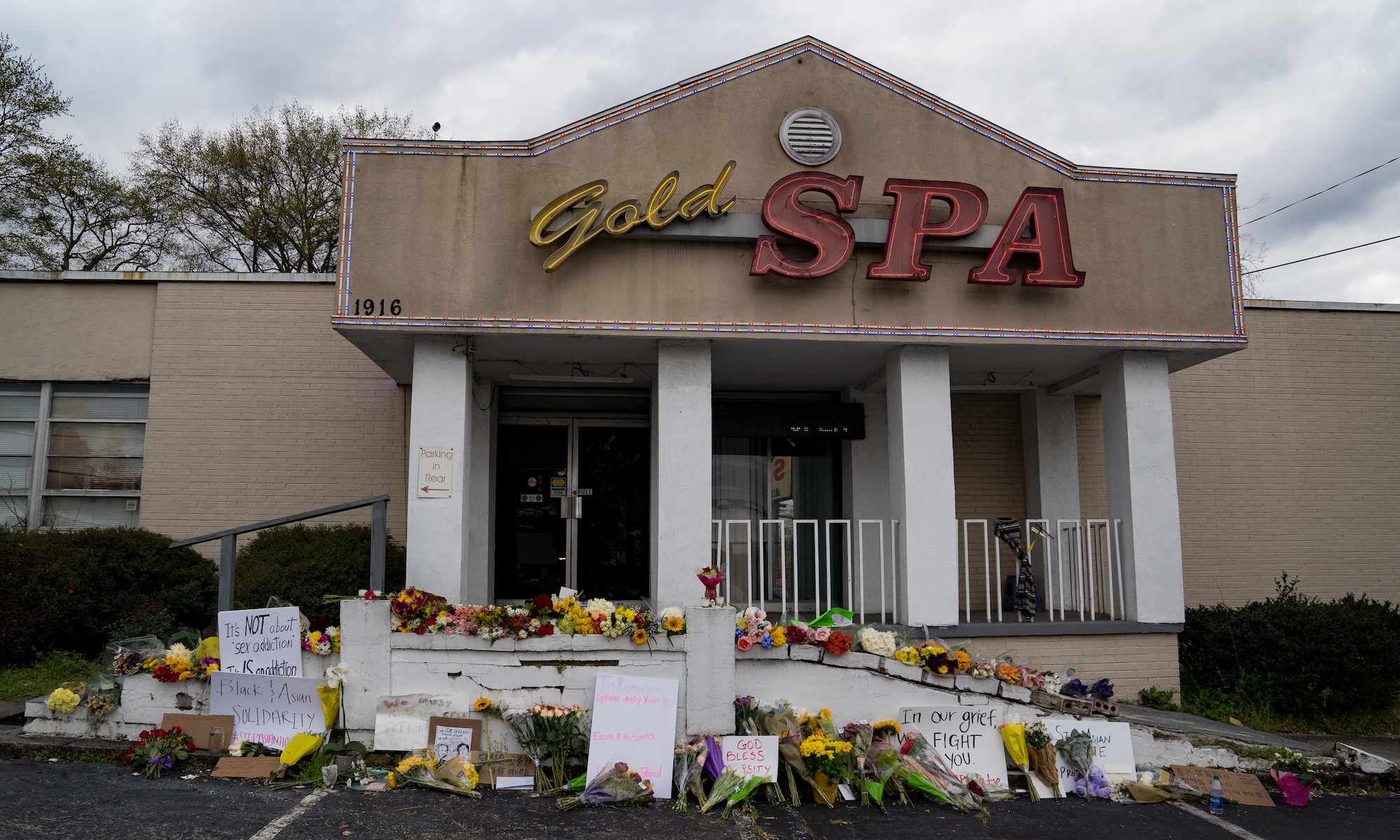 Eight people, including six women of Asian descent, were killed in last week's shootings at three massage parlours in the Atlanta area. In the aftermath of the attacks, public debate in the US has focused on whether the attacks, carried out by 21-year-old Robert Long, were racially motivated.
It is difficult to say one way or the other at the moment. But what is certain is that the shootings occurred against the background of a rise in reported attacks on Asian Americans. These have surged after the Trump administration repeatedly emphasised China's connection to Covid-19.
But part of the problem extends well beyond Trump and Covid. It stems rather from the US's continuing determination to define its citizens in racial terms. This sustains racial tensions by pitting groups against one another and makes racially motivated attacks an ever-present possibility.
In many ways it is worth asking why Asian is a racial category in the first place. After all, it is ridiculous to people outside of the US to group together the Japanese with Pakistanis or Malaysians. Each nationality has a very different geographic setting, language, culture and set of customs. That the US sees them all as one is a product of its long-time conception of itself as a European outpost, with the Pacific as its 'racial frontier'. Beyond that frontier, all were cast as insurmountably other. Indeed, the 1924 Immigration Act permanently excluded all those whose origins lay in Asia, on the grounds that they were 'racially incompatible' with the majority of Americans with European origins. This legislation operated until the Immigration and Nationality Act of 1965. Even today, Asians are still not entirely accepted in the US.
This fear of the Asian other was further complicated by the fact that the US saw Japan, in particular, as a threat to Europe's imperial hegemony. The US feared Japan would lead one of the most populous regions of Asia in revolt against European rule. This played out domestically, with many racially motivated attacks on Japanese immigrants carried out on America's West Coast during the 1920s.
Today, anti-Asian sentiment further complicates the story of American racism. On the one hand, thanks largely to perceptions of their socio-economic success, Asians have sometimes been classified as 'white'. In Lacey, in Washington state, for instance, an 'equity report' by a local school board recently classified Asian Americans alongside whites rather than as 'students of colour'. Apparently Asian Americans were doing too well academically to be considered students of colour. And in the 1992 Los Angeles riots, Koreans protecting their shops from rioters became honorary whites because they defended their property.
On the other hand, the American obsession with skin colour still separates Asian Americans from others. As the pioneering sociologist of race relations, Robert Ezra Park, noted a century ago: 'The Oriental, partly because of his language, but more particularly because of his colour, and other physical characteristics, is a marked man. Like the Negro, he wears a racial uniform which he cannot lay aside.'
The idea of 'diversity' exacerbates this problem. It turns Asians into one more distinct colour group in the rainbow nation of America so beloved by corporate PR departments. Within this diversity paradigm, Asian Americans have often been presented as the 'model minority', famed for their strong familial structures, educational achievements and hard work. In presenting Asian Americans as such, they are then played off against the oldest American minority – African Americans. The point of such a tendentious comparison is to ask why those emigrating from Asia in the past 50 years can 'make it', while African Americans seemingly cannot. This model-minority myth understandably creates friction between African Americans and Asians. So although many responses to the Atlanta attacks emphasise solidarity between Asians and African Americans, misunderstanding and hostility between the two communities is common.
Yet, as shown by the Asian American victims of Atlanta's massage-parlour shootings, not all Asian Americans are prosperous. That's one of the problems with framing everything in terms of race and racial diversity – it obscures the material diversity of class, education and experience.
The attack in Atlanta on massage-parlour workers and other recent attacks, like that on an elderly Asian man collecting cans in San Francisco, show that not all Asians are high up the socio-economic ladder. Like anyone else, some have made it, while others have not.
Indeed, many Asian Americans, who are often, like the women working at the Atlanta massage parlours, living on the margins of the economy, are sometimes tolerated rather than embraced by Americans. This means they are praised when they demonstrate the failings of other 'races'. But when they cease to serve that function they are ignored and forgotten. It's time really to treat all Americans as equal citizens, rather than as representatives of dubious racial categories.
Kevin Yuill teaches American studies at the University of Sunderland.
To enquire about republishing spiked's content, a right to reply or to request a correction, please contact the managing editor, Viv Regan.