Is this the first crack in Merkel's legacy?
Armin Laschet's narrow victory has exposed the CDU's growing divide between its centrist and conservative wings.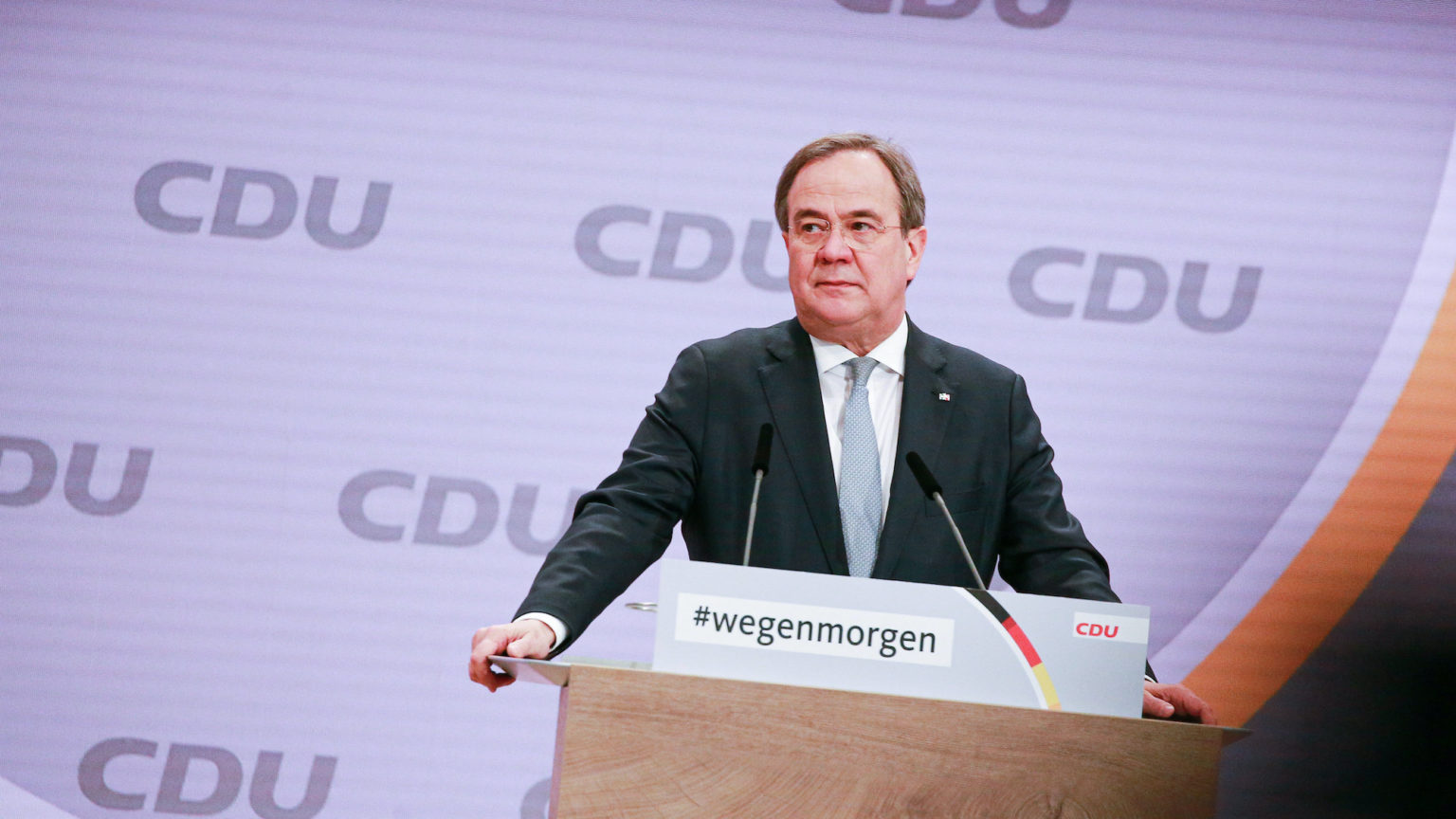 Germany's ruling party, the CDU, has chosen a new leader. Last Saturday, a slim majority of 521 delegates (out of a thousand) elected Armin Laschet – a man widely viewed as an Angela Merkel loyalist. Laschet narrowly beat the long-time Merkel critic, Friedrich Merz, who gained 466 votes.
On the surface, this looks like a triumph for the pro-Merkel party establishment. For weeks it had been nervously beating the drum for Laschet. In October the leadership even postponed the conference – supposedly due to the pandemic, though many commentators saw the move as an attempt to improve Laschet's chances against Merz.
However, the narrowness of Laschet's victory has once again shown the CDU to be a divided party. The interesting question now is, how will the losing side behave? Will it continue to consolidate itself and build a more stable and long-term opposition? And if so, will this happen inside or outside the CDU?
Laschet has been polling very badly. Only 25 per cent of Germans believe he would make a good chancellor. But he won the leadership contest because he is the candidate of the middle-class mainstream. One pro-Laschet CDU delegate said he represents the 'bourgeois-progressive centre'.
In his speech on Saturday, Laschet said 'continuity means the continuity of success', alluding to Merkel and the CDU's long tenure in office. Most significantly, his speech offered nothing to the more conservative wing of the party which favoured Merz. Laschet did not even pay lip service to the prospect of winning back voters from the AfD, which was once one of the CDU's greatest concerns. Appealing to the delegates to trust him, he then shamelessly copied Merkel's 2013 election slogan – 'you know me'. He ended his speech by saying: 'I am Armin Laschet. You can rely on that.'
And what about Merz? He had a number of shortcomings. Unlike Laschet, Merz has never won an election. He retired from active politics in 2009 in opposition to Merkel. He then worked as a lobbyist for Blackrock before trying his luck again in the CDU (Laschet was able to joke that Germany doesn't need a CEO).
But Merz's refusal to toe the line has made him a thorn in the side of the CDU establishment. When speaking about Covid in his speech to delegates, he said there were two ways to respond to the crisis: We could either look fearfully to the future or give people confidence by showing that there is a solution. This is not what Merkel's government, which has been stoking public fear over the virus for months, wanted to hear.
To make matters worse, Merz also praised the vaccine as 'a sign of human ingenuity and innovative power'. This too came as an embarrassment, especially for the health minister, Jens Spahn, who is on Laschet's team and who has been criticised for Germany's disastrous vaccine rollout.
Merz even had the gall to argue that it must be our ambition to find solutions to all the great challenges of our times, including the climate crisis. 'I do not go along with the narrative that we failed to do enough in the past and that the world will end tomorrow', he said.
And so Merz has succeeded in something very important: he has shaken up the political debate. That he lost so narrowly shows that there has been a dire need for this in German politics.
The result also shows that there are least two wings within the CDU, addressing different groups. The establishment expects Laschet to maintain Merkel's voting coalition. Meanwhile, Merz has consolidated his conservative base. He improved on his performance in 2018, when he stood as an outsider for the party leadership and lost to Merkel clone Annegret Kramp-Karrenbauer (who resigned last February).
Particularly troubling for the establishment is the strong support for Merz from the CDU's youth wing. In November its members overwhelmingly backed his candidacy, while less than 20 per cent supported Laschet.
Another positive outcome of last Saturday is that the illusions harboured by many of Merkel's critics within the CDU might also fade. For a long time, dissatisfied party members, feeling on the defensive, blamed all their troubles on her leadership (some even claiming she had learned her tactics in the former Stalinist East Germany). Many speculated that their chance would come once she finally leaves. Saturday's election, however, showed that large sections of the CDU are determined to stick to Merkel's course. It is also very likely that many in the party will continue to oppose Merz. His demand to become the minister for economic affairs has already been rejected. All of this means that those CDU members who are serious about building an opposition to Merkel's middle-of-the-road, greenish opportunism will have to confront reality. They will not only have to break with Merkel, but also with large sections of their own party.
It is still far from clear who will lead the CDU into the federal elections in September – the party establishment plans to announce this 'some time in the summer'. It is also unclear how Merz will react to his latest defeat. But it is very likely that Laschet will struggle to unify the party. Since this leadership contest it has become clear: the CDU is now two parties. Let's hope that the debate continues.
Sabine Beppler-Spahl's Brexit – Demokratischer Aufbruch in Großbritannien is out now.
To enquire about republishing spiked's content, a right to reply or to request a correction, please contact the managing editor, Viv Regan.