Kids deserve far more than food parcels
Children have been abandoned yet again. They need decent meals and a decent education.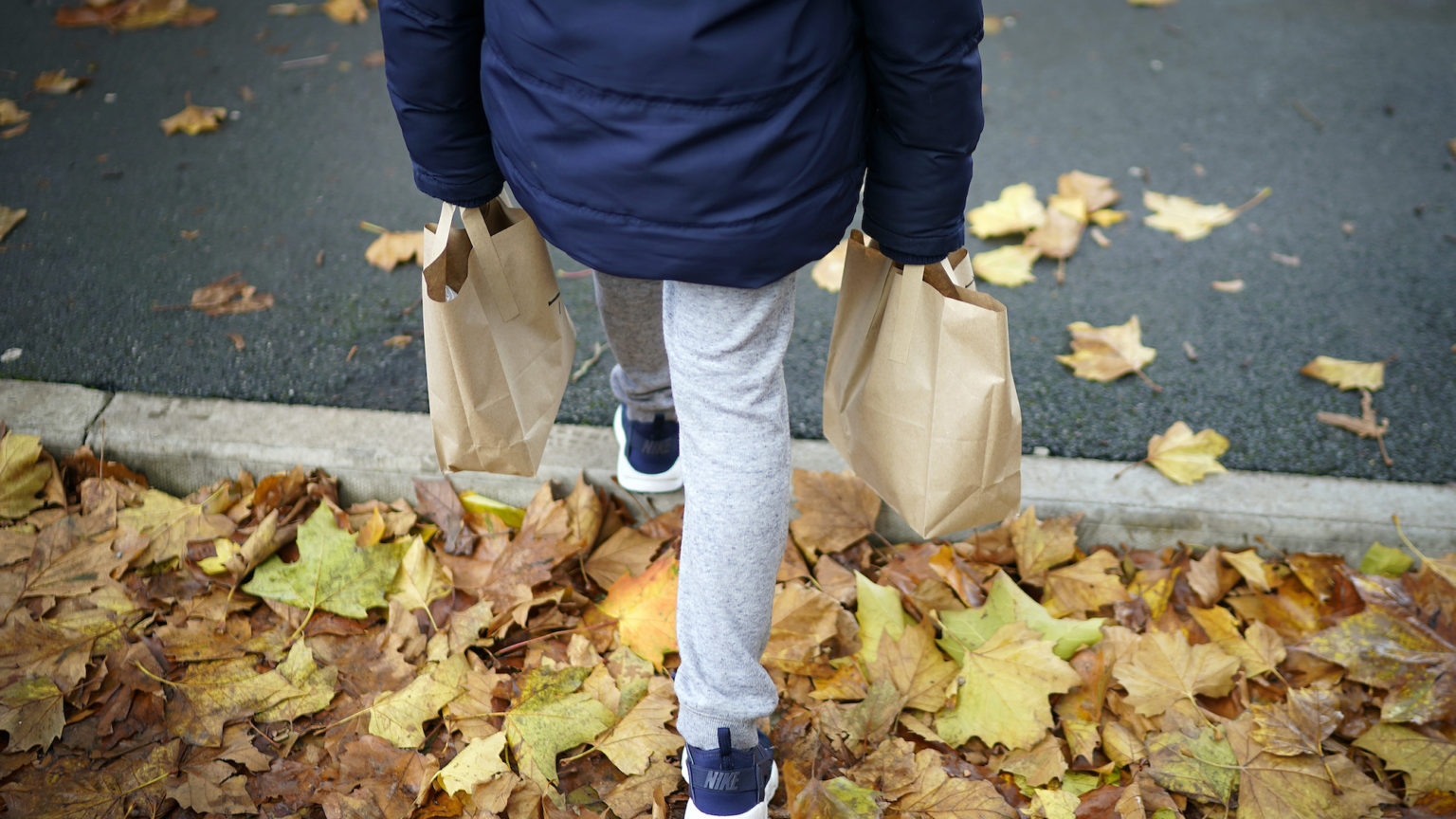 Lockdown 3.0 is bad enough without having to reheat the leftover discussion points from lockdowns past. But when it comes to children's lunches, one outing is never enough. We are, it seems, destined to dissect what exactly kids should eat for their midday meal and who will pay for it until the end of time.
Marcus Rashford is back up front, ably supported by food blogger Jack Monroe and everyone still allowed on Twitter. Though to be fair, when we last had this debate, most children were back in school and the issue was who would pay for their meals during the holidays. Now that schools are closed to all but a few children, both learning and lunch must take place at home. For children on free school meals, this means a weekly food parcel left on the doorstep.
One mum took to social media to share a picture of the contents of one of these parcels. Her photo shows a 'hamper', provided by catering company Chartwells, which comprises a couple of potatoes, a small bag of pasta, two carrots, three apples, two bananas, a tin of beans, some cheese slices, a loaf of bread, three yoghurt sticks and two slices of malt loaf. This, we were told, was to provide one child with lunches for 10 days at a cost of £30.
It's certainly a depressing picture. The mother who posted the photo online calculated the cost of the food to come in at just over £5. As many who shared the image have been quick to point out, a trip to a local supermarket could see a savvy shopper net far more grub for £30. Chartwells has since clarified that the food shown was to last one child for five days, not 10, but there has clearly still been money lopped off for packing, delivering and profiting.
It's not just the quantities that make the picture sad. It's the food itself. When I was growing up, I loved school dinners. Thick slices of stodgy, slightly soggy pizza. Chocolate-sponge pudding in pink custard. Chips, of course. Huge flapjacks. That strange vanilla cake with jam and coconut sprinkles on top. Being on free meals came with the inconvenience of having to go and pick up a yellow token from the school office every morning. But I was convinced that the dinner ladies were always more generous when they doled out my helping. If I'd been presented with a carrot and an apple, I think I would have cried.
For today's kids, after a soul-destroying morning spent staring at the teacher on Zoom, the prospect of a slice of malt loaf is hardly life-affirming. Stressed-out parents – juggling home schooling, childcare and perhaps working from home, too – can hardly relish the prospect of having to cook a meal from scratch each lunchtime. And for the very poorest families who have to feed coins into a hungry gas meter, the added costs associated with baking potatoes and boiling pasta may be prohibitive. Yet none of the self-appointed lunch monitors are demanding children get home deliveries of hot food or, failing that, Mars bars and cheese pasties.
It turns out that one reason why the government opted for food parcels over simply handing out extra money was due to concern that parents might buy the wrong things. Perhaps in the collective imagination of civil servants at the Department for Education, mums would be stocking up on Pot Noodles and Haribo. The home-delivered hampers, meagre though they seem, have been designed to meet all the government nutritional guidelines for school lunches. Jamie Oliver, take a bow. Your legacy endures.
The government and its chosen catering companies have – rightly – come in for a great deal of criticism over what counts as an appropriate child's lunch. But let's not forget that in between this round of school-meal angst and the last, food made the frontpage news for another reason. Just three weeks ago it was announced that the government, as part of its strategy to tackle obesity, was introducing a ban on supermarkets running 'Buy One Get One Free' offers for food high in salt, sugar or fat. We know that 'sin taxes' hit the poorest most severely and hard-up families depend on multi-buy deals to make the weekly food budget stretch. Yet those now up in arms about starving children were oddly silent.
The food parcels currently being sent out to children are scandalous. But virtue-signalling food campaigners need to make their minds up. Children can't be both starving and obese. And parents are not both feckless sugar-pushers and supernanny home cooks. The sympathy on display for struggling families now would be a great deal more convincing if just one of these social-media activists had questioned the impact of making supermarket food more expensive. Food parcels should be scrapped immediately and poor parents given extra cash. But crucially, they need to be trusted to spend it how they see fit – even if that means spending it on pizza and cake.
There's something else awry with the whole obsession over children's diets. Few of those currently up in arms are prepared to argue that schools should reopen. They do nothing to challenge the devastating impact on poor kids of being denied an education. Arguing over whether lunch parcels should contain two potatoes or four, a whole bag of pasta or just half a bag, reveals the pitifully low aspirations that many now have for our children. We aim only to keep them alive, while denying them all pleasure and hope for the future.
Joanna Williams is a spiked columnist and director of the think tank Cieo.
To enquire about republishing spiked's content, a right to reply or to request a correction, please contact the managing editor, Viv Regan.