No, women are not 'better' at politics
Joe Biden's all-female comms team looks like a cynical stunt to satisfy the woke.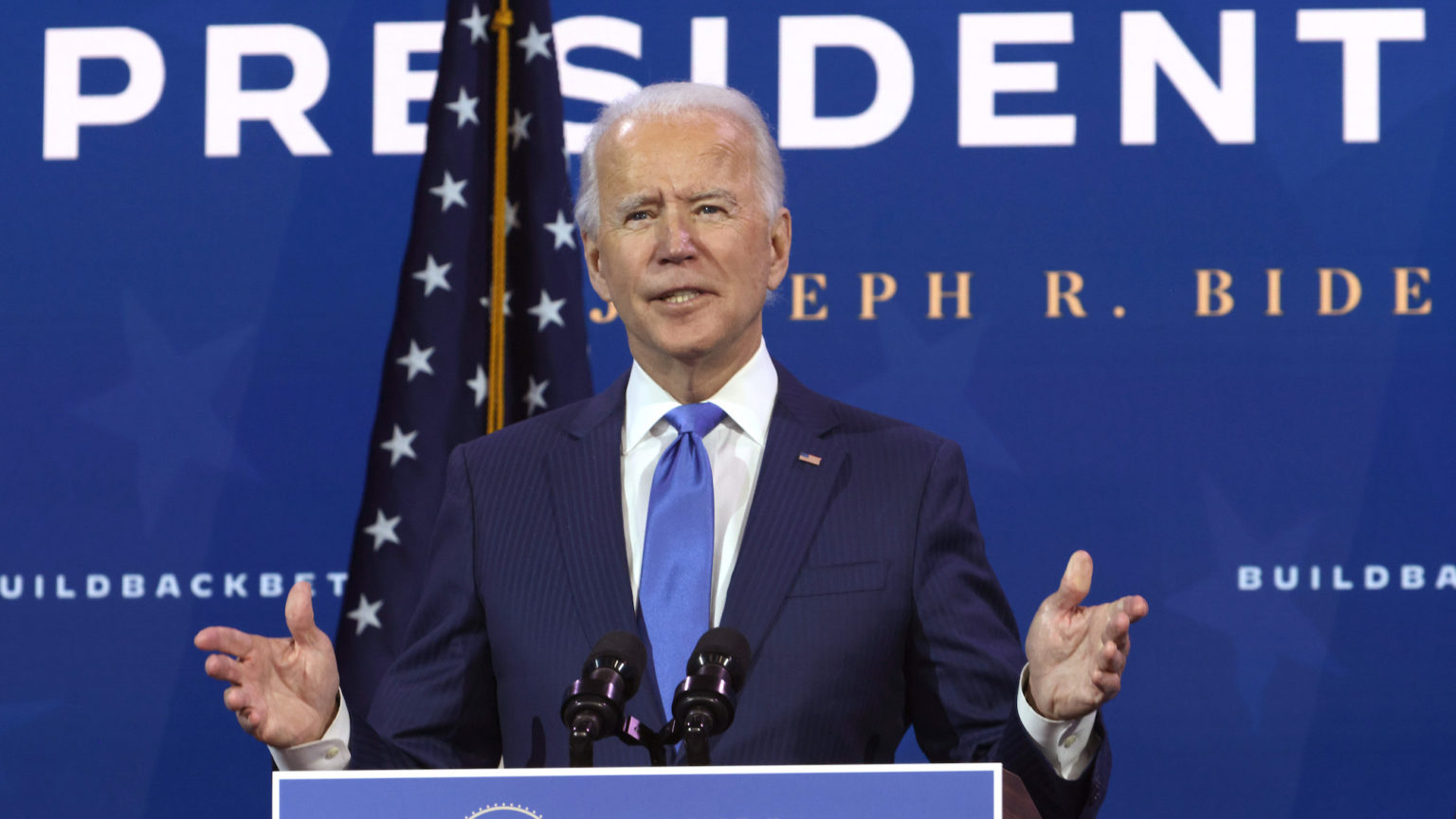 Joe Biden likes to keep women close. And in one of the most talked-about steps on his way to the presidency, he has announced the appointment of an all-female media team at the White House.
His picks are uncontroversial. Jen Psaki will be his press secretary. She's a long-standing Democratic spokeswoman who worked in the Obama administration and only narrowly missed out on the top job in previous years. Kate Bedingfield is communications director. She's a friend of Psaki's and is likewise a veteran Democrat campaigner. Karine Jean-Pierre (previously Kamala Harris's chief of staff) will serve as deputy press secretary. Elizabeth Alexander takes the role of communications director for Jill Biden, while Neera Tanden will lead the federal Office of Management and Budget (now that she has deleted all her #MoscowMitch tweets about the Democrats' favourite conspiracy theory – that Russia stole the election from Hillary Clinton in 2016).
People are praising Biden's all-female comms team. He is making good on his promise that his presidency will be a 'time to heal', they say. But some are upset with the claims that Biden's penchant for ladies is a significant breakthrough. Donald Trump's press secretary Kayleigh McEnany pointed out on Twitter that Trump already has an all-female team. In fact, more women have been appointed as press secretaries under Republican administrations than under Democratic ones. Before McEnany there was Sarah Sanders and Stephanie Grisham. And who could forget Kellyanne Conway?
There's nothing exciting or revolutionary about putting a bunch of women in positions of power simply because they're women. Feminists argue that seeing women in power is the only way to inspire other women to do better. Or they say that women can deliver a 'less masculine' political strategy in a world of Trumps, Putins and Kim Jong-uns. It has almost become tiresome to point out that there have been many women in politics who have done the opposite of 'consensus' and 'healing'. Margaret Thatcher may have been the first female British prime minister, but that didn't stop her from cracking down on freedoms. Myanmar's Aung San Suu Kyi, previously awarded the Nobel Peace Prize for symbolising the 'power of the powerless', has been complicit in the persecution of the Rohingya Muslims. Not all women are politically corrupt, of course, but nor should we assume they are more likely to be conciliatory simply because of their sex. Sylvia Pankhurst wasn't interested in reconciling her politics to a more womanly public image – she wanted revolution.
Biden's announcement seems cynical. And the positive media reaction to it is opportunistic. Americans are not suffering from collective amnesia: they remember that many of the female commentators currently cheering on Biden's all-female appointments were the same people who called him 'creepy Joe' a few months ago or who even supported claims that he had abused and harassed women.
By selecting a group of younger, more diverse women, what Biden is really saying is: 'Don't worry, I'm more woke than Trump.' It feels hollow and empty – especially given that many of these women have been working under Democratic presidencies or campaigns for years, and neither the Clintons nor Obama provided any radical change for women when it came to abortion rights, childcare or better wages. In fact, under the Obama administration Title IX policies on campus (supported by Biden) effectively re-established in loco parentis protective rules for women at university, which was sexist and infantilising. Harris – celebrated for being the first black, female vice-president – did great damage to women's lives as a prosecutor in California, by incarcerating thousands of their brothers, fathers and boyfriends.
For a group that is so obsessed with breaking boundaries, blurring lines and challenging stereotypes, today's political elite is inexplicably obsessed with the idea that women naturally provide a safer, nicer, more 'healing' environment in politics. This is just a 19th-century sexist understanding of women's role in society rehabilitated for a modern feminist audience. It shouldn't matter whether a president's press secretary is male or female – what matters is what policies they are announcing and promoting. As is the case with identity politics more broadly, Biden's celebration of women does a lot to massage the ego of middle-class feminists, but little to change the lives and prospects of women across America.
To enquire about republishing spiked's content, a right to reply or to request a correction, please contact the managing editor, Viv Regan.