Aung San Suu Kyi: a childish obsession
We need to stop searching for saviours and demons in global affairs.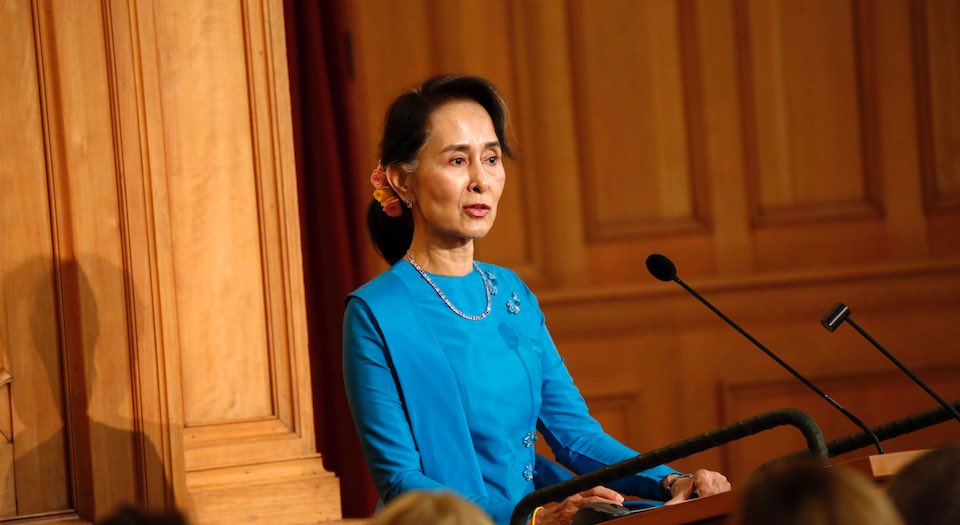 'How can she be doing this?'
It's the cry that has been ringing around the Western commentsphere for a few weeks now: how can Aung San Suu Kyi – Our Lady in Burma, moral, serene, and a Nobel Laureate no less – do this? How can she, in her quasi-prime ministerial role as State Counsellor of Myanmar, stand by as the military, helped out by local Buddhist vigilantes, reportedly slaughter hundreds of Rohingya Muslims in Rakhine state? How can she?
Admittedly, it's difficult to know what exactly is happening in Rakhine, because no observers have been allowed access. But, given that over 350,000 Rohingyas have fled Myanmar to Bangladesh since the latest bout of fighting broke out on 25 August, it seems safe to assume that the Burmese state is conducting a particularly brutal campaign against a minority it steadfastly refuses even to recognise as citizens of Burma – which is part of the problem. And fronting it up in near stately silence, save for a Facebooked phone conversation with the less-than-saintly Turkish President, Tayyip Erdogan, has been Aung San Suu Kyi herself, a friend of Bono and Obama, and 'an international symbol of peaceful resistance', as one 2012 profile put it.
Hence the deafening, outraged incredulity now being emitted by the world's great and good. Nobel prize winner and Pakistani activist Malala Yousafzai condemned the 'tragic and shameful treatment' of the Rohingya, adding: 'I am still waiting for my fellow Nobel Laureate Aung San Suu Kyi to do the same.' South African anti-Apartheid campaigner Archbishop Desmond Tutu joined in with an admonishing letter to his 'dear sister': 'If the political price of your ascension to the highest office in Myanmar is your silence, the price is surely too steep.'
And then there have been the countless 'I'm very disappointed in you' columns, and even a petition calling for her Nobel Peace Prize to be withdrawn, citing not just the desperate plight of the Rohingyas, but also – gasp! – a 'racially insensitive comment' she made to a Muslim BBC interviewer in 2013: 'Coming from a democratic hero, one racist statement is one too many. It destroys the democratic values that respects differences in beliefs [sic].'
Yet the wailing about Aung San Suu Kyi – this fallen idol, this saint-turned-sinner, this colossal moral let-down – is itself testament to a profound problem with the way global affairs are approached today. That is to say, too often they are boiled down to baddies versus goodies, as if the driving forces of conflicts, struggles and tyrannies around the world can be reduced to the moral character of particular individuals. As a result the complexities of local situations, the material forces involved – social, political and economic – cease to exist. All that matters is the seeming evilness or goodness of individual leaders. We've seen this shallow, childish approach underwrite the disastrous interventions against assorted international Darth Vaders, from Saddam Hussain to Colonel Gadaffi; we've seen it firewall international heroes, from Nelson Mandela to the most absurd Nobel Peace Prize Winner of all, Barack Obama; and now we're seeing it break up on the reef of Aung San Suu Kyi's descent into politics.
Over the past two decades, Aung San Suu Kyi has been lionised and sanctified in the West like no other since Nelson Mandela. This was down not so much to what she did – after all, she had been intermittently placed under house arrest since 1989, just one year after co-founding her National League for Democracy Party. Rather, her elevation in the eyes of international observers owed far more to her distance from politics, especially the despotic politics of military-ruled Myanmar. It meant that she was involved, as a victim of intolerance and oppression, but completely unsullied. And as such she could become a symbol – better still, a vessel into which UN-approved platitudes about human rights and democracy could be poured. She was less a real person with concrete views and ambitions, which was just as well given how little anyone actually knew of her politics, and more a cultural trope, a figurative shorthand for all that was deemed easily, unthinkingly virtuous.
To talk of Aung San Suu Kyi was to talk of a hero of democracy, a stoic victim of tyranny and an elegant, shimmering promise of human rights in practise. Hence she acquired a cultural life of her own, quite apart from the actual Aung San Suu Kyi, generating several plays, two Hollywood treatments, first tangentially, in John Boorman's 1995 film, Beyond Rangoon, and second, centrally, in Luc Besson's 2011 hagiography The Lady, and even her own U2 song, 'Walk on'. So otherworldly had Aung San Suu Kyi become that Labour peer Baroness Kinnock declared in 2010 that she had 'more serenity and humanity than anyone I have ever met'. Which is a big claim from the wife of Neil.
But since Aung San Suu Kyi's release in 2010, and her re-emergence as an actual political figure, that childlike myth of Aung San Suu Kyi as a Jesus-lite figure, suffering for tyrants' sins, not to mention Amnesty International promotional campaigns, has been increasingly difficult to sustain. With every victory of her party, the NLD, first in by-elections in 2012 which led to her re-entry into parliament, and then, resoundingly, in national elections in 2015, the expectation that Aung San Suu Kyi was going to be a really, really good, supremely virtuous leader of Myanmar, albeit in a de facto capacity only formalised in 2016 when she assumed her self-created role of State Counsellor, has run up against the reality of Aung San Suu Kyi the politician.
Far from realising the dreams of Bono, Baroness Kinnock and a Guardian columnist, and turning Myanmar into the global capital of human rights and smiley-faced green capitalism, she has dashed them, frustrated them, and mocked them. Right from the start, she refused to speak out about reported abuses by government forces against civilians in the ethnic conflict in Kachin State; took the side of big capital when supporting a copper-mining company accused of expropriating the land of countless impoverished farmers; and, of course, let the military get on with their on-off campaign against the Rohingya Muslim minority.
Nothing of this should have been a shock. For a start, Aung San Suu Kyi's re-emergence on to the political scene during 2010-12 didn't come in spite of the military junta that had ruled Myanmar with such brutality since 1962; rather, it came in cahoots with the military, and its political representative and then president, Thein Sein. That's because her release and political rise allowed Myanmar to present a liberalising face to the world and lobby for a relaxation in the international sanctions and a release from the isolation that had long impoverished this resource-rich nation. That Myanmar's military rulers were preparing for Aung San Suu Kyi's release was clear in 2008, when they drew up a new constitution that barred her (or anyone whose children or spouse posessed foreign citizenship, which amounted to the same thing, given her English husband and children) from becoming president, guaranteed the military 25 per cent of parliamentary seats, and, more importantly, ensured that the most powerful bureaucracies – home affairs, border affairs, and military affairs – would remain under military control, and their budgets above public scrutiny, regardless of which party controls the government. In other words, vast parts of the state remain controlled, not by politicians like Aung San Suu Kyi, but by the military. And that includes those parts responsible for the 'legitimate use of violence' against the Rohingya Muslims.
So, quite apart from Aung San Suu Kyi's own political and moral beliefs – and by all accounts she is willing to share her party's and her electorate's antipathy towards the Rohingya Muslims, who are deemed non-Burmese Bengalis, and therefore non-citizens – the political territory in which she operates is riven with compromise, tactical consideration and significant military-shaped obstacles. She is not acting like a saint, but neither is she acting like a sinner. She's acting like a politician. The demonisation of Aung San Suu Kyi and the pathetic calls to take back her Nobel Peace Prize, like a child taking home his football after losing a kickabout, are just as foolish as her lionisation and sanctification were. As she herself put it in 2013, 'I am just a politician. I am not quite like Margaret Thatcher, no. But on the other hand, I am no Mother Teresa, either.'
Which is why the international reaction to the crisis in Myanmar, in which it is viewed as the moral failings of one once feted, is both so shallow and potentially dangerous. It is shallow because it suggests that Aung San Suu Kyi just needs to do the right thing (whatever that might be), despite her remit being limited by the still powerful military. And it is dangerous because it suggests that if Aung San Suu Kyi can't be the goodie, then the international community will have to divest her of the moral authority which it itself gave her, and act in her stead. So the talk now is of re-isolating Myanmar, of re-imposing sanctions. Which, while it will not right the situation or protect the Rohingyas, will certainly harm and impoverish the vast majority of Myanmar, and, most counterproductive of all, strengthen and harden the still militarised state, as it seeks to maintain its position and suppress discontent.
It's difficult to grasp for those intent on seeking out saviours and demons in global affairs, but it remains true: what solutions there are to Myanmar's problems and divisions can only come from the people of Myanmar themselves, whether that involves Aung San Suu Kyi or not.
Tim Black is a columnist at spiked.
Picture by: Getty
To enquire about republishing spiked's content, a right to reply or to request a correction, please contact the managing editor, Viv Regan.