Devolution has been devastating for democracy
Scotland is now governed by an unaccountable elitist cabal.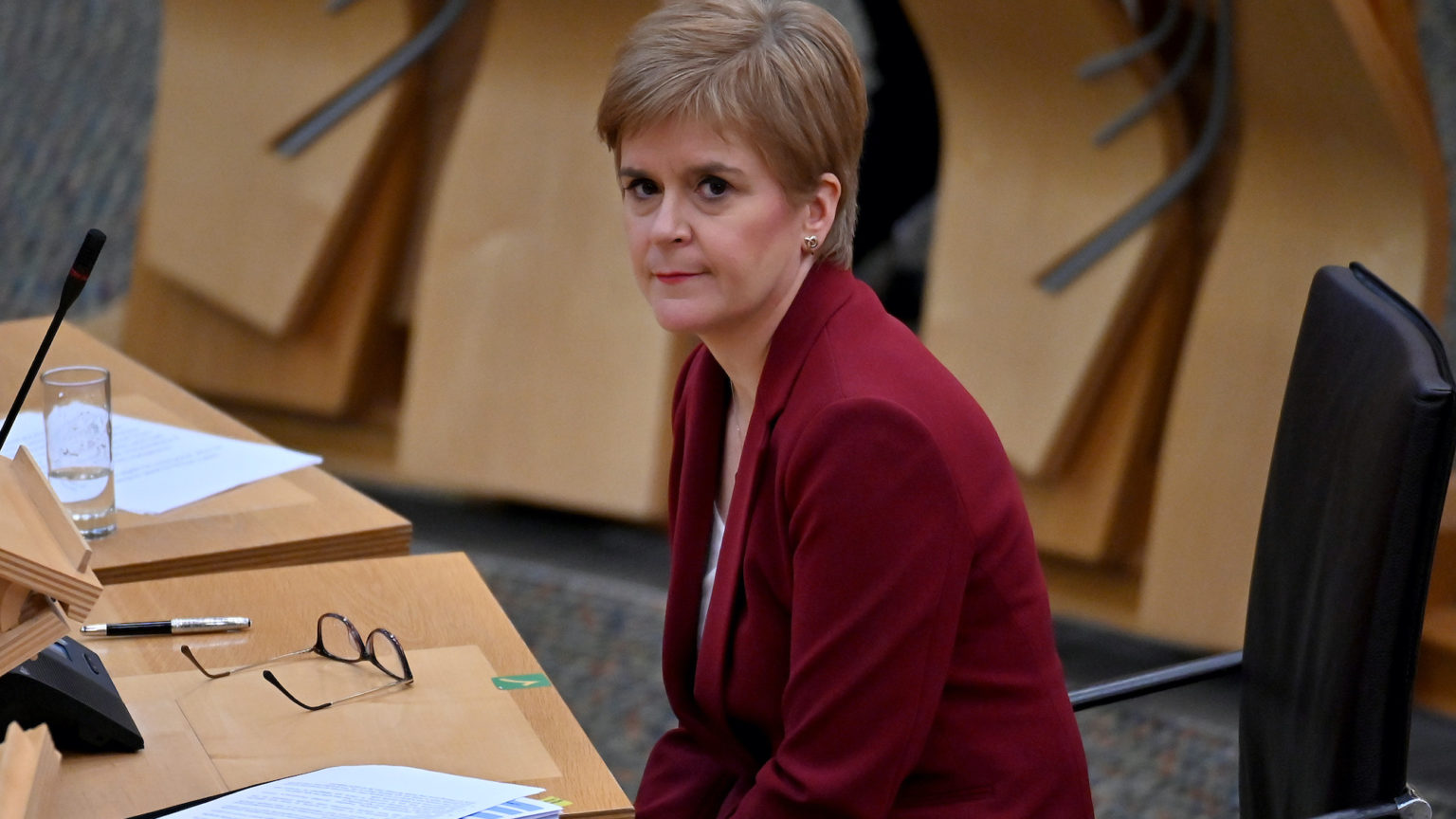 When the template for the Scottish Assembly (née Parliament) was established by Tony Blair's New Labour government, it was said to have two principal objectives. The first was, as one of its principal architects, Labour MP George Robertson, confidently predicted in 1995, 'kill nationalism stone dead'. The second, that it would address Scotland's democratic deficit, bringing the Scottish people closer to the political decision-making process, ensuring that they would get governments they actually voted for and not the one 'forced' on them by Westminster.
Amid the furore over Boris Johnson's claim that devolution has been a 'disaster', it is the apparent failure of the first objective that weighs most heavily on Westminster. Former Scotish secretary Sir Malcom Rifkind has argued that despite being 'rather typical of the loose language' he uses, the prime minister was right because devolution was 'meant to lead to the end of the SNP and the end of nationalism' but has instead fuelled their rise and has given the SNP what seems an unassailable platform of power.
Writing in the Spectator, Stephen Dailsey argues that Boris should have kept his mouth shut – even if he had a point – because, unwittingly, he has 'handed the SNP a bucketful of ammunition to pump into the Scottish Tories', especially with Scottish parliamentary elections taking place in May next year.
However, contrary to popular belief, the first objective was achieved. The second most definitely not. The SNP are not 'nationalists', as the House of Commons speaker, Sir Lindsay Hoyle, had to remind Johnson during Prime Minister's Questions this week. And the Scottish Assembly is most definitely not a democratic institution.
The SNP's rise as the singular political force in Scotland is not because it represents the popular national will, but rather because it embodies an elitist, anti-democratic impulse. If Scottish nationalism has any contemporary resonance it is that it stands against the very idea of national sovereignty itself. The 'nationalism' that Nicola Sturgeon's SNP peddles has none of the radical purpose or emancipatory potential of its historical antecedent. Modern Scottish nationalism is utterly contemptuous of the idea of popular sovereignty. Instead, it is the embodiment of contemporary anti-politics. It sees the Scottish demos as little more than a stage army, which, when required, enthusiastically wails its narrow 'Fuck the Tories' prejudice. If devolution didn't exactly do for Scottish nationalism, the SNP certainly did.
So, what of Scotland's so-called democratic deficit? This question brings you face to face with one of the most telling paradoxes of contemporary British politics. How can the establishment of devolved rule in Scotland – an institution meant to bring democracy closer to the Scottish people – result in one of the most authoritarian and anti- democratic, but seemingly unassailable, governments in Europe?
The Scottish Electoral Reform Society has characterised the SNP approach to government as oligarchic, pointing to how decision-making processes have been centralised around a small group within the party leadership, with the principal goal of increasing its control over state machinery 'rather than serving their members or wider society'.
Advocates for Scottish independence have begun to question not only Sturgeon's commitment to independence, but also her party's fitness to govern.
Recent high-profile scandals, such as the high number of Covid-19 deaths in Scottish care homes, the SNPs deliberate attempt to hinder the parliamentary investigation into the Alex Salmond abuse trial, and the threats posed to civil liberties by the SNP's Hate Crime Bill, have shed a sharp, cold light on the increasingly authoritarian and anti-democratic instincts of the Sturgeon government.
Leading Scottish columnist and independence supporter, Kevin Mckenna, has gone so far as to argue that in its persistence in pursuing the 'deranged' Hate Crime Bill, the SNP has 'renounced the right to be considered fit for government'. Recent events, he says, have exposed the SNP 'as a sham; a facsimile of equality and authentic democracy. If the price of ridding Scotland of the people responsible for the cultural abduction is another decade of the Union, then so be it.'
In July, Robin McAlpine, director of the influential pro-independence think tank, the Common Weal, blogged an impassioned plea to SNP members, in which he deplored the party leadership's increasingly obvious contempt for party democracy. He said it 'would make Vladimir Putin blush'. He implored ordinary members to take a stand. 'What does your leadership have to do to convince you that [it doesn't] place any value whatsoever on what you think?'
But these trends are certainly not new, nor are they unique to the Sturgeon regime. They reflect a concerted effort on the part of the SNP leadership, from the 1960s onwards, to centralise control of the party in an attempt to nullify the influence of local branches on party policy. Pro-SNP academics and political scientists see this as a necessary rationalisation of hitherto chaotic party structures. But really, it is an attack on internal party democracy. This process was only really completed in the early 2000s, when the now deputy leader, John Swinney, under the aegis of then leader Alex Salmond, implemented a series of organisational reforms that finally concentrated policymaking powers in a small centralised cohort of the party leadership. In 2004, Swinney made significant changes to how the party elected its leader, deputy leader and its prospective parliamentary candidates. Previously elected via the national conference, where local branches would mandate delegates to vote on a slate of candidates, they would now be elected by a system of One Member One Vote, thus completely bypassing the leadership's accountability to conference and its local branches.
In this sense, the modern SNP is devolved Scotland's natural party of government. Both are products of profoundly anti-democratic tendencies that have become explicit features of contemporary British political and social life. The issue of Scottish independence has served as a vehicle by which elites, north and south of the border, have shamelessly traded democratic principles for managerial elitism. This is as true today as it was in 1999.
Far from remedying Scotland's democratic deficit, devolution has deepened it. Indeed, as illustrated above, it has become the defining characteristic of contemporary Scottish political life. Born of an already culturally entrenched elitist myth of Scottish exceptionalism, the notion of a uniquely Scottish form of democracy, devolution became a radical facade that served as a way of rhetorically distancing itself from Westminster democracy. Allegedly more egalitarian, pluralistic and socially democratic, Scottish democracy was in reality premised on the institutionalised rejection of democratic contestation. Instead, it engineered a technocratic regime of governance that privileges closed-door, committee-room nepotism, lobby groups and expert opinion over open political discussion and debate.
This has been devolution's true disaster. Far from bringing the Scottish people closer, devolution has served to widen the gap between the demos and the political decision-making process, while ensuring that power remains in the hands of an increasingly unaccountable elitist cabal. The SNP's phenomenal rise to power was only possible once the ideological argument against majoritarian democracy had already been won, and its corresponding institutional apparatus established.
Yes, it is true that the rise of the modern SNP and Scottish devolution are intrinsically linked. But this has little if anything to do with 'nationalist' fervour. Nicola Sturgeon's SNP are very much the natural inheritors of devolution's anti-democratic ideal.
Carlton Brick is a lecturer in the school of education and social science at the University of the West of Scotland.
Picture by: Getty.
To enquire about republishing spiked's content, a right to reply or to request a correction, please contact the managing editor, Viv Regan.