Sending the Thought Polis into Scottish homes
The SNP's new hate-crime law will criminalise offensive speech at the dinner table.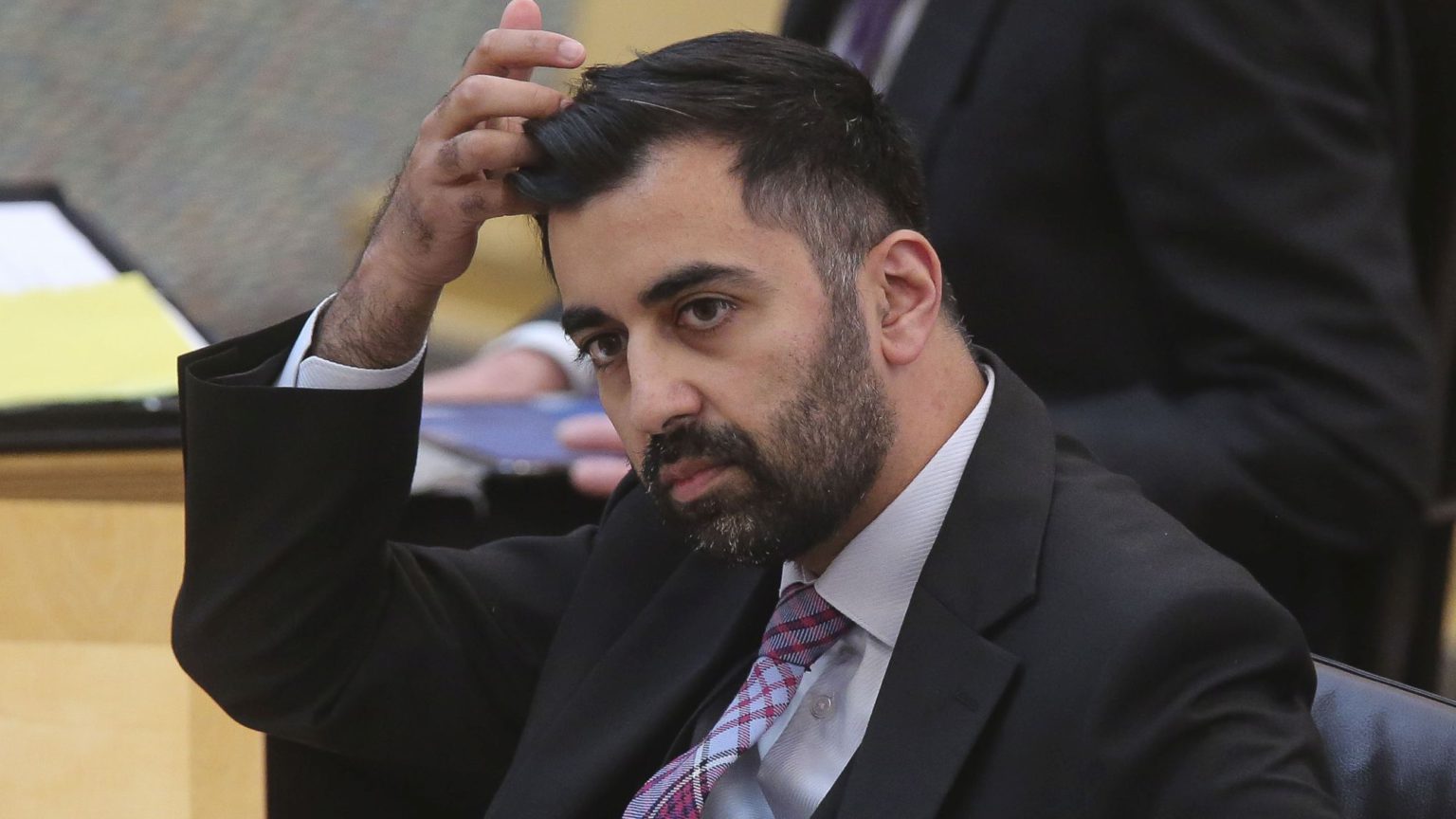 If the Scottish government gets its way, people in Scotland could soon face prosecution for cracking the wrong joke about disabled or trans issues at their own kitchen table, or shouting incorrect opinions about Nicola Sturgeon or Celtic supporters at the television in their own living room.
The ruling Scottish National Party's proposed hate-crime law seeks to expand the already-sweeping measures for policing speech in the UK's Public Order Act 1986. The Hate Crime and Public Order (Scotland) Bill aims to criminalise speech accused of 'stirring up hatred' against groups of people with 'protected characteristics'.
The bill has already attracted widespread opposition, uniting everybody from the Catholic Church to comedians, civil-liberties activists and police representatives, who rightly fear that it poses yet another threat to the right to free speech.
This week the SNP's justice secretary spelt out one major way in which the bill will be even worse than the Public Order Act. Humza Yousaf told the Scottish parliament's justice committee that, unlike that existing law, his bill will have no 'dwelling defence'. This would mean that people in Scotland can be probed by police and prosecuted even for things they say in the privacy of their own homes.
As the Scottish edition of The Times reported, 'conversations over the dinner table that incite hatred must be prosecuted under Scotland's new hate-crime law, the justice secretary has said'.
This extraordinary plan to criminalise private conversations in the home reveals the sinister underlying motive in hate-speech laws. The state and its supporters claim these laws are needed to protect vulnerable people against 'threatening, abusive or insulting words'. Even imposed on public discussion, such laws pose a mortal threat to the right to be offensive, a key aspect of real freedom of speech.
But applied to private discussion, that argument for hate-speech laws is exposed as a nonsense. How could anybody feel threatened or abused by what somebody else says in a private conversation in the speaker's home?
No, the primary aim of this bill is not to protect those labelled vulnerable, but to re-educate the rest of the Scottish people. It is about forcing Scots to mind their language even when nobody else can hear them. And a law designed to police private speech is ultimately about trying to restrict and reorder what we say even inside our own heads.
The Hate Crime and Public Order (Scotland) Bill could thus empower Britain's first official thoughtpolice force – the Thought Polis.
The idea of interrogating a person's thoughts at the point of a hot poker went out with the Inquisition. Since the Enlightenment (in which Scotland played such an important part), it has been accepted that there is a crucial distinction between what you say or think in private and your public speech.
As 17th-century pioneer of English law Sir Edward Coke made clear, 'No man, ecclesiastical or temporal, should be examined upon the secret thoughts of his heart'. And a good thing, too. Many of us are quite capable of ranting and ridiculing away in private to an extent we would never dream of doing in public.
Yet blaming, shaming and punishing people for their 'secret thoughts' is apparently back in style. In recent years our voyeuristic, intrusive culture has blurred the line between what we think, say and do in public and in private. Scotland's SNP government now wants to erase that line in law. Its hate-speech bill would threaten the future of both public free speech and domestic privacy.
The bill's advocates have even tried to boast that it will help to protect freedom of expression, by abolishing Scotland's outdated laws against blasphemy. About time, too; it is more than 320 years since Thomas Aikenhead, a 20-year-old Scottish student, was hanged in Edinburgh on 8 January 1697 – the last person in Britain to be executed for the crime of blasphemy. The irony is that the Hate Crime Bill will effectively introduce a modern form of blasphemy law in Scotland, allowing the new inquisition to probe people's private words and beliefs.
Under the SNP, Scotland seems to have become something of a laboratory for new types of authoritarianism. We might remember, for example, how the Offensive Behaviour at Football and Threatening Communications (Scotland) Act 2012 created a regime under which a young Rangers fan was imprisoned for four months for the crime of singing the famously offensive 'Billy Boys' song in a Glasgow street. That act was repealed by the Scottish parliament in 2018, but its spirit lives on in the new bill.
Yet it would be arrogant and idiotic for those of us living south of the border to assume that this is somehow a 'Scottish problem'. The British authorities have long been pushing in the same authoritarian direction.
It was, after all, the 1999 Macpherson report into the racist murder of Stephen Lawrence in south London that first proposed making the use of hateful language in the home a UK-wide crime. At the time, that proposal proved slightly too much even for Tony Blair's New Labour government to impose. More than 20 years later, the SNP is simply taking up where New Labour left off. The UK Labour Party will no doubt introduce similarly sweeping laws to police free speech if it ever gets into power in Westminster again.
Where will the new inquisition into our private thoughts and speech end? Perhaps, like the Thinkpol in George Orwell's Nineteen Eighty-Four, the new thoughtpolice will need to stick a telescreen in every home to record our private arguments and jokes. Or perhaps there will be no need. After all, the other way in which Big Brother's Thinkpol policed people's private speech and thoughts was through the use of informers, encouraging people to spy on one another and report what their neighbours, colleagues and even parents say behind closed doors.
The purpose of Orwell's thoughtpolice is not only to punish those found guilty of straying from the correct state diktat. It is also to encourage the rest to practise 'Crimestop' – described by Big Brother's public enemy number one, Emmanuel Goldstein, as 'the faculty of stopping short, as though by instinct, at the threshold of any dangerous thought… Crimestop, in short, means protective stupidity'.
Thanks, but some of us would far rather take the risk of living in a relatively free world, where some distasteful private chats and text messages might lurk behind closed doors and passwords, than have to live in one where everybody is supposedly kept safe by a collective blanket of 'protective stupidity'.
The Hate Crime and Public Order Bill and the new Thought Polis need to join the old blasphemy laws in the dustbin of Scottish history.
Mick Hume is a spiked columnist. His book, Trigger Warning: Is the Fear of Being Offensive Killing Free Speech?, is published by Harper Collins. (Order this book from Amazon(USA) and Amazon(UK).)
To enquire about republishing spiked's content, a right to reply or to request a correction, please contact the managing editor, Viv Regan.