The silence of the anti-fascists
Where is the outrage over the medieval murder of Samuel Paty?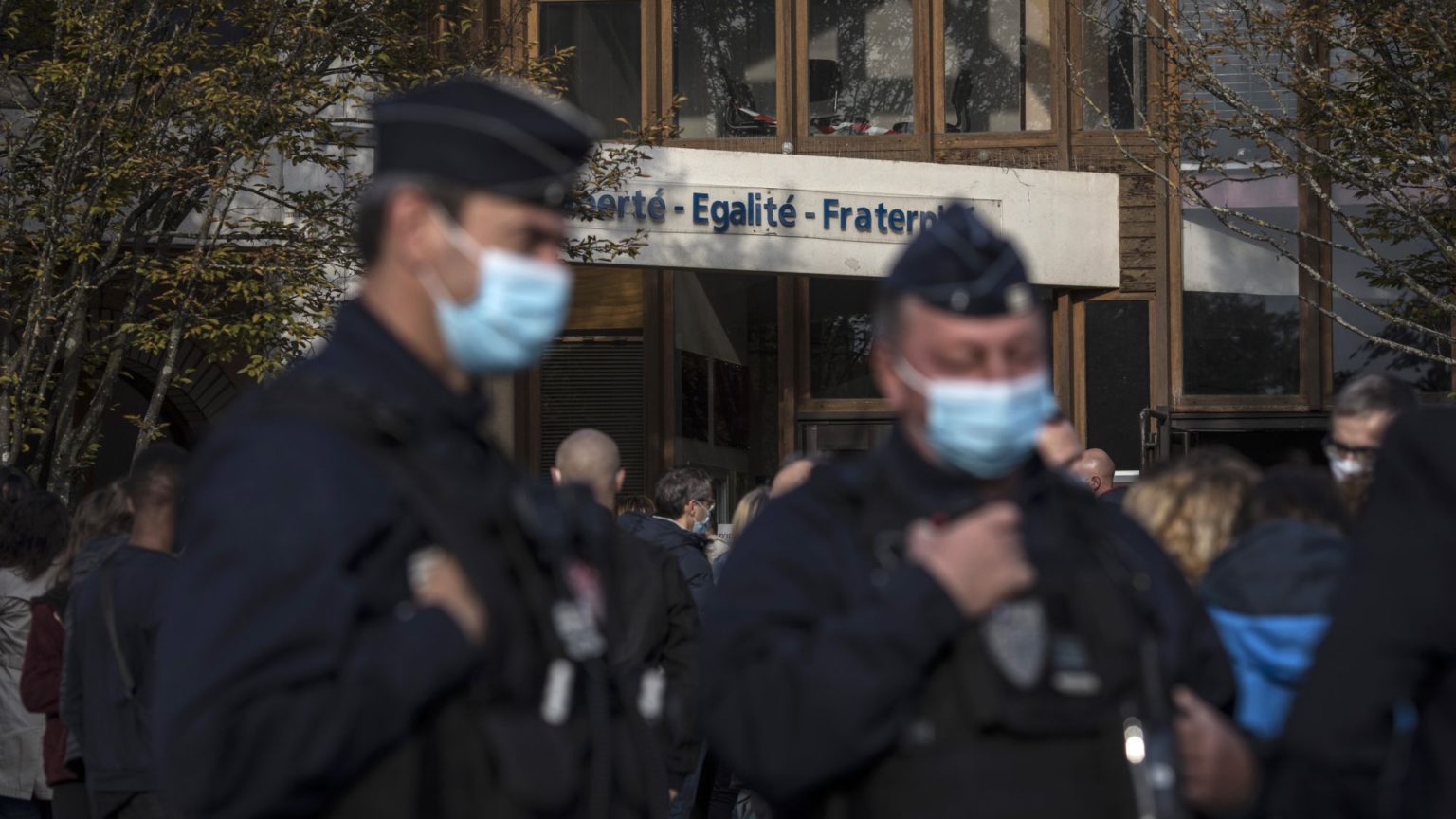 Anti-fascists are incredibly quiet about the fascist in France who cut off a man's head because he displayed some cartoons in a classroom. It is two days since the gruesome Islamist murder of schoolteacher Samuel Paty for the supposed crime of showing caricatures of Muhammad to his pupils during a classroom discussion about freedom of speech. And yet the self-styled anti-fascists of the European and American left have said barely a word. There have been no big protests outside of France, no angry rallies, no Twitterstorms, no knee-taking or fist-raising, no promises by 'Antifa' to face down these extremists who slaughter schoolteachers for talking about liberty. Their craven, cowardly silence is as revealing as it is depressing.
After every Islamist terror attack, we hear the same thing from significant sections of the Western left, including those who style themselves as anti-fascist. Their first concern is always, but always, that an Islamist terror attack might give rise to an 'Islamophobic' backlash. We have to be careful about how we talk about Islamist terrorism, they say, or we might help to make Muslim communities into targets for racist violence. This is such a morally warped response to the extremist violence of radical Islamists. Imagine if, following an act of far-right violence carried out by a white man, someone said 'Let's not get too angry about this because we might alienate white people and put them at risk'. Imagine if, in the wake of the terrorist attacks by Anders Breivik in Norway or Brenton Tarrant in New Zealand, people's first response was to wonder if white people would be okay, if white men were feeling safe. That is how crazy leftists sound when their Pavlovian response to the mass murder of children in Manchester or the slaughter of Bastille Day celebrants in Nice or the mowing down of Christmas shoppers in Berlin is to say: 'I hope Muslims will be okay.'
Their instinct is always to hush and chill discussion of radical Islam. They have developed numerous strategies for doing this. The first, as described above, is to imply that there could be violence against Muslims if we get too angry or heated about an Islamist attack – a form of moral blackmail designed to stymie frank discussion of Islamist violence. Another is to promiscuously deploy the insult of 'Islamophobe' against anybody who raises awkward questions about the frequency and bloodiness of Islamist attacks in Europe, or who even uses that i-word at all (Islamist) to describe these acts of violence.
Indeed, in mainstream institutions there have been efforts to expunge words like 'Islamist' from the discussion about Islamist terrorism. Police forces in the UK have seriously considered replacing terms like 'Islamist terrorism' and 'jihadis' with 'faith-claimed terrorism' and 'terrorists abusing religious motivations'. This warped impulse to deny that these acts are motivated by Islamism is designed to disorientate the public response to terrorism and ensure there is no deep or focused discussion about its causes and ideologies. The left continually parrot this institutionalised cowardice by obsessively policing the language that people use and the emotions we express in the wake of Islamist attacks. 'Don't say "Islamic violence" because this has nothing to do with Islam', they say. And of course, 'Don't look back in anger'. Cry, change your social-media picture for a week or two, and then move on. Nothing to see here.
This spineless unwillingness to be honest about the ideological motivation behind Islamist violence, or to confront the fact that it has become an increasingly widespread form of violence that has caused the deaths of hundreds of people in Europe in recent years, has been on full display following the beheading of Samuel Paty. Consider the response of the National Education Union in the UK. When George Floyd was killed by cops in Minneapolis, the NEU issued a strongly worded, highly political statement, condemning 'the systemic racism that caused his killing'. But in response to the murder of Paty, a teacher, the NEU put out a lame, half-hearted tweet which said this is a 'sad day' for France. No mention of Paty's name, no mention of what was done to him, no mention of why it was done to him – because he was teaching his pupils to think critically. No, just a perfunctory, probably begrudged tweet essentially saying the killing was a bit sad. This sums up the moral cowardice of sections of the left when it comes to Islamist violence. They just don't want to talk about it. They want things to be forgotten as quickly as possible.
And, alarmingly, this is already happening in relation to the killing of Mr Paty. It is falling down the news schedules. It is fading from social media. People aren't really talking about it. This might change later today, temporarily, given that a rally for Mr Paty is due to take place in Paris later on. Perhaps the sight of the good people of France taking to the streets in defiance of the censorious executioners of radical Islam will shame hitherto silent anti-fascists into saying something. But generally, it feels like the killing of Samuel Paty is already drifting from public consciousness. The post-terrorism strategy of playing things down, or flat-out igorning them, or saying that talking too much about this act of violence will itself cause violence, is proving successful once again. Another victory for intellectual cowardice.
The reluctance of self-styled anti-fascists to say anything coherent or principled about Islamist terrorism stands in stark contrast to their response to acts of far-right violence. Whether it was the mosque massacres in New Zealand or the Tree of Life synagogue massacre in Pittsburgh, so-called Antifa leftists always strongly condemn attacks by white nationalists and try to galvanise people in opposition to the ideology that fuelled them. In these cases they do want to talk about the ideological engine to the violence. They don't condemn people for saying 'fascist' in the way they condemn people who say 'Islamist' after Islamist attacks. They don't say 'Let's not get angry' – they say 'Let's get really angry'.
This glaring disparity between the left's fury over far-right violence and their snivelling silence in response to Islamist violence was painfully illustrated in August 2017. On 12 August, when a far-right activist used a car to plough into left-wing protesters in Charlottesville, Virginia, killing one, there was global condemnation and agitation from the left. Fascism is back, they claimed, and we have to defeat it. Yet when, just five days later, an Islamist terrorist used a van to slaughter 13 people in Barcelona, there was silence. They stared at their feet. Don't dwell on it. Don't focus on it. Let it fade from memory. And for many, it has. It seems unquestionable to me that among left-leaning millennials in particular, the memory of the events of Charlottesville is probably quite strong, whereas the slaughter in Barcelona will have been all but forgotten.
What's this about, this silence of the anti-fascists in response to certain forms of neo-fascism? There is a mix of regressive fears and ideas in the left's stark hypocrisy over extremist violence. There is an element of racial paternalism, where the left feels it must protect Muslim communities from open, frank debate about radical Islam, lest they feel offended. There is the influence of identity politics, too, which dictates that white people are privileged (ie, bad) and brown people are oppressed (ie, good), and the radical Islamist problem just muddies this identitarian narrative too much. There is a calculated cowardice to it too, where the left is reluctant to dig down into the role of institutional multiculturalism in fostering the ethnic and religious tensions in Western countries that have helped to nurture Islamist violence.
And then there is the censorious instinct – the urge, now institutionalised in the modern left, to protect Islam from any kind of criticism or ridicule. This is where we get to the darkest reason why the murder of Samuel Paty hasn't caused the fury that it ought to have – because there are many people in mainstream political and cultural circles who actually agree that it is wicked to criticise Islam. No, they don't support the killing of people who criticise Islam, but they do support their punishment, whether that be in the form of No Platforming, or sackings, or expulsion from polite society. This is the problem: so-called anti-fascists share in common with radical Islamists an impulse to censor public discussion and to condemn critics of Islam. The anti-fascists are largely silent on the murder of Mr Paty because they are genuinely not sure which side they are on in this existential battle between regressive Islamists and people who believe in freedom of speech and the right to offend. In short, because they are not anti-fascist at all.
Brendan O'Neill is editor of spiked and host of the spiked podcast, The Brendan O'Neill Show. Subscribe to the podcast here. And find Brendan on Instagram: @burntoakboy
Picture by: Getty Images.
To enquire about republishing spiked's content, a right to reply or to request a correction, please contact the managing editor, Viv Regan.