Patronising immigrants, demonising the white working class
The Southbank Centre's Covid-inspired exhibition has some good art, and also some elitist dross.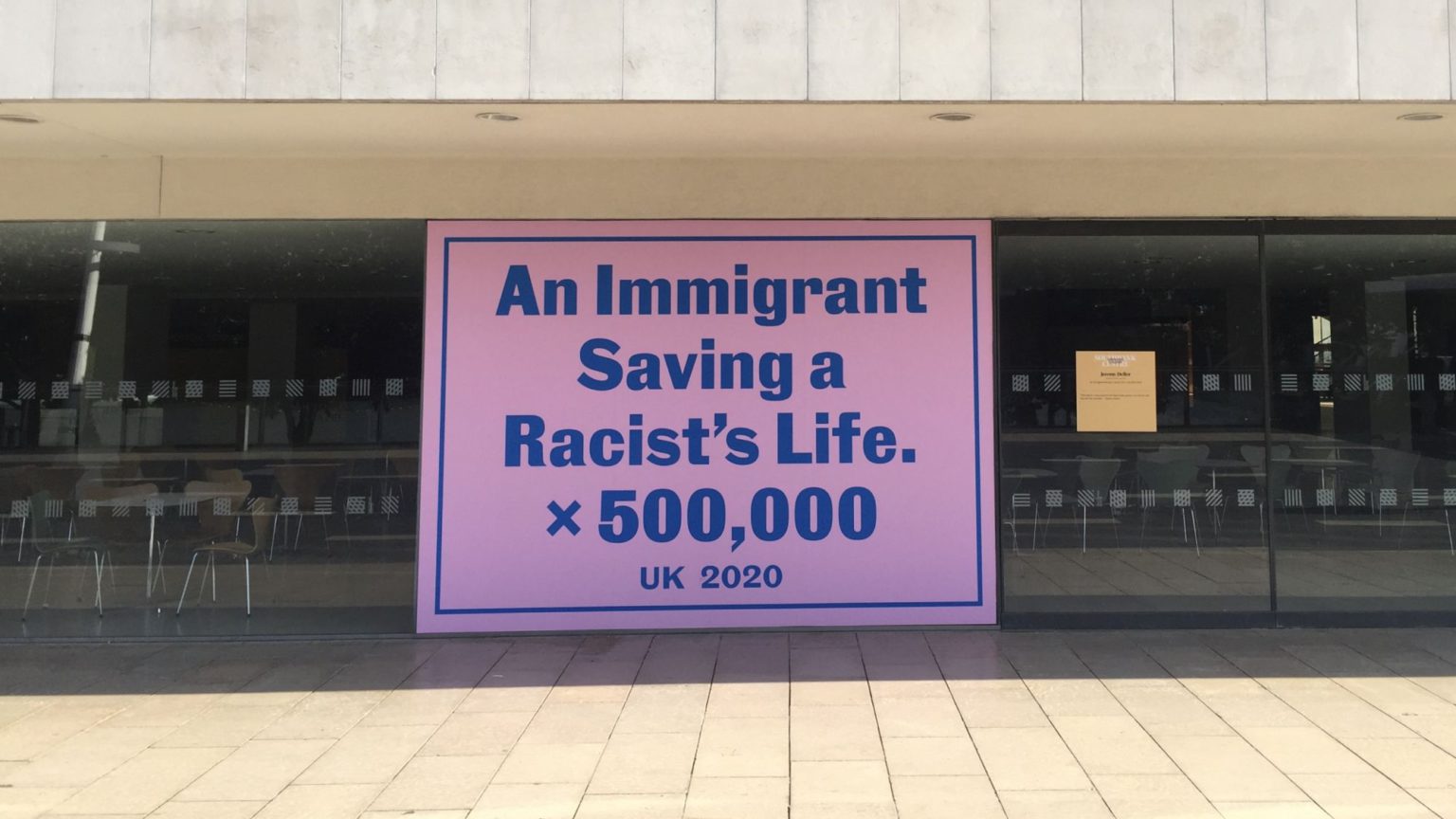 Artists have always responded to what is going on in the world, from wars to social and political upheavals. So it is to be expected that in this second decade of the 21st century there will be Covid-inspired art. Lockdown, including the closure of galleries and arts venues, has inspired a significant body of artworks themed around the global pandemic. For a snapshot of how British artists are responding, I took a walk on a sunny September afternoon to see the Southbank Centre's new outdoor exhibition, Everyday Heroes, featuring key workers and frontline staff, curated by the Hayward Gallery's director, Ralph Rugoff.
The Southbank Centre has been closed since 17 March and may remain shut until 2021. It is possible that 400 of its 600 staff could be made redundant. Yet the centre maintains a veneer of moral worthiness in this billboard exhibition which extols the 'contribution that key workers and frontline staff have made during the pandemic'.
The exhibition features 'more than 40 portraits of some of the entirely ordinary but also utterly remarkable people – among them health workers, bus drivers, faith workers and shop assistants – who have [kept] this country going during the crisis, often working in extremely challenging circumstances and putting their own personal safety at risk'.
Most of the paintings and photographs have been reproduced as billboards. Some of them work, such as Silvia Rosi and Juergen Teller's photos. Rosi's evocative black-and-white images of her young brother and mother during lockdown speak to all of us. Struggling with distance learning, the isolation of individuals in darkened interiors is striking in its melancholy and intimacy. Laura Grace Ford's collage is also compelling. Her portrait of her friend Majed, an occupational health doctor at London Gateway port in Essex, features a gritty and unglamorous, unromantic background of the port and the workers who keep the country running through maintaining logistic supply chains and the flow of food and materials for construction.
There are also some strong paintings. Matthew Krishanu's paintings of faith workers who have been responsible for offering spiritual solace and burying the dead during the pandemic are imbued with a soft, gentle warmth and simplicity. Alessandro Raho's full-figure photo-realist painting of a nurse is arresting for its focus on the softness and sheen of the uniformed nurse, devoid of background. However, these are billboards, not actual paintings, and the viewers' physical distance from the textures of the paint detracts from the experience.
On the whole, there are reproductions of many good individual pieces of art. But there are two troubling features to this exhibition. One is the heavy-handed curatorial messaging, the other is the conscious prioritising of the non-white human subject. The latter hits you like a mallet on the head with Jeremy Deller's large blue text work on a pink background. It bears the slogan: 'An immigrant saving a racist's life x 500,000, 2020.'
It is at ground level and it is staged as the centrepiece of this outdoor exhibition. It's in your face, its implications are unashamedly political, and it drips with disdain for the non-immigrant — namely, the white working class. The work can be seen as a companion piece to another of Deller's coronavirus-inspired poster artworks, 'Thank God for Immigrants', which was designed to be displayed in home windows.
In the Art Newspaper, Deller says the poster is a response to 'seeing the photographs of the doctors and nurses who have died… all of whom I imagine, if not immigrants themselves, have come from immigrant backgrounds. These are also the people left on the streets who are doing the jobs that nobody else is doing: making deliveries and stacking the supermarket shelves. This situation is going to reconfigure how we view immigration but also class and status and wealth and your value in society – all these things have totally inverted our value system.'
However, in his saintly veneration of the noble immigrant, Deller is adopting a homogenous, neo-orientalist view of the immigrant as heroic, courageous, selfless. This idea of the remarkable immigrant is overt in his sloganeering, implying that we from immigrant backgrounds are imbued with a virtue that Britain's white, and particularly white working-class communities do not possess. They are racist x 500,000, while immigrants are not only battling against a virus, but are also saving the brutish racists who are spreading it. The work reeks of sanctimonious virtue-signalling from a middle-class, privately educated Londoner.
As I pointed out in an article for All in Britain, spokespeople in the arts are exploiting the Covid pandemic to push their own sense of moral superiority. Yes, it is true that sections of Britain's ethnic minorities are at a higher risk of dying from coronavirus. Many are key workers, and underlying health conditions, as well as urban deprivation and overcrowding, are probably key factors in this problem, too. But this is primarily a virus that impacts on the working class regardless of ethnicity. A recent ONS report for England and Wales made it clear that the majority of Covid-related deaths by occupation involved workers in 'elementary occupations' — in other words, men working as security guards, men in the care and leisure sector, process plant workers and elementary construction workers.
The ONS report adds that, 'Of the deaths involving Covid-19 that occurred between 2 March and 15 May 2020, 88.6 per cent were among those of white ethnic background. Those of Indian ethnic background comprised 2.7 per cent and those of Black Caribbean ethnic background 2.4 per cent of deaths involving Covid-19.' This broadly correlates with the UK's population breakdown.
Jeremy Deller says, in the accompanying text to his billboard, that 'This text is a word portrait of what's been going on in the UK over the last few months'. However, he would do better to dig deeper into the complexity of the human condition in relation to this pandemic and make something more contemplative rather than creating platitudinous, unimaginative, sloganeering posters that only serve to divide immigrants from white British people, while encouraging posh cosmopolitan Londoners to patronisingly pat an immigrant on the back.
Manick Govinda is an independent arts consultant, artists' mentor and writer. Follow him on Twitter: @manick62
Everyday Heroes can be seen between September – November 2020 around the exterior of the Southbank Centre, London UK.
Picture by: Manick Govinda.
To enquire about republishing spiked's content, a right to reply or to request a correction, please contact the managing editor, Viv Regan.