Russia isn't responsible for Brexit – we the people are
The Remainer elite poses a far greater threat to British democracy than Vladimir Putin does.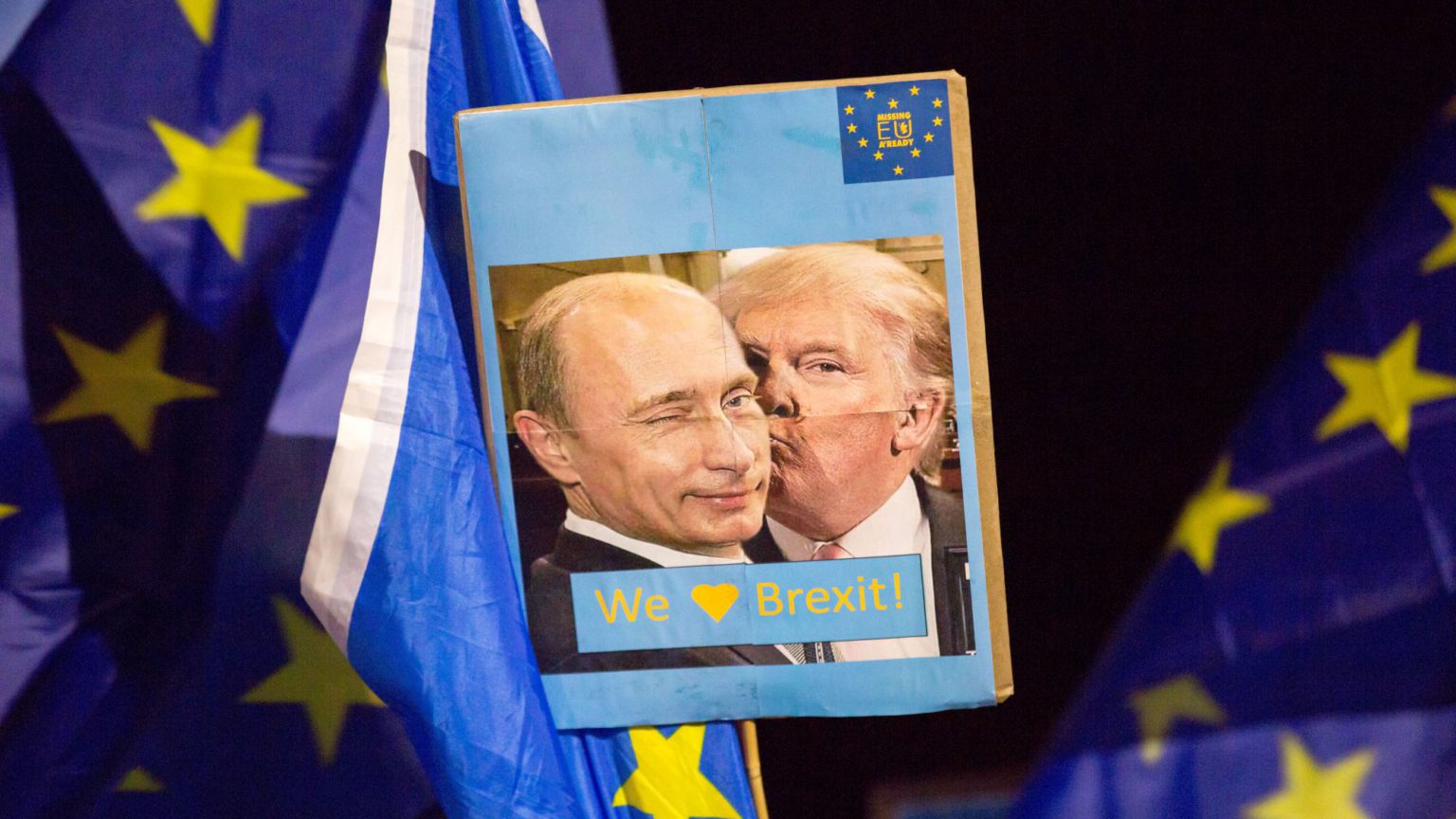 Imagine being so out of touch with public sentiment that you find it easier to believe that a vast Russian conspiracy brainwashed your fellow citizens into hating the EU than to accept that millions of us simply and rationally wanted to break away from Brussels.
This is the Remainer elite summed up. They have become so detached from ordinary Britons, from everyday life, that they have invented a story of the Russian capture of British democracy in an attempt to explain something that is utterly alien to them: the fact that millions of Brits have a different political view to theirs. They have become so aloof, so cut-off from the masses, so detached from the democratic reality of difference of opinion, that they can only understand our opposition to the EU as a foreign toxin, a political virus planted in our minds by Evil Russia.
This is the real story behind the interminable Russiagate debate and the idea that malevolent forces in Moscow interfered in the EU referendum and helped swing it to Brexit. This isn't a tale of Russian wickedness but rather of the Remainer elite's moral disorientation. The ongoing frenzied discussion about Russian meddling in the referendum looks like it is about Russia, but it isn't. It's about sections of Britain's own middle classes having made such a violent turn against democracy that they now openly reject the two fundamental premises of democratic life – first, that people can think for themselves; and second, that people must have a real say in the political life of their nation.
This is why they can't let go of their Russia conspiracy theory even following the publication of the Intelligence and Security Committee's report on Russia and its admission that there is still no evidence of real Russian interference in the referendum, far less that Russia made Brexit happen. It really has become a conspiracy theory, a chattering-class conspiracy theory. The 'Russia did Brexit' worldview is fuelled entirely by speculation and suspicion and a desperate desire to uncover the base, hidden forces whose secretive hand is behind the thing these people find so concerning and offensive – the vote for Brexit. All conspiracy theories are orgies of speculative fantasising designed to make strange world events seem more understandable and manageable – and that is unquestionably the case with the Russia-Brexit conspiracy theory.
They can't let it go despite the ongoing lack of evidence because it has become their entire worldview. It is the explanation. It is the feverish dream that makes the nightmare reality – Brexit – more comprehensible. So even though the Russia report unveils no evidence of effective Russian meddling in the Brexit process, and even says it would be 'difficult – if not impossible' to establish that such a thing happened, sections of the Remainer elite are still talking about Russia.
They need this story. It makes sense of their abject failure to convince a majority of their fellow citizens to join them in supporting the European Union. It is no longer their fault; it's Russia's. This is no longer a story of ordinary Britons rising up against the managerial, technocratic, pro-EU establishment that has dominated our lives for decades – a story these people cannot even countenance, given that it indicts them and their elitism. No, it's now a story of monstrous Putin leading Britain astray. How convenient. All the questions thrown up by the people's ballot-box revolt against the Euro-elites and the UK elites can be pushed aside in favour of obsessing over the dastardly machinations of a foreign power.
But here is the truth: the Remainer elite poses a far greater threat to British democracy than Vladimir Putin does. It isn't Putin who has spent the past four years trying to overthrow the largest democratic vote in the history of the United Kingdom. It isn't Putin who has used the law courts, the streets and the eye-watering wealth of rich businessmen to try to block the enactment of 17.4million votes. It isn't Putin who has called into question the wisdom of having democracy in the UK in the first place on the basis that much of the public is 'low information', xenophobic and didn't know what they were voting for in the 2016 referendum. It is the Remainer elite that has done all of that. It takes industrial levels of chutzpah for these people to accuse others of undermining British democracy when that has been their sole, obsessive aim for four years.
Indeed, even their chattering-class conspiracy theory about Russia is more damaging to British democracy than Russia itself. It fuels an entirely anti-democratic narrative. It spreads suspicion about the largest act of free and fair democracy this country has ever seen. Worse, it implies (and sometimes openly states) that ordinary voters are dim and suggestible, open to manipulation by foreign actors. This constant diminution of the moral and mental autonomy of voters calls into question the entire principle of democracy – which is that all of us have the capacity, and ought to have the right, to weigh up political matters and make a decision about them.
They need to stop. They can't, but they at least have to try. Their conspiracy theory is damaging trust in democracy, and their four-year rage against the electorate is undermining people's sense of being real democratic citizens. If you want to blame someone for Brexit, forget Russia – blame me and the 17.4million other people who voted for it. We did this. Rationally, consciously and happily, we voted to leave. And we would do it all over again.
To enquire about republishing spiked's content, a right to reply or to request a correction, please contact the managing editor, Viv Regan.