Fighting evil
I have seen the horrors of ISIS up close. The West must not abandon the victims.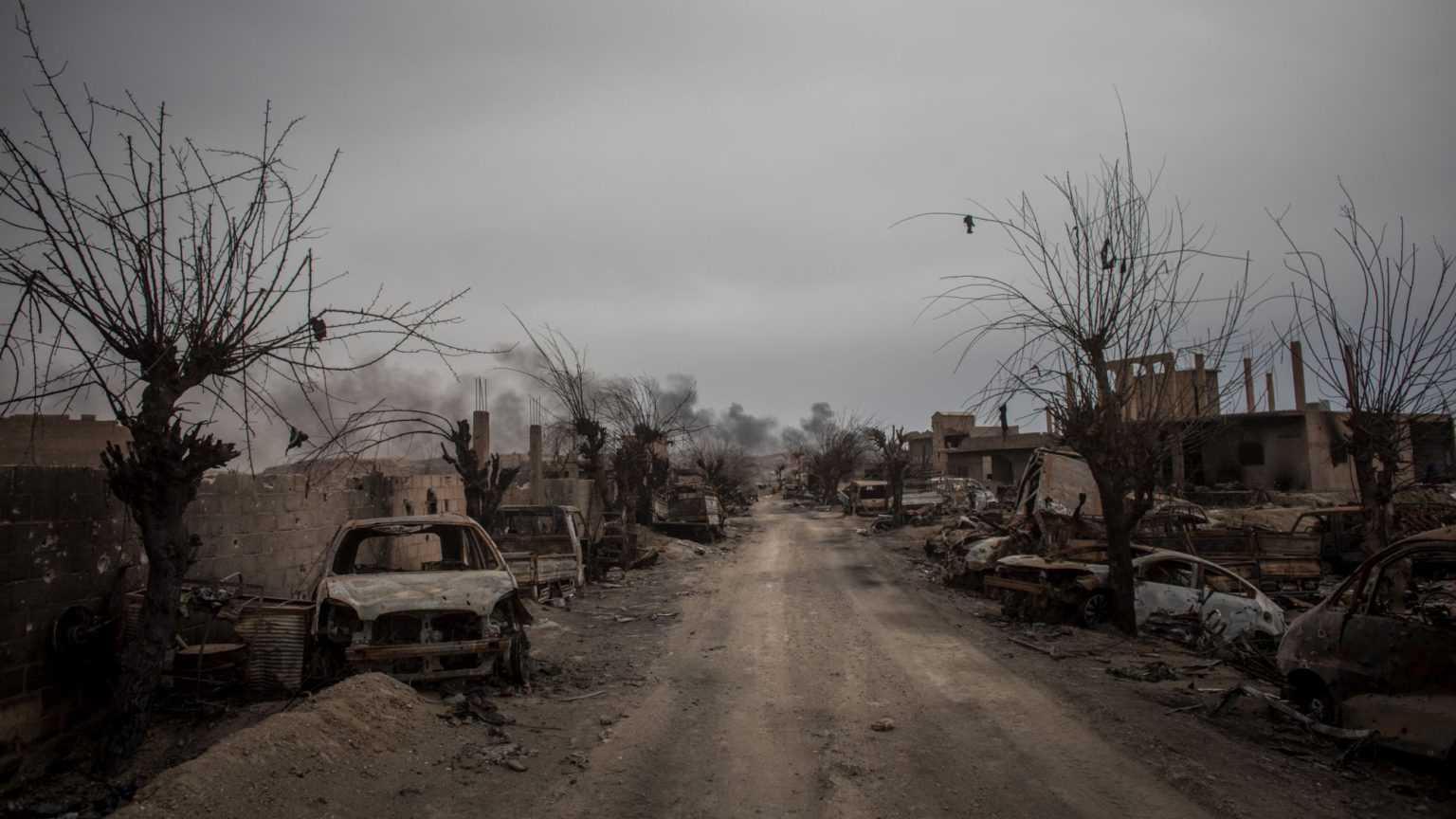 I will always remember the day that I met Tufan. It was May 2016 and we met by chance on the frontline in the war against the Islamic State. It was 1am and we were both paired up to do guard duty opposite a village called Til Nasri. The population of that occupied village had met a grim fate just a few weeks before. A large force of some 2,000 ISIS fighters had attacked this large Christian community in the middle of the night. Almost the entire village had been dragged kicking and screaming from their homes, loaded on to vans and sent south to Raqqa – most would never be seen again.
Tufan was young, perhaps 19. Even in the moonlight I could see he was a handsome guy. As we talked, the dull drone of a US Spectre gunship flew overhead. It didn't take long for it to start hammering the ISIS positions a little further down the line. Tufan looked out of place — he should have been at university or at home with his family instead of fighting in this savage war.
When I asked about his family a shadow passed over his face. Nearly a year before he had gone to school in Qamishli the day ISIS overran Sinjar. His family were Yazidis and they lived a few miles south of Sinjar mountain, one of the holiest places on earth for the Yazidi people. It didn't take long for news of the massacres and the enslavement of thousands of women and girls to reach him. He had initially attempted to hitch a ride to the mountain, begging passing refugees for news of his village. After a day or two, he found his way south blocked. The Kurdish YPG (People's Protection Units) had rallied and were now engaged in vicious fighting with the Islamic State. Weeks turned into months and no news of his community could be found. He was offered the chance to flee to Europe but instead he chose to join the YPG: if his family were alive, he was prepared to battle to the very heart of the Islamic State to get them back.
A few months after Tufan joined the YPG, in December 2014, I left the UK to join them as well. I was 27 years old, a currency broker by trade but an idealist and humanitarian at heart. I'd seen the massacre of the Yazidi people and the mass rape of the thousands of young girls. It filled me with rage and I could barely sleep at night, knowing what ISIS was doing to communities across Syria and Iraq. Fighting ISIS and joining local people in the battle against their savagery was the very least I could do.
The most I could do was to use my growing profile in the conflict to shame the West and to call for greater support for local forces. The strength of ISIS was magnified by the appalling lack of leadership and cohesion in the Western response to their atrocities. While tens of thousands of ISIS fighters rampaged over Syria and Iraq, the UK was locked in a debate about what an effective response to the crisis would look like. I can only guess that after 10 years of war in Afghanistan, the UK was suffering the ill effects of 'war fatigue'. It was left to hundreds of International Volunteers from around the world to fill the gap and to show local people that they weren't alone in fighting the evil of the Islamic State.
My chance encounter with Tufan came in my first year. After a few months of friendship we lost touch when I moved between units. The fighting intensified as we moved south towards Raqqa, and as the years passed I soon forgot about my friend and the tragic circumstances that brought us together.
By October 2017 I was a veteran of the ISIS war. The battle for Raqqa was coming to an end and I knew that once the city was liberated I would be leaving Syria for the last time. When news of the ISIS surrender came, I emerged on to the roof of my building in shock. Around me the city was in ruins. Thousands had died over the four-month siege and the once ancient city was left devastated by the Islamic State. My emotions were like a pendulum that swung between grief and pride. We had defeated the ISIS 'caliphate' but at what cost? Some 12,000 YPG / Syrian Democratic Forces fighters lay dead, including eight British and nearly 40 other International Volunteers.
All I could do now was to tell my story. To write about what I did in Syria and about the wonderful people I met along the way. My book, Fighting Evil, was published this month. It has been described as 'Homage to Catalonia – only with suicide bombers, drones and much dirtier combat'. I couldn't think of a better compliment, but in truth I hope it stands as testimony to the evil of ISIS and the bravery of the Kurdish people. I was a witness to history in Syria, and the years I spent in solidarity with the Kurds were a true honour.
Not only is the book a story of bravery and commitment — it is also a warning. I have seen with my own eyes the horrors of ISIS. Just one in 10 jihadists that returned to the UK from Syria have faced a courtroom. Dozens of British fanatics, like Shamima Begum and Jack Letts, are now in YPG custody, and are waiting to come back to the UK. The tens of thousands of ISIS prisoners in Syria are a disaster waiting to happen, they are an army waiting to break out. The UK must aid the Kurds in keeping these monsters in jail: they have made their bed and must be made to lie in it.
And what of my friend Tufan? Just last month I received news. He was wounded a few years ago on the frontline and was medically discharged from the YPG. He is now living in a refugee camp in Iraq with thousands of other Yazidis. Can you think of a greater stain on the conscience of the Western world? A man who lost his family, fought against ISIS and helped defeat them, is living in worse conditions than that of foreign jihadis who went to kill his family.
Until our politicians realise who the real victims are in this conflict, the world won't see any justice in Syria.
Macer Gifford is a human-rights activist and anti-ISIS campaigner. He served for three years in the Kurdish YPG. Follow him on Twitter: @macergifford.
Fighting Evil: The Ordinary Man who went to War Against ISIS, by Macer Gifford, is published by Seven Dials. (Buy this book from Amazon(UK).)
To enquire about republishing spiked's content, a right to reply or to request a correction, please contact the managing editor, Viv Regan.