Now even Fawlty Towers is being erased
The crazed witch-hunt against 'offensive' culture is completely out of control.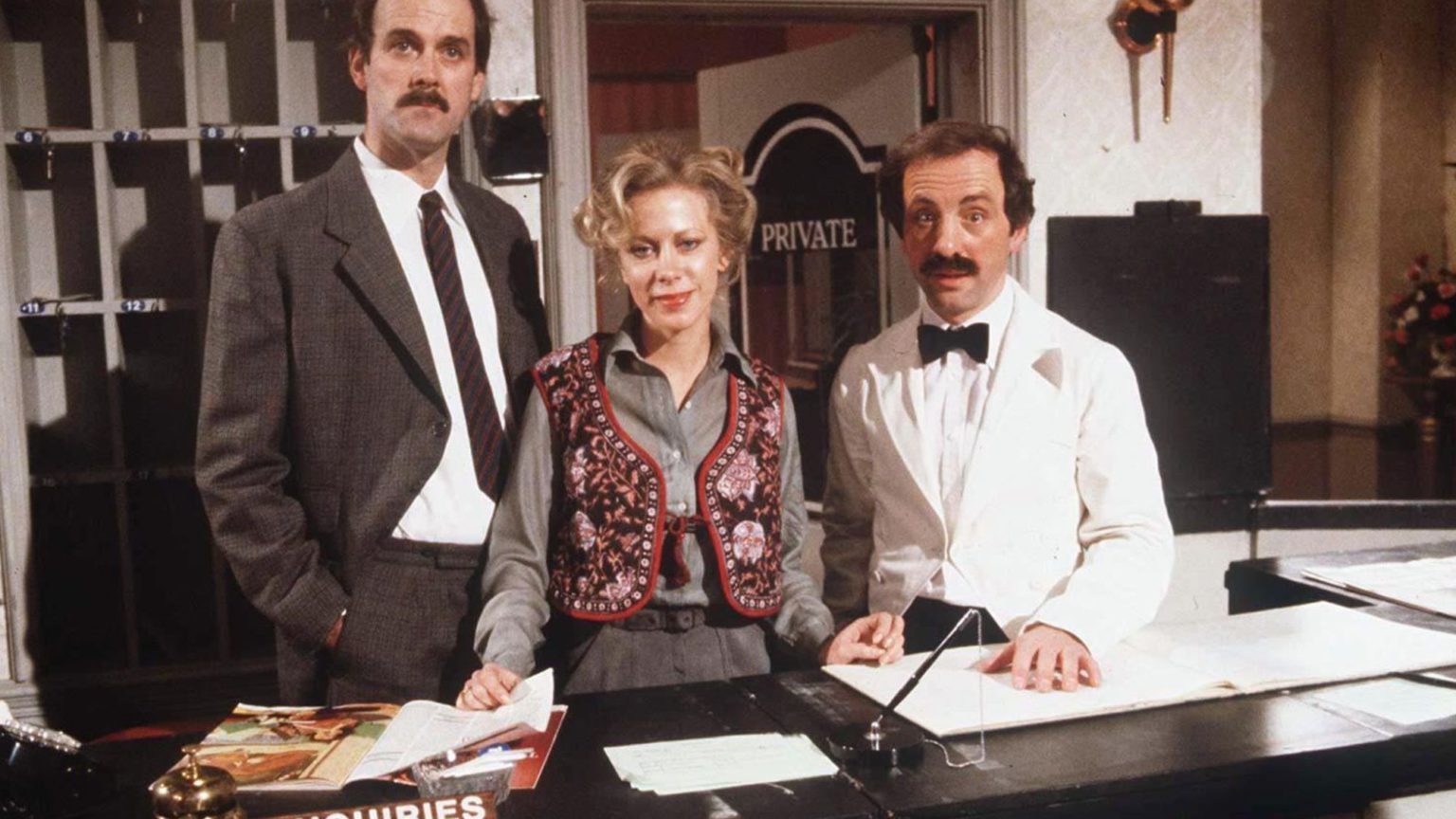 So now Basil Fawlty's gone down the memory hole. The crazed witch-hunt against 'problematic' culture has come for the sitcom that is often voted Britain's best ever. UKTV has taken down the 'don't mention the war' episode of Fawlty Towers on the basis that it takes the piss out of Germans, including with John Cleese's OTT goose-stepping, and also has Major Gowen using racist language.
That the episode is actually mocking Little Englanders' obsession with the war and boorish Brits' never-ending dislike of 'Krauts' matters not one iota to the literalist joyless censors of the 21st century. So it had to go.
It's a new low for the frenzy of historical erasure and cultural censorship that has exploded over the past week of Black Lives Matter agitation. First statues were torn down or vandalised, from Edward Colston to Queen Victoria, for the crime of offending the overeducated middle-class youths who've made up the bulk of the BLM protests in the UK.
Then actual people were cancelled for committing the thoughtcrime of questioning the idea of 'white privilege' or suggesting that Black Lives Matter might not be an entirely positive moment. Then it was culture for the chop: Little Britain, The League of Gentlemen and The Mighty Boosh were erased from streaming services on the jumped-up charge of containing blackface racism. And now Fawlty himself, the king of old British comedy, is in the firing line.
Thankfully, there has been a pushback against UKTV's Orwellian antics, including from woke censors themselves, from sections of the left that are normally at the forefront of deplatforming and memory-holing problematic culture, speakers and ideas. They're saying the removal of the Fawlty Towers episode takes things too far and could end up distracting from the serious issues of racism and police brutality.
The disingenuousness is staggering. It was actually these campaigners themselves who shifted the focus of protests away from American police brutality (an issue worth discussing) towards statues of people who died 300 years ago. And it was these campaigners who actively cheered when Little Britain et al were erased. They can't now baulk at Basil's fate. This is on them.
UKTV's craven behaviour, its capitulation to a mob that it imagined would come knocking on its door very soon, is entirely in keeping with the climate of the past week, and the climate of our times more broadly. This is the logic of censorship in action.
The thinking behind the removal of the Fawlty Towers episode – that it contains outdated language and potentially offensive themes – is the exact same as the thinking behind the attack on The Mighty Boosh, the campaign to get Nigel Farage dumped by LBC, and, while we're on this topic, the vile misogynistic crusade to silence JK Rowling for believing that people with penises are men, not women. In every one of these censorious cases of the past week, the idea has been the same: these people are offensive and dangerous and therefore they must be silenced.
You can't complain about the erasure of Fawlty Towers if you were okay with the erasure of The League of Gentlemen. You can't say banning Basil goes too far if you were okay with banning David Walliams playing a black woman in a fat suit. You can't now bleat about freedom of speech if you were happy to join the sexist mob trying to shut down JK Rowling for expressing her feminist opinions.
If you were part of these mad McCarthyite outbursts against offensive images and speech, then the Fawlty ridiculousness is as much on you as it is on UKTV. It takes some brass neck to whip up neo-Maoist mobs against 'dangerous' culture and ideas and then reach for the smelling salts when even Fawlty Towers falls victim to the censorious hysteria you helped to create.
The thinking behind censorship is always the same. It is driven by an elitist view of ordinary people as easily harmed or swayed by the things they read, watch and hear. Every instance mentioned above – from the smashing of old statues to the removal of Little Britain to the crusade against Rowling – is fuelled by this thinking; by the deeply patronising belief that black people are mentally harmed by statues of old racists, and that TV viewers could be turned racist by Little Britain's caricatures, and that trans people will feel threatened by Rowling's mere expression of (very considered) opinion.
It is important to challenge individual instances of censorship, of course. But it is the ideological foundation of censorship that really must be challenged. The idea that ordinary people are so fickle and malleable that they need wise people to protect them from harmful content is what really needs to be torn down. Every comedy show erased over the past week should be reinstated, no statue should be torn down without democratic consultation, and JK Rowling and all other women must be free to express their views on trans issues without being threatened with sexual violence by supposed trans allies.
We need a massive pushback against the paternalistic culture of woke censorship and cultural control. Defend Fawlty Towers, by all means, but let's also initiate a genuine democratic resistance to the wokeness, identitarianism and middle-class paternalism that are doing so much harm to public life.
To enquire about republishing spiked's content, a right to reply or to request a correction, please contact the managing editor, Viv Regan.