The people are leading Italy out of lockdown
Public pressure has forced the government to open up early. But there are still so many arbitrary rules.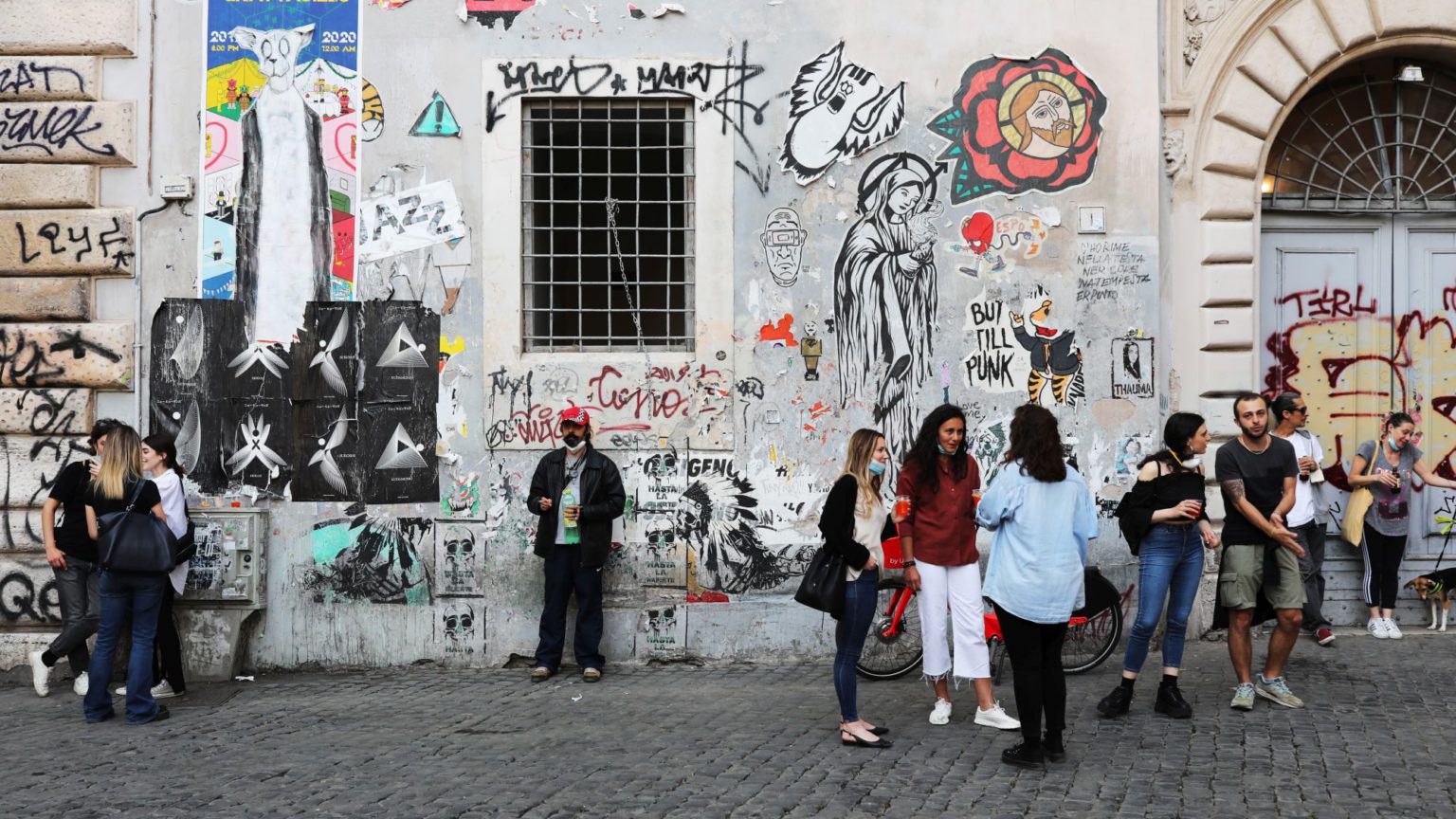 Italy began the second phase of easing its lockdown this week. All shops, hairdressers, beauty salons, bars and restaurants are now allowed to open. Social-distancing measures apply for different establishments and public transport, including wearing face masks and gloves (although this varies regionally). There are also regional variations for beaches, museums, libraries, exhibitions and archaeological sites, though they all have national permission to open.
A huge change is that we no longer need to carry a self-certification document when going out. The document had to contain a justification for each journey and our points of departure and arrival, which meant we could not stray off route. We are still only able to travel within home regions for now, but this will change on 3 June when we can travel nationally and internationally within the EU without quarantine. EU citizens and Brits will also be allowed to come to Italy. Swimming pools, gyms and other sports facilities can open from 25 May. Theatres and cinemas start from 15 June, which is when the European Commission is due to decide on whether to open up to non-EU travel.
This opening up is welcome. In fact, many of these measures were not included in the government's initial decree for phase two of the easing. Many of these changes are due to pressure applied by the public and civil society.
It was striking that one of the first changes was made after pressure from what is traditionally one of the most conservative sections of Italian society: the Catholic Church. Initially, when Italy's prime minister, Giuseppe Conte, announced phase two of the easing, he planned to keep the ban on masses.
Some brave priests were violating the lockdown. Father Lino Viola, for instance, led a mass in Cremona on Divine Mercy Sunday (19 April) before the police stopped it. He was fined €680 and his parishioners were fined €280 each. Many priests expected Conte to announce masses to be allowed in phase two, but the only religious services permitted were funerals with a maximum of 15 people (who would also have to adhere to social-distancing rules). The Italian bishops' conference immediately condemned Conte's phase-two decree. The government responded with a protocol allowing masses to resume on 18 May.
There have also been public protests against the unevenness of the easing. On 4 May, the first day Italians could travel within their regions to see relatives, demonstrations against the lockdown were held around the country. In Venice, my nearest city, 500 people demonstrated in St Mark's Square and at Rialto Bridge. Many protesters held up placards demanding to be able to go back to work.
The protesters included hairdressers holding large plastic scissors, beauticians, shopkeepers, restaurant owners and bar owners – and their employees. At the time of the protests, according to the phase-two decree, all these types of businesses were due to open on 1 June (except for food and drink outlets, which were only allowed to provide takeaway services). But popular pressure and fear of the mounting economic crisis made the government bring the opening of these businesses forward to this week.
Economic hardship was undoubtedly a major factor compelling people to protest. Italians in the poorer southern regions have suffered enormously under lockdown, despite having very few cases of the virus. Even in the wealthier parts of the country, all is not well. In Venice and the surrounding province, around 15,000 furloughed employees have received no pay for two months.
Lots of Italians are angry because they can see there is no rationale or fairness in the way the government has chosen to ease the lockdown. While most shops were opening up during phase two, bookshops, stationers and children's clothes shops had already been open since 14 April. If children's clothes shops could open with social distancing, why not adult clothes shops? It is clear that there is no scientific rationale behind the way the easing has been phased, just as there was no strategic thinking behind the introduction of lockdown measures in the first place in March.
Officially, the process has been led by experts. The government has created various committees of more than 450 experts to guide its coronavirus policies. These include a taskforce established on 10 April of economists, scientists, managers and psychologists to help the government navigate the path out of lockdown. This 'phase two' taskforce is led by businessman and former Vodafone Group CEO Vittorio Colao. Conte has even given Colao and his taskforce ministerial powers. This was a bizarre choice, not least because Colao was living in London at the time he was appointed. At the end of April, he said he had no intention of returning to Italy.
One of the clearest problems with phase two is that while it allows for many people to return to work in theory, at the same time schools and nurseries remain closed. Many parents have therefore had to leave their children with grandparents – just as was the case when lockdown began. It was clear then, and is even clearer now, that elderly people are more vulnerable to Covid-19 and should be isolated from children who might infect them. Instead, government policy has made it more likely that the elderly will be put in harm's way.
Nevertheless, there are no plans to open nurseries, schools or universities until September. This lack of childcare led the brave mayor of Borgosesia in the Piedmont region, Paolo Tiramani, to defy the government and open a school gym and play area for kids aged three to 10 as their working parents were unable to look after them.
The coronavirus lockdown has closed all schools since 5 March (24 February in some northern areas). That means that by September, children will not have attended school for six months. Many children are not learning at all. Online lessons are not making up for the teaching lost. Children are being set homework but parents are expected to oversee this even if they are working. A survey of 800 children in 44 schools in Rome found that 61 per cent of six- to 10-year-olds had not had a single online lesson since lockdown began. The failure to open schools, nurseries and universities has been a disaster.
According to news reports, the expert taskforce advising on the lockdown easing is likely to be wound up soon. While it is tempting to think this could improve matters, the experts themselves are not the main issue. The real issue is that the government derives so much authority from the experts. Indeed, the government is so protective of its coronavirus experts that it made them immune from legal prosecution. The current government lacks any serious democratic mandate. It is so distant from regular Italians that it is unable to make the decisions that are in the best interests of the people.
Only a truly democratic government, which draws its authority from the people, has a chance of dealing effectively with Covid-19 and the emerging social and economic crisis.
To enquire about republishing spiked's content, a right to reply or to request a correction, please contact the managing editor, Viv Regan.