Life inside the Italian lockdown
The government's authoritarian response to coronavirus is tugging at the social fabric.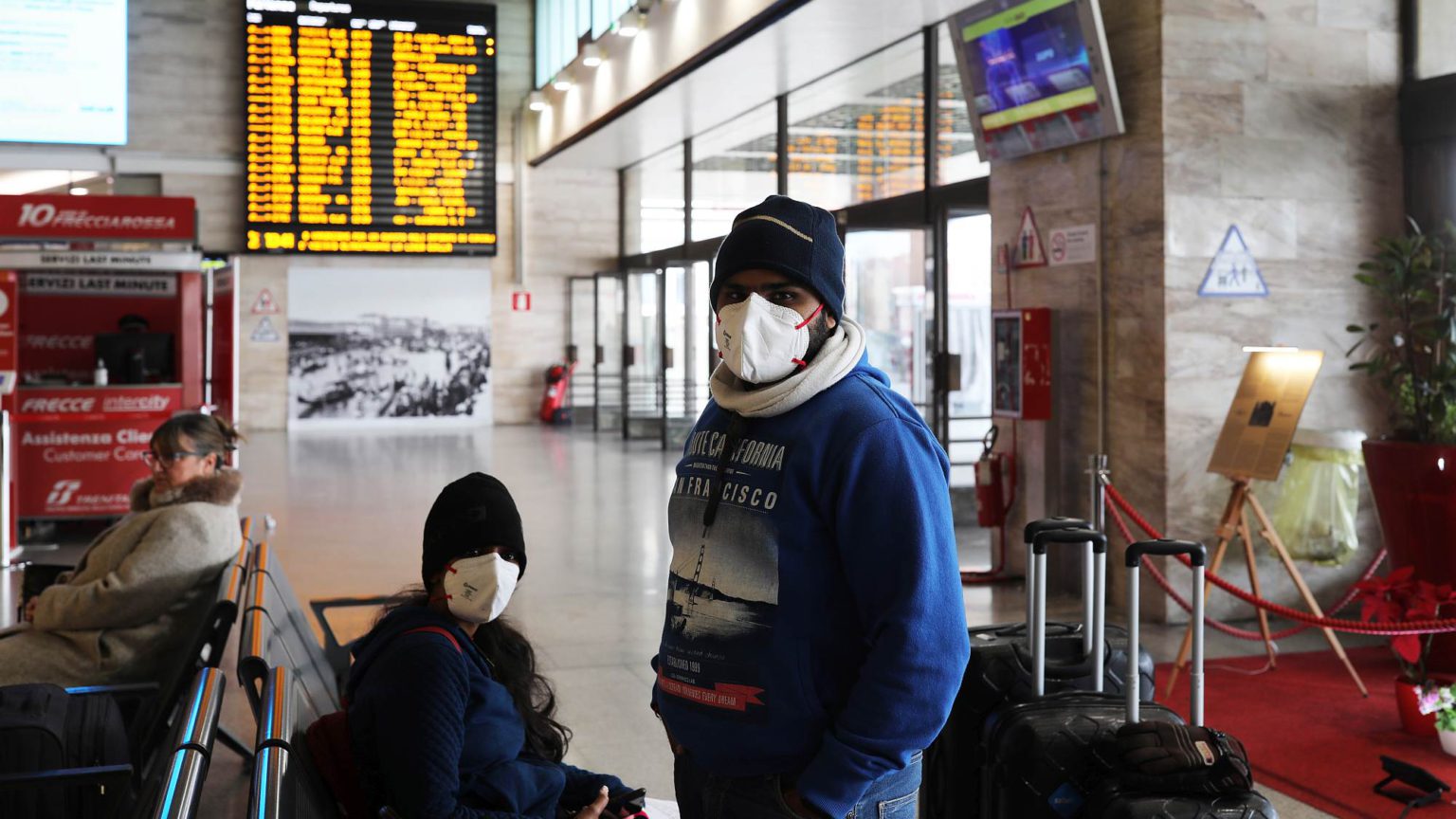 Life has changed significantly in Italy, following the introduction of a nationwide lockdown due to Covid-19. Italy is the second worst hit country by coronavirus, after China, and at the time of writing has reported 12,400 cases and 827 deaths. Here in Veneto, where I live, which was put under lockdown shortly before the rest of the country, I realised the crisis was changing how people relate to each other when I went to my local gelateria to order some takeaway gelato on Friday evening. I ordered the ice-cream at the bar and asked for a glass of wine to drink while I was waiting. But the bartender, who is always friendly, told me I had to move away from the bar and sit at a table. It was explained that this was to maintain one metre of distance between people, as was then recommended by the government.
Keeping this distance between people became law from Sunday, after the government passed a decree enforcing it in some areas of northern Italy on Saturday night. The extent to which people follow this advice varies. While eating in a restaurant early this week, I noticed people were sitting at every other table, with one table left vacant between them. Yet families and friends were sitting next to each other, and waiters didn't keep their distance to serve us. There is a weird sense of public performance about it all. Yesterday, there was a queue of people standing one metre apart outside the pharmacy in my village, while they were waiting to enter one person at a time.
Lockdown measures became law on Sunday in the region of Lombardy and some parts of the Veneto region, such as the province of Treviso, which includes the village of Onigo where I live. But this was a lockdown in name only. My wife drove to the supermarket, which was busier than usual but full of goods. We then went for a walk around our village and there were plenty of people walking and greeting each other, not keeping one metre apart. We chatted with neighbours. Some were anxious about coronavirus, especially the elderly. But there was also a sense of bemusement given not one case of the virus had been recorded within our village or the broader council area of Pederobba. Moreover, there were no registered cases of Covid-19 in more populous neighbouring council areas.
It made no sense to shut down towns and villages without cases of the virus. However, it was logical to shut down towns with very high numbers of coronavirus cases, like Codogno in the Lombardy region, as this reduced the spread of the virus and has now stopped the emergence of new contaminations in the town. This is a local success story that has been rarely told amid the media doom-mongering about coronavirus.
On Monday, police were stopping people on the roads, but the government issued a self-certification document to print and complete to justify local travel for work, health reasons, returning home, or 'necessary situations', such as going to the shops. Then, on Monday evening, the government issued a decree that made the entire country a protected zone and extended the previous locally applied travel restrictions to the whole country until 3 April. In addition, this decree banned public cultural, religious and trade events and most sporting competitions, and closed all schools, childcare facilities, universities, gyms, swimming pools, sports centres, spas, ski resorts and community centres. Outdoor sport is permitted if people, again, keep one metre apart. Similarly, people need to maintain this distance in all bars and restaurants, which can now only open between 6am and 6pm. Large shopping malls, markets and supermarkets are closed at weekends. Otherwise, all commercial activities are permitted to continue. Yet the decree states that companies should provide for work leave.
This decree has had drastic consequences. It has shut down most social and economic life in Italy. Such draconian measures have not been witnessed in a Western country since the Second World War, and this is having international repercussions. Students and educators in Italy have now moved all education online (across the US many universities have done the same). Borders between Italy and Austria and Switzerland have been partially closed. Italy's government has pumped €25 billion of spending into the economy, with the European Union allowing the breaking of its budget deficit and debt to GDP rules. Nevertheless, the economic impact of the shutdown measures is severe, and whether they will postpone or accelerate financial crisis in Italy and the world remains to be seen.
Politically, this government has mismanaged the coronavirus since January, and the drastic and hasty shutdowns have led to speculation about what it will do next. Matteo Salvini, the leader of the opposition League party, has called for everything to be closed down, except for emergency services. The governors of Piedmont, Veneto and Lombardy have made similar requests for their regions. Prime minister Giuseppe Conte has said the government is 'assessing these requests', and has refused to rule out more rigorous measures.
Further repression feels inevitable, as the shutdown has been endorsed by politicians across the political spectrum. Despite their incoherence, the shutdown measures have invigorated a government that lacked a democratic mandate, but has enjoyed a rise in popularity after its authoritarian move. An opinion poll published on 10 March by the Ixe agency showed 89 per cent of Italians polled support the government's extension of the shutdown measures to the whole country.
Politicians and commentators who have dissented from this authoritarian narrative are facing extreme reactions. Forza Italia MP Vittorio Sgarbi has said that making the whole of Italy a protected zone is a 'suspension of democracy', and that people should be able to travel. Sgarbi is also president of the Trento MART museum of modern art, and following his comments there were calls for him to be dismissed from the role.
Denunciations and arrests are proliferating. On 10 March, 161 people were reported to the police for being out of their houses without valid justification. People with confirmed symptoms of coronavirus who leave their houses can be charged with attempted manslaughter. The politicisation of fear and the shutdown measures are turning people against each other. On social media, people are threatening to denounce parents after seeing their kids outside in groups and not one metre apart.
With such a comparatively high level of Covid-19 infections and deaths in Italy, sensible restrictions in areas of high infection are required. Especially now that coronavirus has been declared a global pandemic. But this nationwide shutdown of economic and social freedom seems unwarranted, and is doing serious damage.
To enquire about republishing spiked's content, a right to reply or to request a correction, please contact the managing editor, Viv Regan.