The prince and the profiteers
Prince Charles has found a new role for himself as a globe-trotting convener of 'green finance'.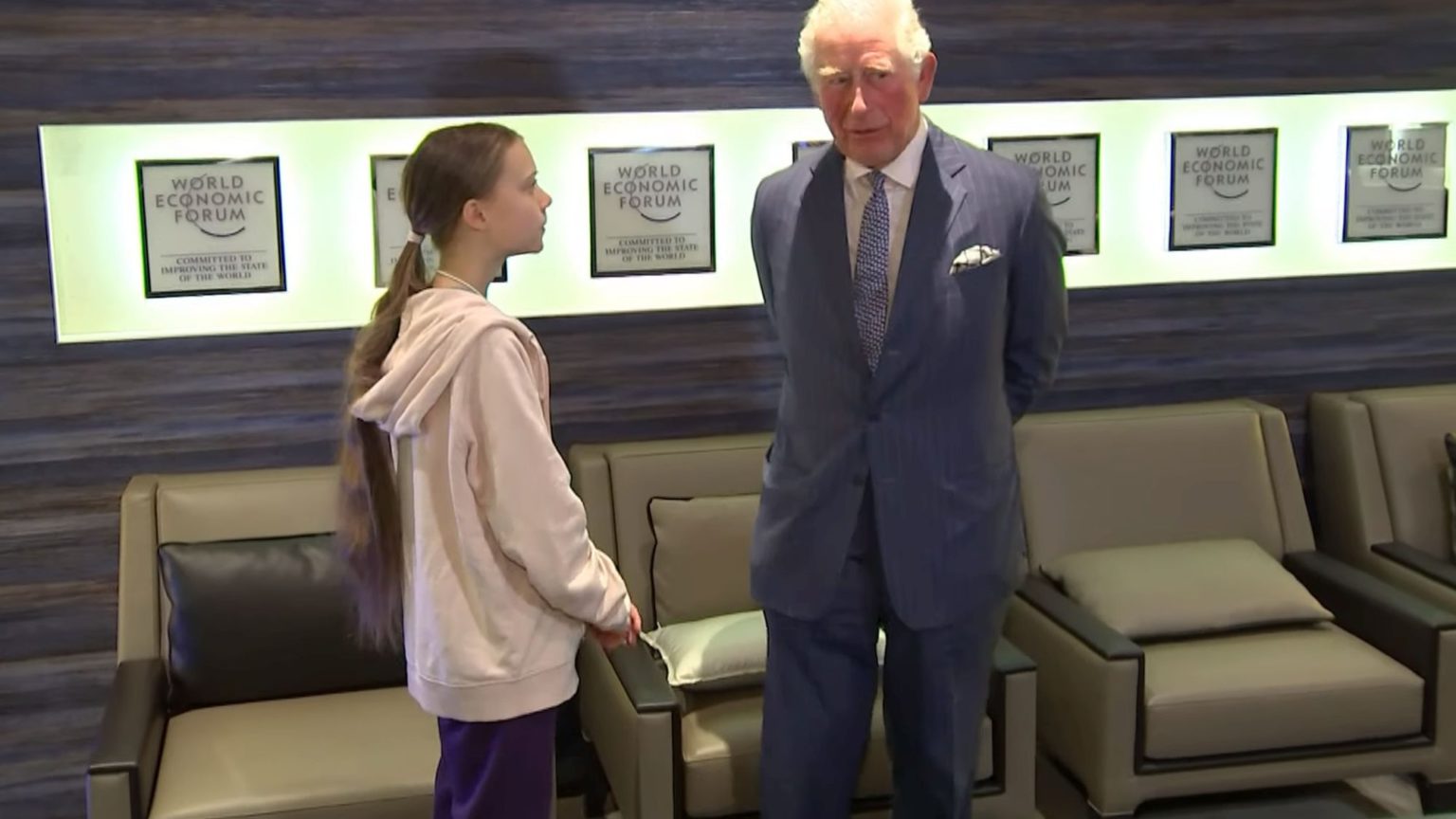 Prince Charles gave a seemingly interminable address to the World Economic Forum (WEF) in Davos, Switzerland this week. He and his speechwriters caught the green zeitgeist among the global elite with great precision. Charles called for 'nothing short of a paradigm shift' and action 'at revolutionary levels and pace'.
The speech marked a shift in the prince's own thinking as well. In 2009, Charles warned that mankind had until just 2017 to save the planet. Only last year he argued that mankind was probably too late.
But before meeting the bankers and Greta Thunberg at Davos this year, our king-to-be had changed his tune. The prince now wants to 'kickstart a decade of action' alongside his newly enlightened friends in high places. Partly in the hope that the Thunberg generation will no longer 'accuse' him of 'doing nothing'.
According to Charles, what has changed is that in the past two or three years, more of the world's money – sovereign wealth funds, pension funds, insurance and asset portfolios – has gone into green technologies, on which returns are more and more out-performing those on traditional investment portfolios. Many central banks and financial institutions have also committed to 'integrating climate risk into stress-testing, supervision and disclosure', with mandatory disclosure coming next.
The prince believes solving environmental problems is often 'simply about bringing the right people together'. He wants the public, private and philanthropic sectors to go green in 'enhanced partnerships'. Innovators, decision-makers and investors with trillions of dollars could form 'an unprecedented global alliance', he says.
HRH envisages a 'convening role' for himself in all this. He will get to most, if not all, of this year's major global meetings – the G7 summit, the G20 summit, certainly the Commonwealth Heads of Government Meeting, maybe even the 2020 United Nations Climate Change Conference. He will do his utmost 'to ensure that the message of urgency, systemic change, collaboration and integration is heard'.
One problem is that Prince Charles vastly overestimates existing investment in green technologies, even if he is right to hint that the woke war on fossil fuels has now reached central banks and financial regulators. General capital investment has slumped in the US, UK and many parts of the West. The vogue for what is glibly termed 'green finance' cannot disguise the fact that, for a long time, real investment in renewables around the world has been stagnant.
The prince's forthcoming interventions will be part of a much wider Sustainable Markets Initiative, which he will run with cash from the WEF. But what does the prince mean by 'sustainable markets'? Is he following Margaret Thatcher's endorsement of 'sustainable development' in 1988? According to Charles, sustainable markets generate long-term value through the balance of natural, social, human and financial capital. They 'put nature, and the protection of nature's capital – from which we draw an annual return – at the heart of how we operate', especially given that 'nature is, in fact, the lifeblood of our financial markets'. They are about 'responsible transition pathways to decarbonise and move to net zero'. They are a lens to 'look at our markets using a business-model approach to revenue generation and system operations'. They mean investing in nature 'as the true engine of our economy'. They rely on unified, global standards around 'ESG [environment, social and governance] methodologies'.
No doubt royal courtiers helped the prince to lard his mad political economy with all the business buzzwords. This was Davos, after all. But we should not be complacent about what the prince's intervention means. His new doctrine includes his old environmental catastrophism.
But like Boris Johnson, who expects the market to find 'sustainable solutions to the future' to create a 'green powerhouse', Charles' vision suggests that sustainability and profitability go hand in hand. He envisages 'entire new industries' based on our new environmental demands, which will replace the old dirty ones. These industries may not exist yet, or even by the time old ones fold, but they will arrive eventually, we are assured.
In this pipe dream, Prince Charles looks forward to 'commercially viable, hydrogen-powered and electric aircraft within the decade' (although according to his previous predictions, we may all be dead by then). And, he added, we are witnessing 'breakthroughs' in the cost of solar power – breakthroughs that 'have the potential to revolutionise almost every industry'.
These upbeat arguments merely put an exciting gloss on the old green programme of austerity. Back in the real world, Boeing tries to fly unsafe aircraft, and the Airbus 380 superjumbo has collapsed, so I won't be as eager as Prince Charles to board one of his hydrogen or electric aircraft.
As for renewables fixing everything, the International Energy Agency's World Energy Outlook 2019 points out that they currently account for just 25 per cent of power generation, 10 per cent of heat production and less than five per cent of world transport.
For all the high-tech utopianism, the prince is adamant that 'being socially and environmentally conscious cannot only be for those who can afford it'. Not just the Davos billionaires, but the poor plebs must sign up to his agenda, too.
Part of that agenda – endorsed by Thunberg and many others – is that 'perverse' subsidies for fossil fuels must end. This completely ignores the political considerations in places like China, India, Nigeria, Egypt, Iran and Venezuela and the consequences of making fuel much dearer there. The UK doesn't actually subsidise fossil fuels, but greens consider the five per cent rate of VAT on household energy bills to be a subsidy. Removing the 'subsidy' would mean hiking the tax on energy to 20 per cent, in line with other consumer goods.
The new green era promises to be a great climate for royals and business people, but it looks a bit less rosy for the rest of us.
James Woudhuysen is visiting professor of forecasting and innovation at London South Bank University. He is also editor of Big Potatoes: the London Manifesto for Innovation. Read his blog here.
Picture by: YouTube.
To enquire about republishing spiked's content, a right to reply or to request a correction, please contact the managing editor, Viv Regan.