The SNP comes undone
Nicola Sturgeon's TV interview this week highlighted her irrational and divisive politics.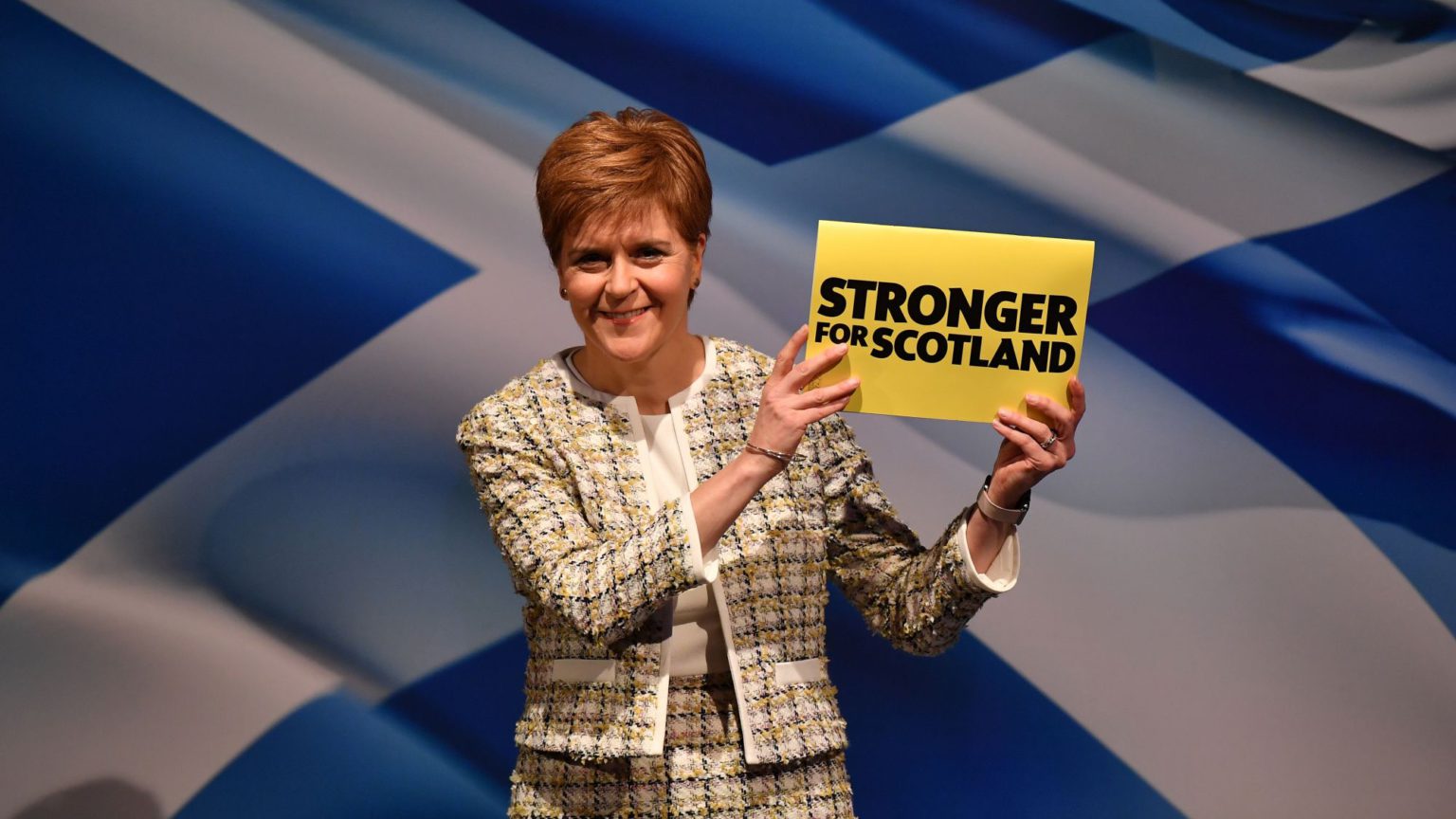 Everybody loves Oor Nicola, otherwise known as Nicola Sturgeon, the SNP leader and first minister of Scotland. She may be wee, but she's smart and passionate. And when I say popular, I mean especially with left-leaning liberals who don't actually live in Scotland. Those of us who do live in Scotland, on the other hand, have to tolerate her divisive politics and illiberal policies.
For those who think Sturgeon wears a halo, her General Election interview with Andrew Neil this week was hopefully an eye-opener. Her whole political message can be summed up in the idea that an independent Scotland would be wealthier, happier and run better in the interests of ordinary Scots than if Scotland stayed in the UK. The interview demonstrated that this isn't true.
The idea that a separate Scotland would be some kind of nirvana certainly wasn't a view shared by Scots in September 2014 when, on a massive turnout of 84.6 per cent, they voted by 55-45 to remain part of the UK. That is, they voted to stay part of the Union, having a democratic say in the making of UK laws and accepting the results of UK-wide votes. The SNP's 'once in a generation' vote went against them. The referendum campaign was long and divisive. The one ray of light was that whatever the result, it would be accepted by everyone and Scotland could move on.
But the SNP didn't give up on the idea of independence. That would be like a shark giving up on swimming – it would be dead in the water. Instead, the SNP adopted a policy in its manifesto for the May 2016 Scottish Parliament elections that there would be another referendum 'if there is clear and sustained evidence that independence has become the preferred option of a majority of the Scottish people – or if there is a significant and material change in the circumstances that prevailed in 2014, such as Scotland being taken out of the EU against our will'.
On a much lower turnout than in the independence referendum (just under 56 per cent), the SNP's new policy proved such a hit with voters that the party lost its overall majority at Holyrood and its minority government is now propped up by the Scottish Greens, who are also in favour of another independence referendum.
So it was no surprise that when the UK voted to leave the EU, but Scotland voted two-to-one for remaining, the SNP brought up the issue of another referendum. This was the 'material change' that Sturgeon and Co had been waiting for. All that was needed now was the approval of the UK government.
But as the Andrew Neil interview demonstrated, things are not so simple for the SNP. Clearly, the SNP would like Scotland to stay in the EU. So would the SNP prop up a minority Labour government in Westminster, with the prospect of a second EU referendum, even if Jeremy Corbyn refused to offer another referendum on Scottish independence? Sturgeon couldn't say, it would all be about negotiations and leverage.
Neil then probed the basis for another Scottish referendum. Brexit would be the 'material change' that the SNP wanted and it could therefore be argued that there was a mandate for 'indyref2'. But what if the UK didn't leave the EU? Since opinion polls have only rarely shown a majority for Scottish independence since the original vote, it could hardly be said there was clear support for another referendum. Ironically, if the SNP helped Labour or the Lib Dems to reverse Brexit, it would be taking away the mandate for its real goal – another independence referendum. The response was more bluster from Sturgeon.
Then Neil asked about how independence might work. Back in 2014, things were complicated enough, but at least Scotland and the rest of the UK would all be in the EU's Single Market and Customs Union. If Brexit does happen, followed by an independent Scotland rejoining the EU, then Scotland would face customs checks with its biggest trading partner, the UK. There might even be questions about free movement across the Scottish border. Sturgeon has claimed that Brexit could cost 80,000 Scottish jobs. How many more would be lost if there were trade frictions with the UK? Sturgeon seemed lost, unable to provide a coherent answer.
The complications for an independent Scotland after Brexit came thick and fast from Neil. What would the currency be? Would Scotland join the Euro? How could Scotland create its own stable currency – a precondition for joining the EU – when it is currently running the biggest government deficit in Europe? Throwing points from the SNP's own Growth Commission at her, Neil showed that Sturgeon really didn't have a sensible, worked-out plan. When Neil asked her if any final deal to join the EU would be put to the people of Scotland, and Sturgeon hypocritically indicated that it would not, you just had to laugh.
Just to put the tin lid on this debacle, Neil then went after the SNP's actual record in government. Far from being a model of how an independent Scotland could be run, the SNP governments (continuous since 2007) have a record on health, education and policing that is every bit as bad, if not worse, than administrations elsewhere in the UK. That's despite the fact that the Barnett Formula means central government gives more money per head of population to Scotland than to England and Wales.
In short, this is a Catch-22. The SNP has no mandate for another independence referendum unless Brexit actually happens. But if Brexit happens, the case for independence becomes much harder to make. And for what? So that Scotland can be run by middle-class, sub-Blairite, less-than-competent, illiberal technocrats in Edinburgh rather than no-mark politicians in Westminster? It's not exactly Braveheart, is it?
The only silver lining for Sturgeon after that car-crash of an interview? The fact that Jeremy Corbyn's interview the following night was so jaw-droppingly awful that her own nightmare might be forgotten.
Rob Lyons is science and technology director at the Academy of Ideas and a spiked columnist.
Picture by: Getty.
To enquire about republishing spiked's content, a right to reply or to request a correction, please contact the managing editor, Viv Regan.