Neoliberalism's useful idiots
Corbynistas pose as radical and yet they're campaigning day and night to keep us in the capitalist machine that is the EU.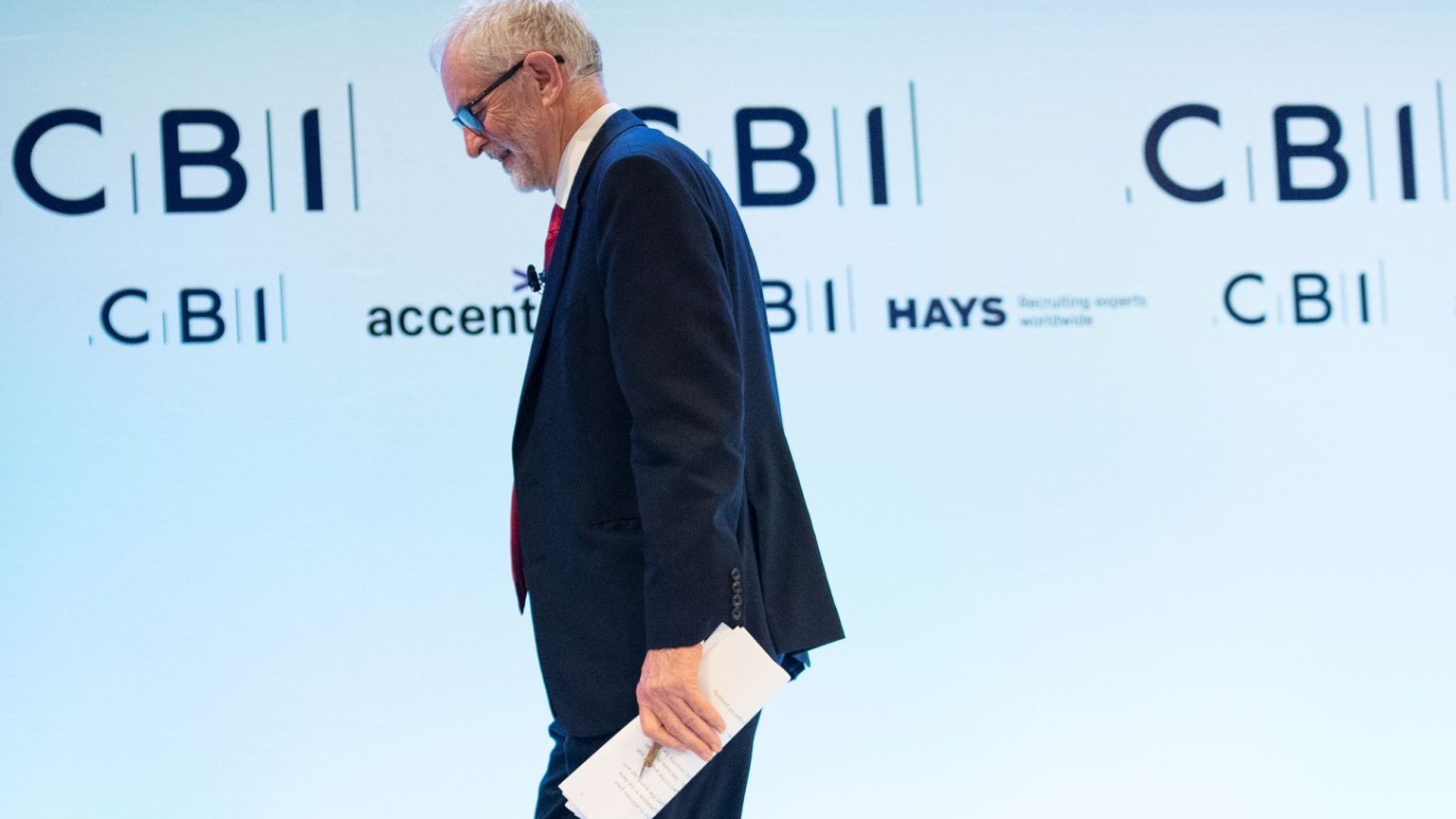 I wish people would stop saying Labour's Brexit policy is confusing. It is actually incredibly straightforward. Labour will kill Brexit. It will block the enactment of the largest democratic vote in UK history and ensure that we do not leave the EU in any meaningful way. It could not be clearer: Labour will betray millions of its working-class voters, its own history of Euroscepticism, and the values of Jeremy Corbyn's own hero Tony Benn, by subverting British democracy and keeping us in the EU against the people's will.
Anyone who doubts this – or anyone who is still, inexplicably, confused about Labour Brexit's policy – only needed to listen to Crobyn's comments at the Confederation of British Industry (CBI) on Monday. Corbyn first assured the assembled capitalists that he is not anti-business. Then he assured them that if he were prime minister, no harm would come to their beloved neoliberal institution, the European Union. Corbyn essentially promised the gathered bosses that he would override the stupid plebs' democratic wishes and keep Britain entangled in the EU.
He said Labour's policy is to get a good Brexit deal with the EU and then put it to the people in a confirmatory vote – otherwise known as a second referendum. This referendum would, in his words, be a choice between the 'sensible deal' struck by Labour and fully remaining in the EU. That 'sensible deal', by the way, would include 'a customs union, close Single Market relationship, and guarantees of rights, standards and protections'. So we'd have a choice between remaining and… remaining. A customs union, Single Market links, and EU-guaranteed rights and standards – that is, immovable EU regulations – do not not add up to Leave. By any stretch of the imagination. With complete contempt for the democratic will, and the basic principle of democratic choice, a Labour government would say to us: 'You can stay in the EU or you can stay in the EU. It's your choice.'
This is not confusing. Labour would pursue a backroom coup against Brexit. It would not only renege on the democratic vote to leave – it would then remove the option of leaving entirely from the ballot paper in a second referendum. It would deprive the British people of the thing that the largest number of us in the democratic history of this country called for: a break from the EU. Labour MPs, activists and bureaucrats would engage in a bloodless coup against the people's will.
There are so many things wrong with Labour's Brexit policy. It is anti-democratic. It is deeply dishonest, presenting the suppression of the people's will as a 'people's vote'. It is an astonishing about-face by Jeremy Corbyn, who has been Eurosceptic his entire adult life, and who in fact has mocked the EU's tyrannical tendency to force dissenting electorates to vote again if they ever dare to oppose EU diktat. That Corbyn himself is now leading the charge for a second referendum represents one of the most shameful abandonments of political principle in recent British history.
Labour's determination to keep us in the EU, or intimately tied to the EU, also shatters the party's pretence of radicalism. So much of what the Corbyn-led Labour Party wants to do, including monopolising via nationalisation the broadband market, would be forbidden under EU rules. The EU is a nakedly neoliberal body. As Tony Benn said, 'The EU has the only constitution in the world committed to capitalism'. He said: 'It destroys the prospect of socialism in Europe.' Remember that next time you see middle-class Corbynistas campaigning in the streets, with their fists raised, secretly loving dim right-wingers' description of their 'free broadband' policy as 'broadband communism': these people are campaigning to preserve the UK's relationship with the only institution on earth that is constitutionally committed to capitalism and which is so disgusted by socialism that it effectively makes it illegal.
These are lefties for neoliberalism. Whether it's Owen Jones acting as Labour's unpaid media spokesman or Ash 'I'm literally a communist' Sarkar beating the streets for Labour votes – these increasingly ridiculous people are campaigning for a party whose policy is to overthrow a strongly working-class revolt against neoliberalism and to keep the UK beholden to Brussels' rotten capitalistic rules. Revolutionaries? They're counter-revolutionaries. Socialists? They're capitalism's useful idiots. Pro working-class? They are overthrowing millions of working-class votes and trying to ensure that the British working classes, and the rest of the UK, remain subservient to ruthless EU neoliberalism. These people claim they want to overthrow capitalism and yet as soon as millions of ordinary Brits demand a break from the globalist EU they're weeping into their almond-milk macchiatos. 'Is this fascism?!', they cry when the people of Britain raise their voices against EU neoliberalism, bourgeois buffoons that they are.
The only red in Corbyn's Labour Party is its idiotic devotion to an EU neoliberalism that is red in tooth and claw.
Brendan O'Neill is editor of spiked and host of the spiked podcast, The Brendan O'Neill Show. Subscribe to the podcast here. And find Brendan on Instagram: @burntoakboy
Picture by: Getty
To enquire about republishing spiked's content, a right to reply or to request a correction, please contact the managing editor, Viv Regan.