The Lib Dems: the new 'nasty party'
Jo Swinson's party wants to cancel democracy and cut public spending.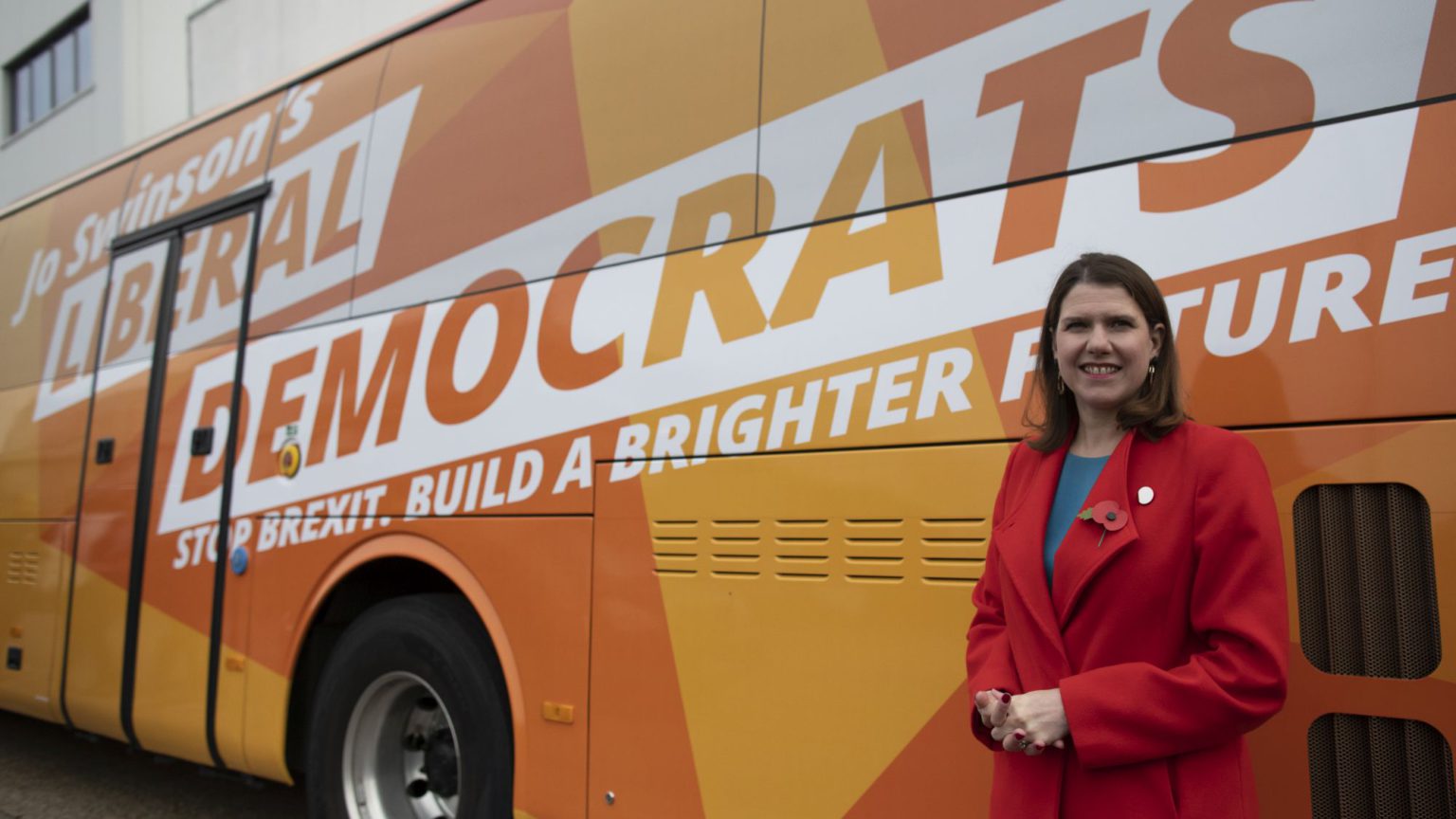 'Stop Brexit. Build a brighter future', goes the Liberal Democrats' election slogan. The Lib Dems' plan to revoke Article 50 – that is, cancel the Brexit process and overturn the largest vote in British history – is their best-known policy. But once the Lib Dems have overturned democracy and crushed the public's aspirations for change, what do they plan to do with us next?
Both Labour and the Conservatives are going into this election vowing to put more money into Britain's ailing public services. Both parties have promised more funding for health, education, childcare and more. Though there needs to be robust scrutiny of these plans, it is surely good news that an era of austerity, belt-tightening and cuts, ushered in by the Conservative-Liberal Democrat coalition, might soon be consigned to history.
The Lib Dems take a different view. Ed Davey, Lib Dem deputy leader, made a little-noticed announcement last week. He said that a Lib Dem government would introduce new rules on government spending. Governments would have to run a budget surplus on current spending of one per cent over the course of a parliament. And in the event of an economic downturn, the Lib Dems would only allow for a budget deficit of one per cent. And while the 'one per cent' rule applies only to current spending, the penny-pinching Lib Dems want to establish a new unelected body to rule on the acceptability of capital investment projects.
It might sound overly wonkish to get worked up about these percentages, but it matters. In short, the Lib Dem plans are a recipe for permanent austerity. A surplus essentially means taking in more in tax than paying out in spending – and taking money out of the economy. It was a disastrous policy when the Lib Dems tried it in coalition. Instead of reducing the UK's ballooning debt, austerity depressed an already stagnant economy. Public services were starved of funds, investment was slashed, millions of workers endured a pay freeze and others had welfare payments capped or cut. The Bank of England had to step in with lower interest rates and ever more Quantitative Easing to prop up the economy. Perversely, state spending as a proportion of GDP remained the same. The bright future the Lib Dems are promising will be an awful lot like the dreary recent past.
The Lib Dems have often tried to give the impression that in the coalition years they were the good cop to the Tories' bad – that austerity was a difficult but exceptional decision given the parlous state of the nation's finances. Former party leader Vince Cable, who served as business secretary at the time, has attempted to distance himself from that record. Last year he told Sky News of his regret of the coalition's austerity policies. Cutbacks in investment had caused northern communities, in particular, to 'continue to decay', he said.
But the current-era Lib Dems seem to be gung-ho for austerity. They want to introduce fiscal rules that are tighter even than George Osborne's – let alone those proposed by Boris Johnson's Conservatives. In fact, the rules are even tighter than those of the fanatically pro-austerity EU – rules which forced ruinous levels of cuts on to Greece and Italy, impoverishing millions in the process. A brighter future indeed.
Despite their disciplinarian approach, the Lib Dems have somehow managed to escape the 'nasty party' moniker that has dogged the Conservatives every time they have taken a similar tack. This is partly because of the Lib Dems' pro-EU position. The Remoaners in Britain's commentariat are willing to overlook even the most right-wing positions held by fellow Remainers. But it is also because so many in that same commentariat are easily led astray from the bigger picture by daft gimmicks and soundbites. And the Lib Dems have turned pointless virtue-signalling pledges into an art form over the years.
So in this election, while the Lib Dems refuse to be drawn into the public-spending bidding war – which despite its pantomime quality does at least touch on important questions about public services – they have been more than willing to enter the bidding war over which party will plant the most trees. When the Conservatives promised to plant 30million trees per year, the Lib Dems doubled it, pledging 60million per year. Other naff offers from the Lib Dems include something called a 'skills wallet' and the introduction of a 'happiness minister' to monitor the impact of government policy on our self-reported wellbeing. Presumably public anger over the planned denial of democracy or further rounds of austerity cuts will not be considered by the new happiness department.
The current Lib Dem campaign brings to mind an episode from the coalition years, when an adviser to Nick Clegg boasted on Twitter that her party had managed to obtain a 5p tax on plastic bags in exchange for benefit sanctions certain to inflict hardship on the most vulnerable. The Lib Dem offer today seems to be similar: give up the dream of democratic self-determination and endure further cuts in exchange for a few more trees.
To enquire about republishing spiked's content, a right to reply or to request a correction, please contact the managing editor, Viv Regan.