'Russian asset' – a PC version of 'traitor'
A new McCarthyism is poisoning public life, and Tulsi Gabbard is its latest victim.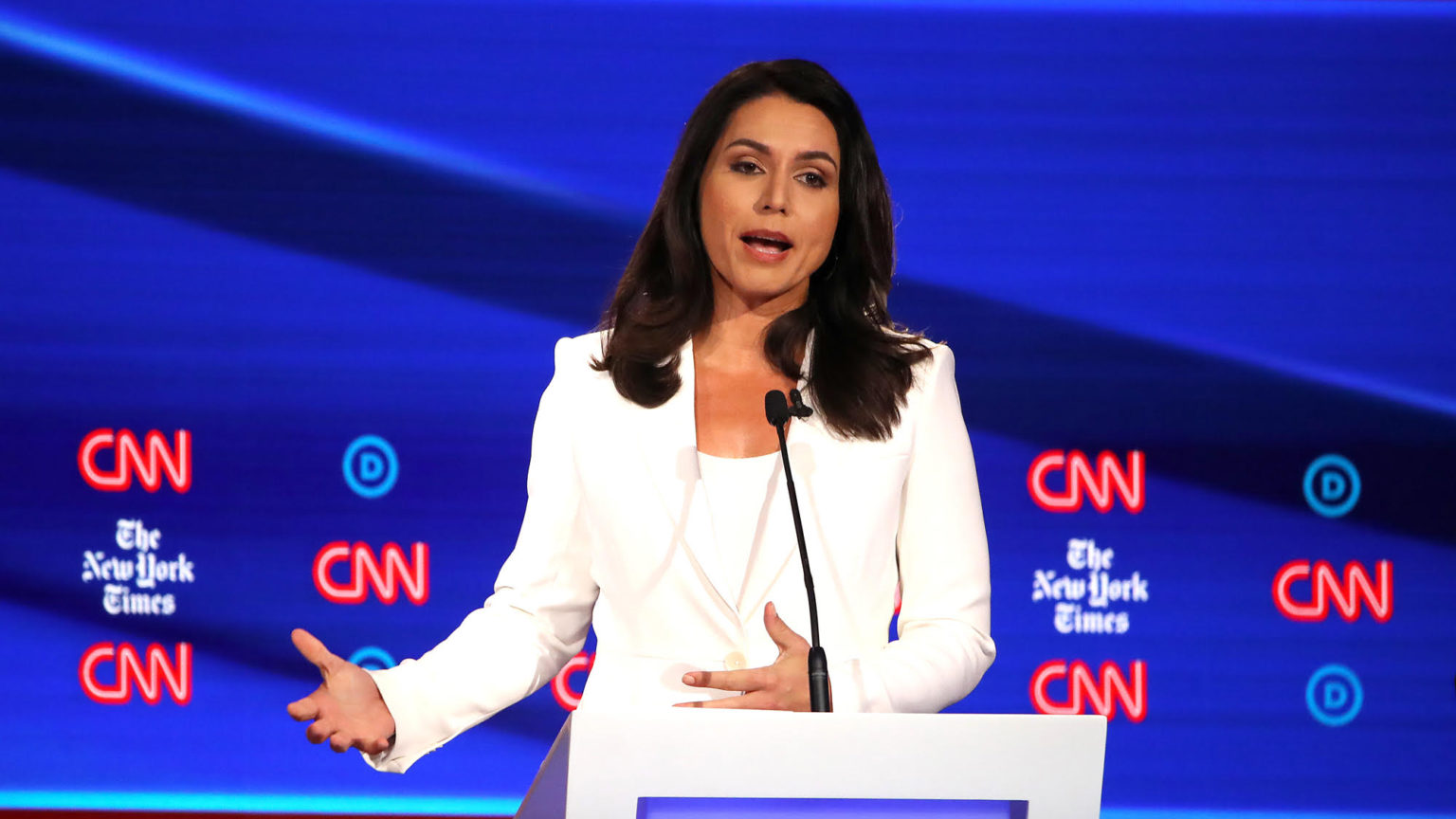 'I think they've got their eye on somebody who is currently in the Democratic primary', said failed presidential candidate Hillary Clinton last week: 'She's the favourite of the Russians.' Clinton was widely believed to be talking about Hawaii congresswoman Tulsi Gabbard.
For good measure, Clinton also labelled Jill Stein of the Green Party, who ran for president in 2016, a 'Russian asset'. And of course she pointed the finger at Donald Trump: 'I don't know what Putin has on him, whether it's both personal and financial… I assume it is.'
Sadly, Clinton's wild paranoia is shared by a substantial proportion of the American establishment. Since the 2016 presidential election, accusations of treacherous dealings with Russia have become a routine part of public life. Much of the news media have swapped hard news for feverish conspiracy theories about the Russians 'hacking' elections with fake news, social-media bots and, of course, Russia's Manchurian candidate in Trump.
For all the liberal hand-wringing over the 'death of truth' in the Trump era, anti-Russian conspiracy theories have proliferated. They are immune to evidence. Resistance liberals had high hopes for the Mueller investigation. They prayed – literally in some cases, with Mueller-adorned prayer candles – for a smoking gun that would link the Trump campaign to Putin. When 'Russiagate' turned out to be a damp squib, Russiamania continued unabated.
While it was true that Russia's so-called 'troll farm', the Internet Research Agency (IRA), posted some memes, there's no evidence whatsoever that they played a major role in the election. Many of them had no explicit link to the election at all. The most liked IRA post on Instagram, for instance, urged users to 'like if you believe' in Jesus and 'scroll past if you don't'.
It is a strange quirk of modern geopolitics that the Russian government pays people to 'shitpost' on the internet, but this is hardly an existential threat to Western democracy. Even with a slicker online operation, it is hard to see how a middling country like Russia, which has a GDP smaller than crisis-ridden Italy, could ever command the resources to bring the most powerful nation on earth to heel. American paranoia about Russia simply defies reason.
The 'paranoid style' in American politics has been around for a long time. This is not even the first 'red scare'. This is the country that gave us McCarthyism, after all. And that's all the more reason to be concerned. Then, as now, we saw political disagreements reframed as threats to the nation. So Tulsi Gabbard can't just hold different views on American military intervention – no, she must be working for the enemy. We can already see the dangerous, authoritarian consequences of this playing out in the media. Instead of challenging Gabbard's views, the New York Times says she's acting suspiciously. A former FBI agent is reported in the press saying Gabbard is 'the Kremlin's preferred Democrat'. And As Matt Taibbi points out, Russiagate has led to a shocking number of former intelligence officers becoming TV news pundits, and 'op-ed pages and news networks are packed now with ex-spooks editorialising'. Debate and analysis give way to baseless smears.
Politicians that don't fit the liberal, centrist, woke modes are accused of spreading and amplifying 'Kremlin talking points'. On 'Resistance' Twitter, literally anything can be declared a Kremlin talking point. The journalist Caitlin Johnstone recommends typing those three words into Twitter's search and marvelling at the sheer range of results. Anything from opposing US foreign policy to criticising centrist heroes like Nancy Pelosi and John McCain could get you labelled a Russian stooge.
But far more dangerous than Kremlin talking points are certain 'Washington talking points' – as these really can fan the flames of authoritarianism at home and abroad. The confected panic around 'fake news' in the wake of the West's populist revolts has been seized upon by Putin as a pretext for cracking down on journalism and dissenting opinion. Similarly, when tens of thousands of protesters took to the streets of Moscow earlier this year, the Russian government was quick to blame 'foreign meddling' for sowing discontent. You would hope that the ease with which liberal paranoia about Russia can be used to legitimise authoritarian crackdowns should give the Russia-botherers at least some pause for thought.
But sadly, Russiamania is too important a displacement activity for America's battered elites. And no, the Kremlin didn't pay me to say that.
Fraser Myers is a staff writer at spiked and host of the spiked podcast. Follow him on Twitter: @FraserMyers.
Picture by: Getty.
No paywall. No subscriptions.
spiked is free for all.
Donate today to keep us fighting.
Donate online
To enquire about republishing spiked's content, a right to reply or to request a correction, please contact the managing editor, Viv Regan.