Let Jo Cox rest in peace, you ghouls
Remainers' exploitation of Cox's murder is a new low in British politics.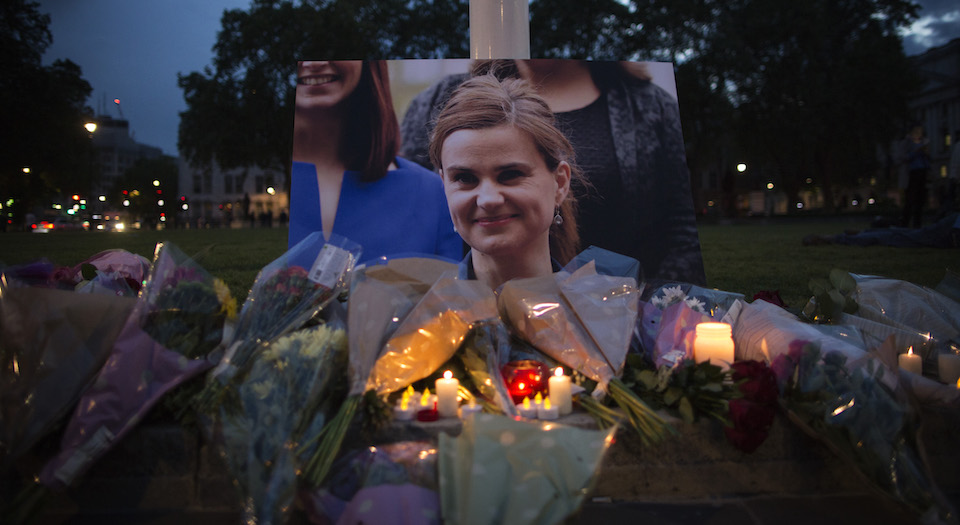 A new low was reached in British politics last night. Remainer MPs and their online cheerleaders exploited the murder of Labour MP Jo Cox to try to silence their critics and demonise Brexit.
These ghouls stood up in the Commons and physically pointed to Cox's plaque as they denounced Boris for using allegedly dangerous words like 'surrender' and 'betrayal'. And they took to Twitter and TV to insist that if Brexiteers, especially the PM, do not tone down their rhetoric, then others will die too; others will be murdered like Jo was. It was one of the most cynical, censorious, ghoulish displays in the UK political realm in recent memory. Using a murder victim as a debate-ender? Shame on you.
It kicked off when Labour MP Paula Sherriff accused Boris Johnson of using heated language. He has a tendency to refer to the Benn Act – which makes another extension of our EU membership far more likely – as the 'surrender act'. And that is 'offensive, dangerous and inflammatory', said Sherriff. She said it was an insult to 'our departed friend' – Jo Cox – to use 'pejorative' language about legislation passed by MPs and to use words like 'betrayal' or 'traitor' in relation to those who would block Brexit and keep us in the EU.
Boris should be 'absolutely ashamed' of himself, she said. To which Boris replied – with admirable constraint, in my view, considering he had just been outrageously likened to the far-right lunatic who murdered Jo Cox – that Sherriff was talking 'humbug'.
She was. All of them were. From Jess Phillips to Yvette Cooper, from the Guardian to the Twitterati, all the usual suspects joined in the ghoulish marshalling of Jo Cox to the low and censorious end of stifling strong discussion about Brexit.
Phillips suggested that some of the death threats she receives are inspired by Boris's choice of language in debates about Brexit. One reporter said political party activists have been telling her they are 'terrified of an election' because Boris and other Brexiteers have made things so 'toxic'. In short, the masses are volatile, the throng has been whipped up, and it would be dangerous for any political party to venture into this rabble and start a political campaign. And so do we glimpse the searingly anti-democratic impulse behind the desire to control and stifle the language around Brexit.
Anyone who watched proceedings in parliament last night and thought that it was Boris who was behaving immorally was clearly not paying attention. What is truly immoral is the use and abuse of Jo Cox to silence strong debate and demonise something that 17.4million of us voted for: Brexit.
This isn't the first time Remainer elitists have exploited Cox to try to criminalise the Brexit ideal. Commentators have argued that the 'unbridled xenophobia and racism' of the Brexit campaign in 2016 – where was that, then? – created the conditions for Cox's murder. Times columnist David Aaronovitch said Brexiteers had been 'permissive of the motive' and 'even of the mood' that led a far-right loner to murder Cox. That's a fancy way of saying it was our fault. I myself have had MPs storm out of media debates (Anna Soubry) or denounce me as a 'horrible human being' (Jess Phillips) after I suggested that implicating Brexit itself in Jo Cox's murder, and using Jo Cox to silence critical debate, is an offence to her memory and to reasoned public debate.
It increasingly feels like sections of the political class are losing the plot. We now have a situation in which they are betraying Brexit while also raining fury upon anyone who says the word 'betrayal'. They are behaving like traitors to the democratic vote of 2016 that they promised to uphold, and yet they rage against any use of the word 'traitor'. Not content with frustrating the will of the people, they now want to control what the people can say about it all. Anti-democracy and censorship – what a rotten road they have gone down.
Then there's the hypocrisy. They call us fascists, Nazis, racists, extremists, idiots, etc etc. They use pejorative language about Brexit supporters all the time. In then turning around and saying 'How dare you call us traitors!', they expose their shameless hypocrisy. Of course, they should feel free to continue insulting Brexiteers. Public debate should be a free, unfettered and testy zone. People should say what they want. But please, for reason's sake, leave Jo Cox out of it.
Brendan O'Neill is editor of spiked and host of the spiked podcast, The Brendan O'Neill Show. Subscribe to the podcast here. And find Brendan on Instagram: @burntoakboy
Picture by: Getty images.
To enquire about republishing spiked's content, a right to reply or to request a correction, please contact the managing editor, Viv Regan.