And what about Ilhan Omar's bigotry?
The left seems to think racist prejudice is okay if it comes from a cool Muslim.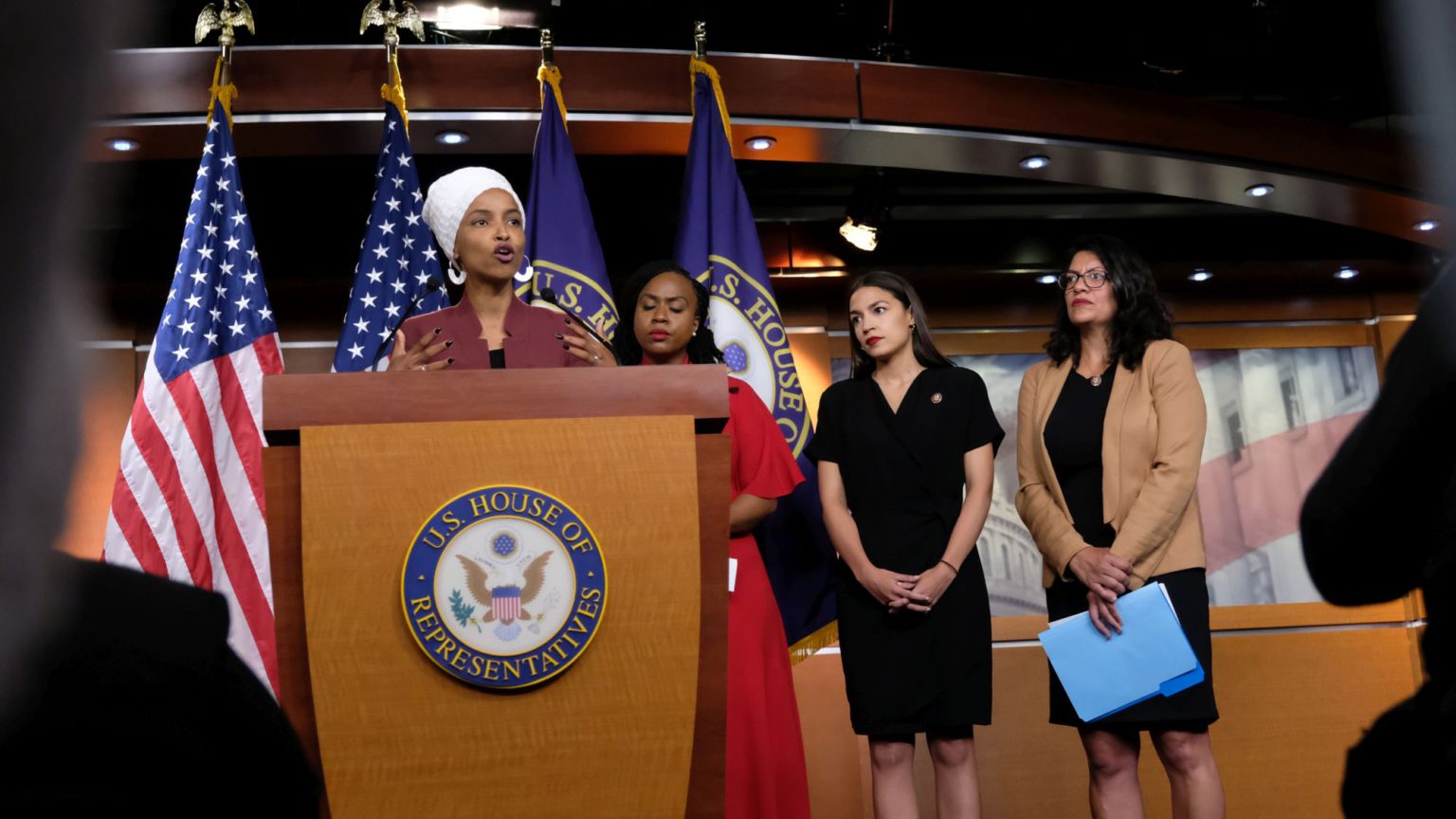 Many on the woke left have been making excuses for Ilhan Omar's anti-Jewish prejudices for a long time. But in the wake of the Trump v Omar controversy, culminating in those creepy chants of 'Send her back!' at a Trump rally, they've gone a step further. They're now arguing not only that her prejudicial views aren't prejudicial at all, but that anyone who claims they are is helping to fuel the 'far right'. Yes, if you try to draw attention to Omar's promotion of anti-Semitic tropes and her feverish, disproportionate obsession with Zionists, you will be denounced as the racist. Taking Orwellian contortionism to new levels, we're now told it is racist to speak of Omar's racism.
This shift became palpable following President Trump's intemperate attacks on 'the squad', the four supposedly progressive Democratic congresswomen, which includes Omar. Trump said that if these women hate the US so much, they should 'go back' to their countries of origin, fix the problems there, and then come back to the US to share what they learned. His comments gave rise to numerous outbursts of prejudice against the four women, all of whom are non-white, including the 'Send her back!' jibes aimed at Omar, who has been an American citizen since 2000. Perfectly rightly, Omar's supporters have pushed back against these bigoted attacks. Wrongly, however – and alarmingly – they have also used this scandal to make light of Omar's own bigotry, and even to insist that any focus on her bigotry is itself bigoted.
So Omar's head of communications, Jeremy Slevin, says that 'if you have been smearing Ilhan as an anti-Semite… you're part of the problem. Trump may have led a fascist chant, but you created the conditions that allowed it.' Think about what is being said here: if you challenge or criticise Omar's promotion of anti-Semitic tropes, you are facilitating fascism. If you think Omar has said things which echo old obsessions with Jewish people's malign influence on world affairs, you are paving the way for far-right hatred. It is a deeply cynical silencing tactic, designed to ringfence Omar's problematic views from the kind of rigorous dissection and challenge that every other expression of prejudice receives these days.
Slevin's ugly intervention – his smearing of people concerned about Omar's views as fellow travellers of fascism – is in keeping with the woke left's blind spot on Omar and on the problem of Muslim anti-Semitism more broadly. Numerous defenders of Omar argue that criticism of her is primarily driven by Islamophobia; that even accusations of anti-Semitism against her are fuelled by the prejudiced belief that Muslims are given to anti-Semitic views. As one left-wing magazine put it, the 'anti-Semitism charge' is driving 'an Islamophobic campaign against Omar'. In short, it is now Islamophobic to talk about anti-Semitism, in particular Muslim anti-Semitism.
But the truth, as spiked's US correspondent Sean Collins has outlined, is that Omar holds very questionable, highly prejudiced views. And in the past, leftist opponents of racial thinking and conspiracism would have recognised this. Omar has pushed numerous tropes that echo old anti-Semitic views. She infamously argued in 2012 that 'Israel has hypnotised the world'. She called upon Allah to 'awaken the people and help them see the evil doings of Israel'. This view of Jewish power as hypnotic, as casting a spell over the non-Jewish world, is a central anti-Semitic trope. It has fuelled virtually every conspiracy theory about Jewish power. The wily Jew, we are told, is behind everything from the execution of Christ right through to the Iraq War of 2003. He's always there, hypnotising people, tempting them to 'evil doings'.
Not content with troping about Jewish hypnotism, Omar also breathed life back into the racist idea that Jews use their money – of which they have a great deal, of course – to buy off Western politicians. She tweeted 'It's all about the Benjamins' to justify her claim that elected officials defend Israel for cash. When she was asked who provides these 'Benjamins', she replied 'AIPAC', the American Israel Political Action Committee. But of course, AIPAC does not make donations to political candidates. What we had here was the classic hateful idea of a Jewish entity, in this case The Jewish Lobby, corrupting otherwise rational actors with cash.
In her justification of these claims, Omar pushed anti-Semitic tropes even harder. She said she was simply drawing attention to the way some people 'push for allegiance to a foreign country'. As Jonathan Chait said, this idea that politicians, especially Jewish politicians, are siding with a foreign regime 'directly invok[es] the hoary myth of dual loyalty, in which the Americanness of Jews is inherently suspect, and their political participation must be contingent upon proving their patriotism'. It is deeply ironic that the left hammered the Trumpites who questioned Omar's loyalty to the US, which they say is Islamophobic, and yet they ignore or even celebrate Omar's questioning of certain Jewish people's loyalty to the US, which is anti-Semitic.
The Dems have condemned Omar for her comments. And Omar has apologised, half-heartedly. We know her apologies were half-hearted because when she was speaking at an event in a DC bookstore and an audience member shouted 'It's all about the Benjamins', she smiled. That knowing smile that says, 'Yep, we know the truth about those people'. But things have been made infinitely more difficult for those who want to hold Omar and other people with anti-Jewish prejudices to account now that we are told that calling her out is a smear, Islamophobic, even helpful to the far right. Who will bother? Perhaps it is best just to keep quiet about Omar and about the problem of anti-Semitism among sections of the Muslim community in Western nations.
The left's apologism for Omar's racially charged tropes exposes the limits to its claims to be against hateful prejudice. When it comes to the problem of Muslim anti-Semitism, which is rising in Europe in particular, they turn away. Worse, they actively demonise anyone who talks about it. There is an ironically racist streak to their discomfort with criticising Muslim anti-Semitism: they seem to think Muslims cannot really be prejudiced because… well, why? Because they're mostly non-white? Because they're a minority? Because they're good, innocent people? These are all naive, infantilising views, based on a conception of Muslims as pure and child-like and beyond criticism, which is as racist a view of Muslims as that which says they are a corrupting force in Western nations.
Anti-Semitism is on the rise in Europe and the US. Some of it comes from the old racist right, some of it comes from the new, supposedly woke left, and much of it comes from Muslims who have a backward, religiously derived view of Jews as a corrupting force in global affairs and everyday life. Anyone who cannot admit this might be contributing to far-right hatred far more than critics of Omar are.
Brendan O'Neill is editor of spiked and host of the spiked podcast, The Brendan O'Neill Show. Subscribe to the podcast here. And find Brendan on Instagram: @burntoakboy
To enquire about republishing spiked's content, a right to reply or to request a correction, please contact the managing editor, Viv Regan.