Ilhan Omar isn't naive, she's prejudiced
No more excuses. We need to confront anti-Semitism head-on.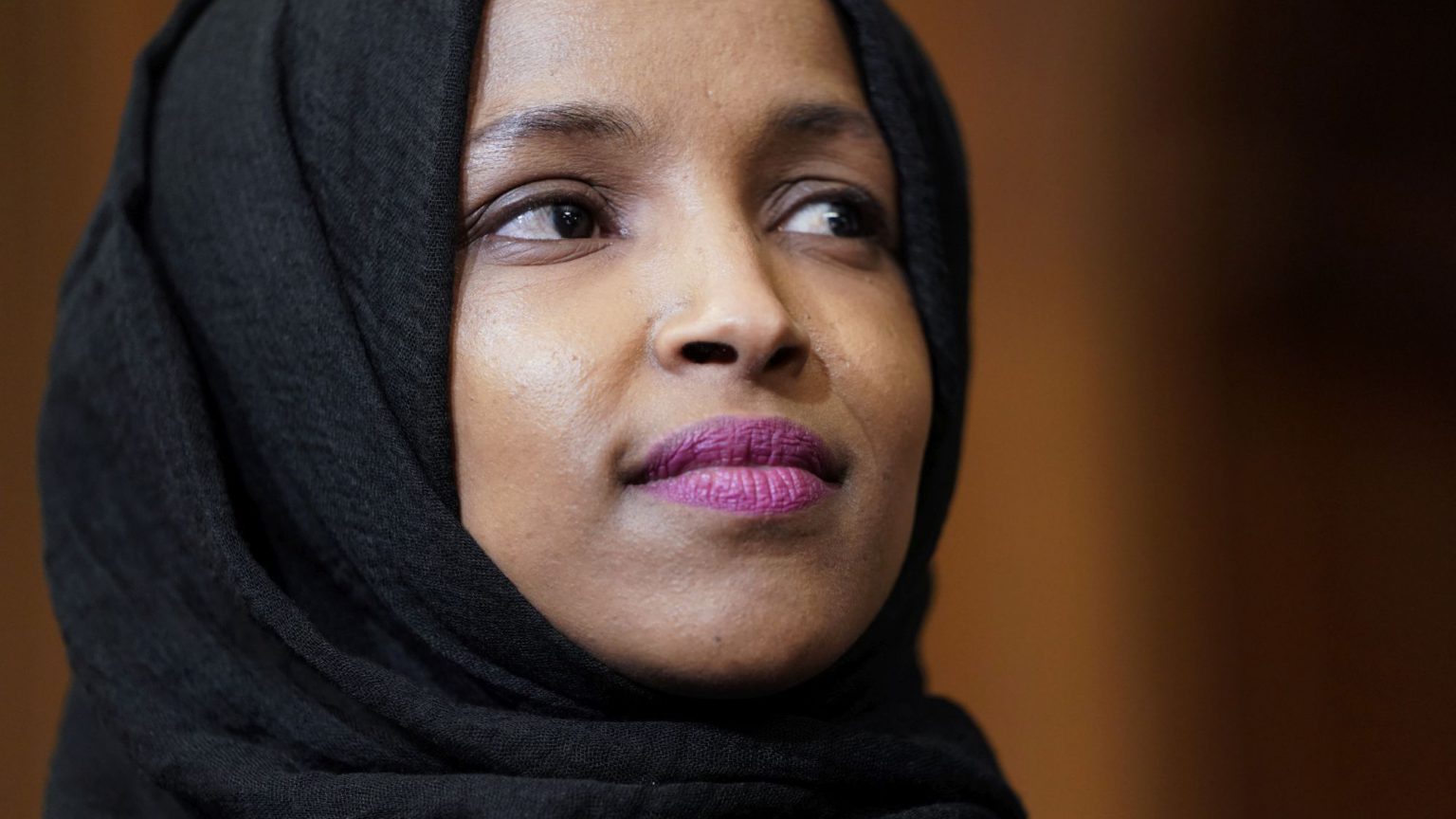 Another week, another anti-Semitic outburst. So it goes for Ilhan Omar, the first-ever Somali-American elected to congress. Can we stop saying she is 'naïve', that she has 'misunderstandings' about Jewish people, that she is just 'not educated' about the role of anti-Semitism in history? Because after her latest remarks over the weekend, it should be clear by now that these vile prejudices are Omar's deeply held beliefs, and concern an issue (Israel) that is central to her politics.
Omar has been widely celebrated in the media as a diversity path-breaker since her election in November. Along with Rashida Tlaib of Michigan, she is one of the first two Muslim women in congress. As confirmation of her new prominence in popular culture, Omar appears on the cover of the current Rolling Stone, as one of the 'Women Shaping the Future', along with the omnipresent Alexandria Ocasio-Cortez.
But, as we're learning, the hijab-wearing woman laughing on the cover of Rolling Stone holds some pretty nasty views about Jews. Last month, in an interview on CNN, she defended her 2012 tweet that claimed 'Israel has hypnotised the world' for its 'evil doings', which recalled old anti-Semitic claims about Jews' supposed occult powers. Under pressure, she apologised.
A few weeks ago, Omar said US elected officials defended Israel for money, tweeting 'It's all about the Benjamins'. When asked who exactly funded these politicians, she replied 'AIPAC', as in the American Israel Political Action Committee. Here, Omar harkened back to the longstanding anti-Semitic view that Jews conspire to control the world with their money. She wasn't just questioning AIPAC's role (as it happens, AIPAC does not donate to political candidates); she was claiming that Jewish money was the only reason ('it's all about…') that US politicians defend Israel. After Nancy Pelosi, leader of the Democrats in the House, criticised Omar for her 'use of anti-Semitic tropes and prejudicial accusations', she apologised for a second time.
But, with her latest outpourings over the past week, Omar has revealed her apologies were not sincere. Speaking on a panel at a Washington DC bookstore event, she smiled when an audience member shouted 'It's all about the Benjamins'. She went on to explain her earlier remarks: 'I want to talk about the political influence in this country that says it is okay to push for allegiance to a foreign country' – in other words, how American politicians, especially Jewish ones, have an 'allegiance' to Israel, not the US. This is a longstanding smear that says Jewish politicians are disloyal and cannot be trusted. As the liberal writer Jonathan Chait says, 'Omar is directly invoking the hoary myth of dual loyalty, in which the Americanness of Jews is inherently suspect, and their political participation must be contingent upon proving their patriotism'. As it happens, Omar was sharing the platform that night with her fellow Muslim congresswoman, Tlaib, who herself charged Jews with dual loyalty in January, when she said political supporters of Israel 'forgot what country they represent'.
Ugh, what ugly, low-life arguments. Criticisms came down on Omar again, now from Eliot Engel, the Democrat chair of the house foreign affairs committee that Omar sits on, and from Nita Lowey, a fellow Democrat in congress. This time, however, Omar decided to double down, rather than apologise. In response to Lowey, she tweeted: 'I should not be expected to have allegiance / pledge support to a foreign country in order to serve my country in congress or serve on committee.' Again, Omar just can't hide her true animosity – she truly believes pro-Israel arguments are demands she swear 'allegiance' to a foreign country (Israel), rather than the US. This is, of course, nonsense. The real issue is that she accuses pro-Israel Americans of being agents of Israel, not loyal Americans.
Omar is now falling back on the kneejerk defence that it is Islamophobic to criticise Muslims. 'A lot of our Jewish colleagues, a lot of constituents, a lot of our allies, go to thinking that everything we say about Israel to be anti-Semitic because we are Muslim', she said the other night, as if her comments sparked no legitimate concerns. In her earlier apology, Omar wrote: 'I expect people to hear me when others attack me for my identity.' This is a thinly veiled threat that she will accuse others of being anti-Muslim if they criticise her.
To underline her claim of victimhood, Omar highlighted a poster at a Republican event in West Virginia, that showed her photo in front of the burning World Trade Center buildings on 9/11, with the caption '"Never forget" – you said… I am proof you have forgotten'. That poster was wrong and slanderous to associate Omar (and potentially all Muslims in the US) with terrorism. But it was put up by an event exhibitor, not the Republican Party, whose representatives took it down and denounced it. More to the point, the bigotry of a crank in West Virginia does not excuse the bigotry of a congresswoman who is on the cover of Rolling Stone.
Omar and her supporters also say that the accusations of anti-Semitism are really designed to shut up critics of Israel. 'To me, it's something that becomes designed to end the debate', argued Omar, referring to criticisms of her. Of course, Israel's policies are fair game and should be debated, and there are certainly pro-Israel types who automatically label any disapproval as anti-Semitic. But that is not what is going on with Omar. The mind-controlling 'hypnotism' of Jews, their financial hold on US officials, their loyalty to Israel over the US – these slurs are not meant to enhance a serious debate about Israel; they are expressions of prejudice. When her supporters rise to her defence, saying she will not be 'silenced', they are apologising for her anti-Semitism.
For those with any knowledge of history, the public airing of comments like Omar's is alarming. Where do these beliefs come from? You might put it down to her background. Anti-Semitic sentiments are known to prevail in Somali Muslim diaspora communities. Indeed, while most Americans are just learning about Omar, others in her home state of Minnesota have had a problem with her for longer. Omar's Jewish constituents in her liberal district were so uncomfortable that they, in the words of the local Pioneer Press, 'fashioned what could be described as an anti-Semitic intervention of Omar'. They sat down with Omar to express their concerns, but it didn't appear to make an impact. 'Most of us came out of that conversation very troubled by the answers we received', said one participant.
Yet I would argue that Omar finds just as much support for her views, if not more, from her progressive friends. Anti-Semitism is homegrown. The sad truth is that many pro-Palestinian activists in the US cross the line and indulge in anti-Semitic arguments. When her defenders say she's not the only one to criticise the Israel Lobby, they're right. Far too many subscribe to the conspiratorial worldview that says an all-powerful Jewish lobby exercises a massive influence over the politics of the US. The rise of the BDS (Boycott, Divestment and Sanctions) movement is indicative of how deep the rot goes. BDS demonises Israel as above other states, as uniquely wicked and murderous. And its boycott extends to cultural matters, which targets the Israeli people, not just its elected officials.
Moreover, Omar's brand of anti-Semitism is entirely in tune with the left's identity-politics outlook. In the hierarchy of identities, Jews have become a subset of whites with privilege who need to be put in their place. As Frank Furedi explained recently on spiked, 'Today, identity politics works to devalue the moral status of Jews. At the same time, through its influence in wider culture, it gives a green light to old-school anti-Semites to voice their hitherto self-censored sentiments.'
The increase in anti-Jewish hate attacks, the recent slaughter in Pittsburgh, the rise of BDS, the anti-Semitic views of the Women's March organisers – it is understandable if American Jews are feeling under siege today. This context makes it even more troubling that a prominent member of congress feels free to dredge up the worst stereotypes about Jewish Americans. That a significant number of people are defending her is even more worrying, and reason for us to speak out against the attempted normalisation of such bigotry. I fear that Omar is 'shaping the future', in a dangerous way.
To enquire about republishing spiked's content, a right to reply or to request a correction, please contact the managing editor, Viv Regan.