Kim Darroch and the assault on national sovereignty
The leaking of confidential memos is being shamefully exploited by all sides.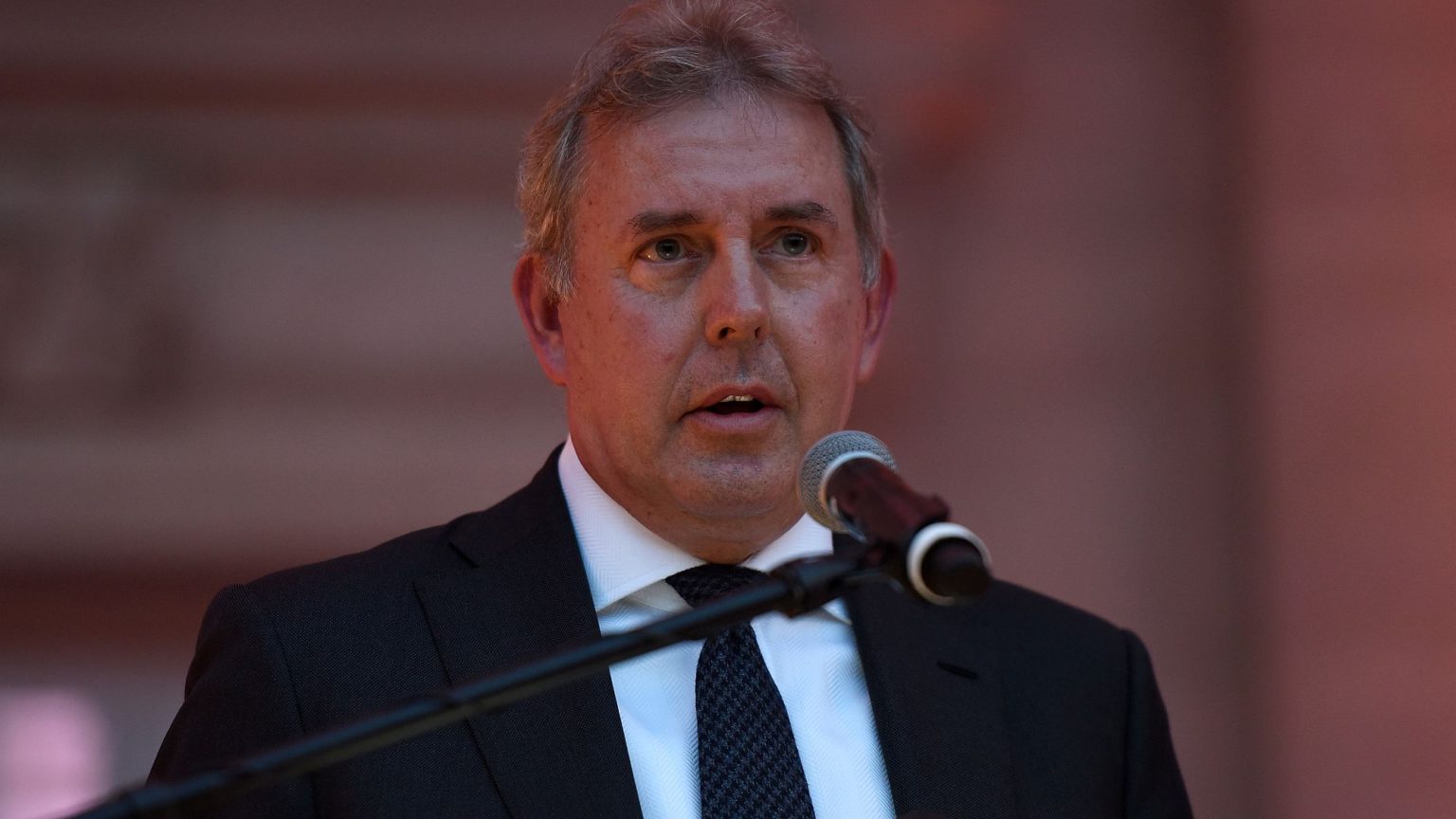 Even if we do find out why someone leaked two years' worth of confidential emails from the outbox of Kim Darroch, now the former UK ambassador to the US, it is unlikely to make the spectacle any more edifying. For a start, Darroch's honest assessment of Donald Trump's presidency, delivered in confidence, was hardly earth-shattering. Apart from The Donald, who doesn't think his administration is 'incompetent' and 'dysfunctional', and his policy on Iran 'chaotic' and 'incoherent'? More importantly, in judging and assessing Team Trump, and gauging how any relationship with it might work in the UK's interest, he really was just doing his job. Yet, thanks to this leak, he has been forced to resign.
Not that his resignation was a surprise. Trump's predictably tweeted response, calling Darroch a 'very stupid fool' and a 'pompous guy', made his position untenable. The two-facedness of diplomacy, in which foreign officials may be flattered in public meetings, and scathingly assessed in private communiqué, is only sustainable if the private, national face is never revealed in public. Sadly, Darroch's has been. And with that, any schmoozy lobbying on Britain's behalf was impossible.
But worse than this childish, deliberately embarrassing exposure of what ought to be confidential has been the response from those using the leak to battle over Brexit.
Brexiteers have seized on it, demanding, in the words of Brexit Party leader Nigel Farage, that 'the sooner [Darroch] is gone the better'. Brexit Party chairman Richard Tice went further, damning Darroch's willingness to criticise Trump, and even sketching out who should replace him: 'In order to promote a free trade deal, what we need over there is a successful, competent, pro-Brexit businessman.'
All of this – exploiting the leak, and backing Trump against a UK ambassador working in the national interest – is absurdly ironic. The Brexit Party is meant to believe in national sovereignty, which means that a nation ought to be able to select its own civil servants, including its ambassadors, regardless of the views of other nation states. And, yet, here we see the party that asserts national sovereignty, kowtowing to the wishes of a foreign power (so-called special relationship notwithstanding) in its desire for a different ambassador – indeed, a party that asserts national sovereignty, while happily exploiting its leaked violation.
It is a mistake, but an all too predictable one. For too long, leading Brexiteers have conflated defending the 2016 referendum result with defending, and cheerleading for, Trump, as if both are mere parts of some coherent political movement, rather than specific, distinct responses to a complex socio-political crisis.
Hence they can't delineate the two, and see the democratic virtues of one and the presidential vices of the other. It almost makes it inconceivable that one could support Brexit and be highly critical of President Trump, such is the Brexit Party leaders' worldview. And the result is a painful contradiction, between the principle of national independence from the EU and the belief in global dependence on Trump's America. It is to want self-government in one instance, and to deny it in another.
But, if anything, those currently rallying to Darroch's side are even worse. Seeing the leak as some sort of Brexit putsch, orchestrated by a Brexit-supporting civil servant, a Brexit-supporting journalist (Isabel Oakeshott) and the wider Brexiteer network, they make the right points – about diplomatic protocol, about the imperative of national interests, about confidentiality and secrecy – but they do so for the wrong reasons.
That is, they do so not because they believe in the sovereignty of the nation and its institutions, but because they feel threatened precisely by those asserting the sovereignty of the nation and its institutions, against the EU. They worry that what they see as a further attempt to politicise the civil service will make Brexit happen. So they defend the Whitehall 'machine', because they believe that it is a machine running in their interests – and against Brexit. Just as they defended parliamentary sovereignty after the Brexit vote, because they felt parliament, comprised of largely Remain-supporting MPs and Lords, would also vote in their interests – and against Brexit.
If the Brexit Party's attacks on Darroch were mistaken, Remainers' defence of Darroch is profoundly hypocritical. They act as if they are defending the integrity and independence of the Foreign Office against US interference, while eagerly accepting interference if it comes from the EU.
So while the Darroch affair has revealed little about US-UK relations, it has shown that neither the leadership of the Brexit Party nor the Remain establishment has a strong attachment to the ideal of national sovereignty.
Tim Black is a spiked columnist.
Picture by: Getty Images.
To enquire about republishing spiked's content, a right to reply or to request a correction, please contact the managing editor, Viv Regan.