The Censor: a pornographic tragedy
For a play featuring so much debauchery, The Censor is surprisingly moving and tender.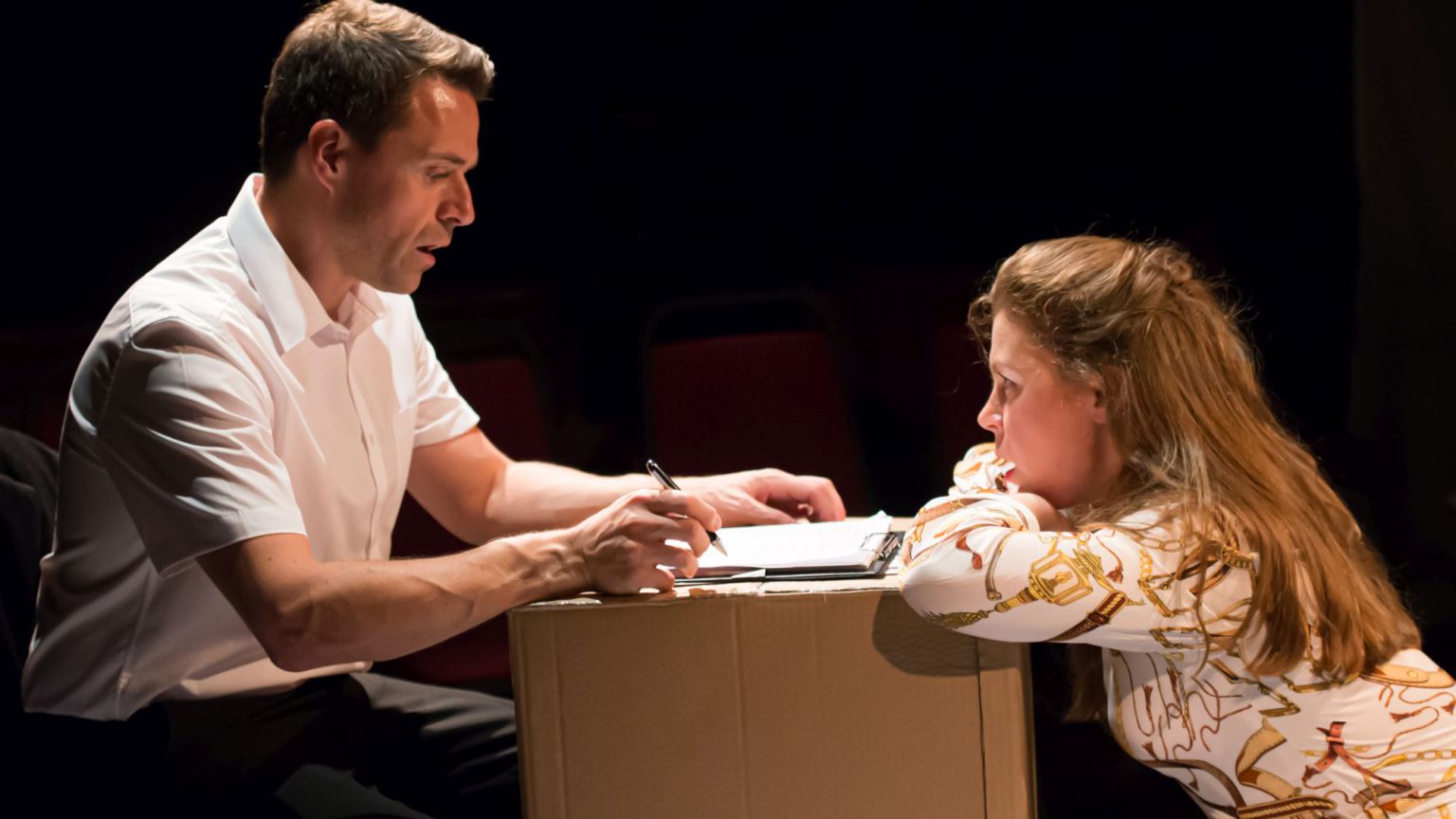 Some plays have a lot of sex in them. But few have so much sex that they have to call in a specialist – or, in the case of The Censor, two specialists. The production notes credit both an intimacy supervisor and coordinator – both hired, presumably, to make sure the skin-on-skin action comes as close to realistic as is permissible in an Islington pub theatre.
The Censor begins with a slightly implausible premise: a female pornographer has been invited for a face-to-face meeting with the bureaucrat in charge of classifying her film. This movie is the most debauched I've seen, he says, as clips of real pornography, courtesy of feminist-porn director Erika Lust, play on the wall behind him. He needs to make so many cuts, he explains, that he worries there will be no film to speak of afterwards.
The pornographer – a fiery-eyed Suzy Whitefield – has other ideas. She slips off her blouse and rubs herself against him. The only reason it looks filthy to you is because you don't know what to look for, she says. She sets out to persuade him of the film's artistic genius through, well, recreating it in his office.
So over the next 30 minutes, our heroine dupes the bored apparatchik into various sexual acts. Hand on genitals, hand in genitals, penetration… those intimacy folks are certainly earning their keep, I think to myself. But for all her effort she can't quite break his bureaucratic detachment. Then at the half-way point, she engages in an act so debauched he can no longer resist her: she takes a crap in front of him.
Yes, having placed yesterday's Metro on the office floor, she leans over and squats and strains, before letting her bowels loose (simulated of course). Saucer-eyed and slobbering, he leaps on top of her and finally engages in exactly the kind of breathless love-making that her film celebrates. Ah, so you get it now, her post-coital smile seems to say.
And the oddest thing at all? The Censor isn't a bad play. Far from it. It's clever, funny and surprisingly tender. There's a clear narrative arc which keeps you engaged, and it resists the temptation to get bogged down in too much philosophising. All things considered, I'd say it's pretty good. How can that possibly be?
Unlike his more prominent Nineties contemporaries (notably Sarah Kane and Mark Ravenhill), playwright Anthony Neilson can actually write real people. Take Mr Censor himself: he's clever and conflicted, not quite masking his insecurity with self-deprecating jokes. He loves his wife (Chandrika Chevli giving it a good turn as an ice queen), but knows he can't be happy with her. He wants to believe in his job, but is too smart not to see its contradictions. As antiheroes go, he could probably hold his own in an Arthur Miller play. No wonder we end up feeling for him as he sobs on his wife's shoulder in the final scene. It's always better to be moved when you least expect it.
This isn't a slam dunk by any means. There are big plot-holes. (How exactly did she work out his secret scatological desires given his reticence? And, even then, isn't it a tad over-confident to go straight for the nuclear option – no-one wants to make a mess on the floor for no reason…) A domestic subplot about cuckolding doesn't quite come to life. But there's enough here to get stuck in to. And the production itself is well-acted and well-done.
All of which makes me think: is The Censor not ripe for a big West End revival? It's a half-decent play; it's cheap and easy to produce (three actors; minimal props; no scene changes); and it's a self-facilitating publicity goldmine. If you put this on St Martin's Lane, the news lines would write themselves.
It's not as if the theatre gurus are above it. Remember a decade ago when Daniel Radcliffe made his stage debut? The West End overlords had the clever idea of casting him in Peter Shaffer's Equus – the notorious 'horse-penis play' – knowing the controversy would shift tickets by the bucketload. Why not repeat the same trick here: have Claire Foy or Jennifer Lawrence crapping on a newspaper on stage? You know that would make money.
Robert Jackman is assistant features editor at the Spectator. Follow him on Twitter: @robertjackman88.
To enquire about republishing spiked's content, a right to reply or to request a correction, please contact the managing editor, Viv Regan.