Ukraine's new president: the joke is on EU
The West's preferred pro-EU candidate just lost to a 41-year-old comic actor.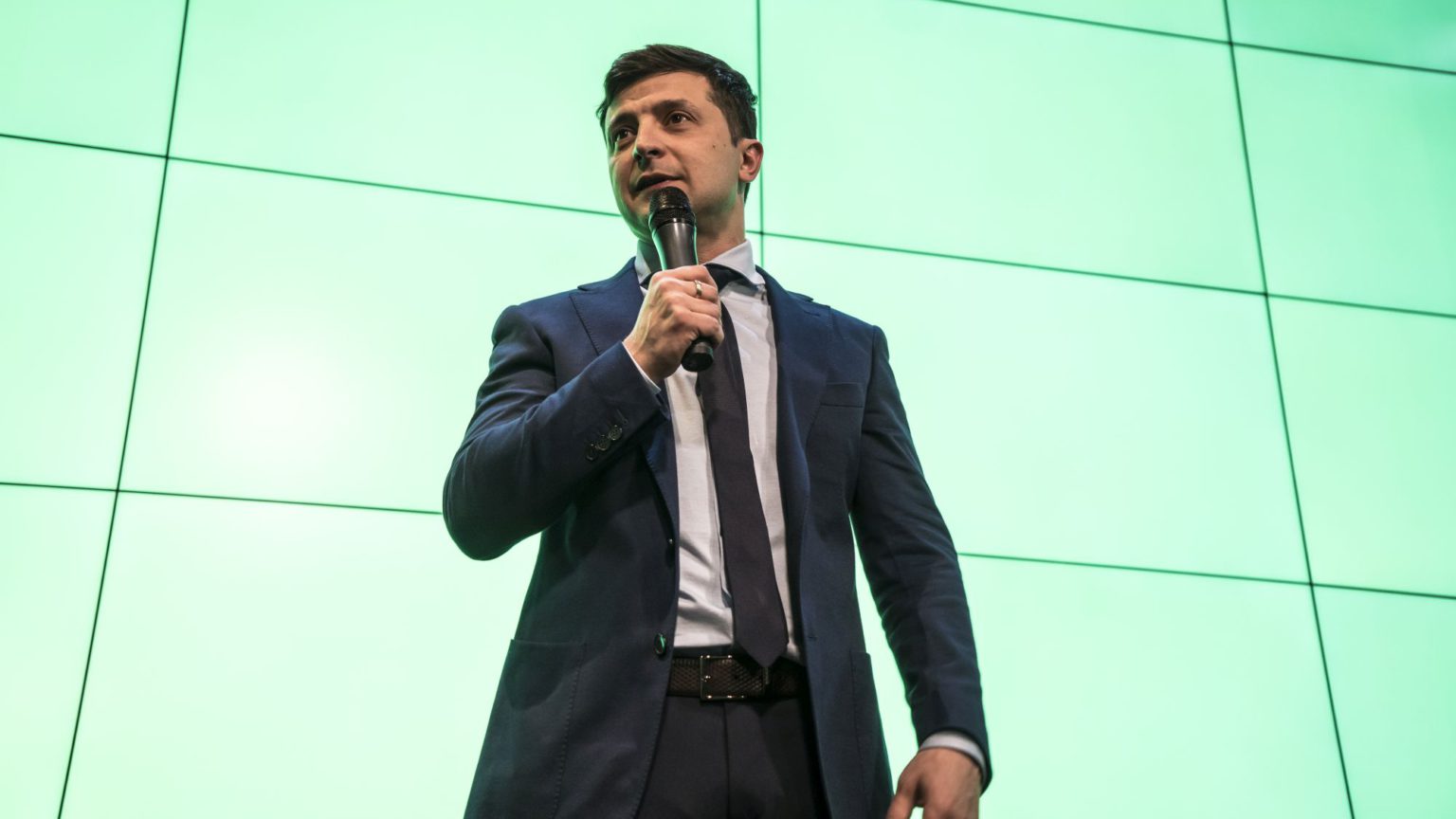 On the eve of Ukraine's presidential elections, the eventual winner, Volodymyr Zelensky, a 41-year-old comedian, told his rival and presidential incumbent, Petro Poroshenko: 'I am the verdict on you.'
And that is what Zelensky is: a verdict, and a damning one at that, on Poroshenko and all that he, as a bastion of Ukraine's desperately pro-West, anti-Russian political establishment, stands for.
Zelensky's sudden, shock emergence is certainly a compelling story, not least for the uncanny parallels between the plot of his popular TV vehicle, Servant of the People, about an anti-corruption campaigner who becomes president, and the real-life story of this very same TV star standing on an anti-corruption ticket and becoming president. And in the real-life version, he won the presidential election resoundingly, with 73 per cent of the vote. However, the significance of what has just happened in Ukraine lies less in who Zelensky is than in who he is not.
He is not a member of Ukraine's oligarchical political class (at least not directly), unlike the confectionary billionaire Poroshenko, who he beat in the second round, or 'gas princess' Yulia Tymoshenko, who he beat in the first round. He is not vehemently anti-Russian, unlike Poroshenko, who has been waging an intermittent war in Ukraine's east with Russia, and who declared martial law earlier this year. And he is not committed to IMF-mandated austerity, which has driven living standards, in an already wartorn country, down even further.
And in not being those things, not pursuing those courses of action, he has represented the desires of the vast majority of Ukrainian citizens. Hence, as the US-based International Republican Institute surveys have consistently shown, Ukrainian voters were most concerned about the war against Russia in the east of the country, followed by corruption and the economy. So, they want peace with Russia; they want politicians, for too long enjoying the fruits of state-capitalist business enterprise, to start acting as public servants; and they want to see a long recessive economy start to grow again.
Moreover, what Ukrainians have rejected in the vote for Zelensky is the result, to a large degree, of Western and especially EU expansion into Ukraine. This is most clearly illustrated by the war in the east with Russia, which, contrary to the standard it's-Putin-wot-dunnit narrative in the West, is really the product of a decades-long, half-baked expansion of the EU and NATO into the old Eastern Bloc and beyond. The resulting war, following Moscow's intervention, has now lasted longer than the First World War, and has claimed around 10,000 lives.
But it is not only the war with Russia in which the dead hand of Western meddling is present. The West and the EU have also played a significant role both in the incessant focus on corruption in Ukraine, and in its considerable economic struggles. This is because the EU, and other Western 'international' institutions, do not just wave the carrots of full NATO and EU membership before the rotating faces of Ukraine's political class – they also demand that Ukraine implements wide-ranging internal reforms, with a particular focus on anti-corruption, and that they impose strict austerity measures in return for IMF loans. All on the ever-distant promise – European Commission president Jean-Claude Juncker suggests at least 20 or 25 years – that if Ukraine does all this, it will finally gain admission to the West's promised lands.
The effect has been, first, to generate a suspicion of widespread political and corporate corruption in Ukraine, reinforced through Western funding of anti-corruption NGOs, public-policy institutes, and journalistic initiatives. And secondly to subject the Ukrainian economy to the fiscal discipline and therefore impoverishing strictures of the IMF. 'You could say the IMF killed Poroshenko', said one commentator. 'No sane government would do austerity after this.'
None of this is to say that Ukraine has suddenly become an outpost of anti-EU sentiment, or that Russian president Vladimir Putin will be welcomed in Kiev with open arms. According to polls, 57 per cent of Zelensky's voters favour joining the EU. And, while Zelensky, a Russian-speaking Jew, is far from the Russophobic, anti-Semitic fringes of Ukrainian nationalism, he is broadly pro-NATO. At this stage, it is enough to say that the direction Zelensky might take Ukraine is unclear.
But what is clear is that something hugely important has happened in Ukraine. The Ukrainian president courted and, largely, supported by the West; the president willing to do the IMF's bidding; the president desperate to drape himself in the EU flag – that president was thoroughly routed. By a joke. Or at least by someone who hitherto made a living from telling jokes.
Tim Black is a spiked columnist.
Picture by: Getty.
To enquire about republishing spiked's content, a right to reply or to request a correction, please contact the managing editor, Viv Regan.