Libya: back to the tyrannical future
Eight years after the overthrow of Gaddafi, the US is now backing a new military dictator.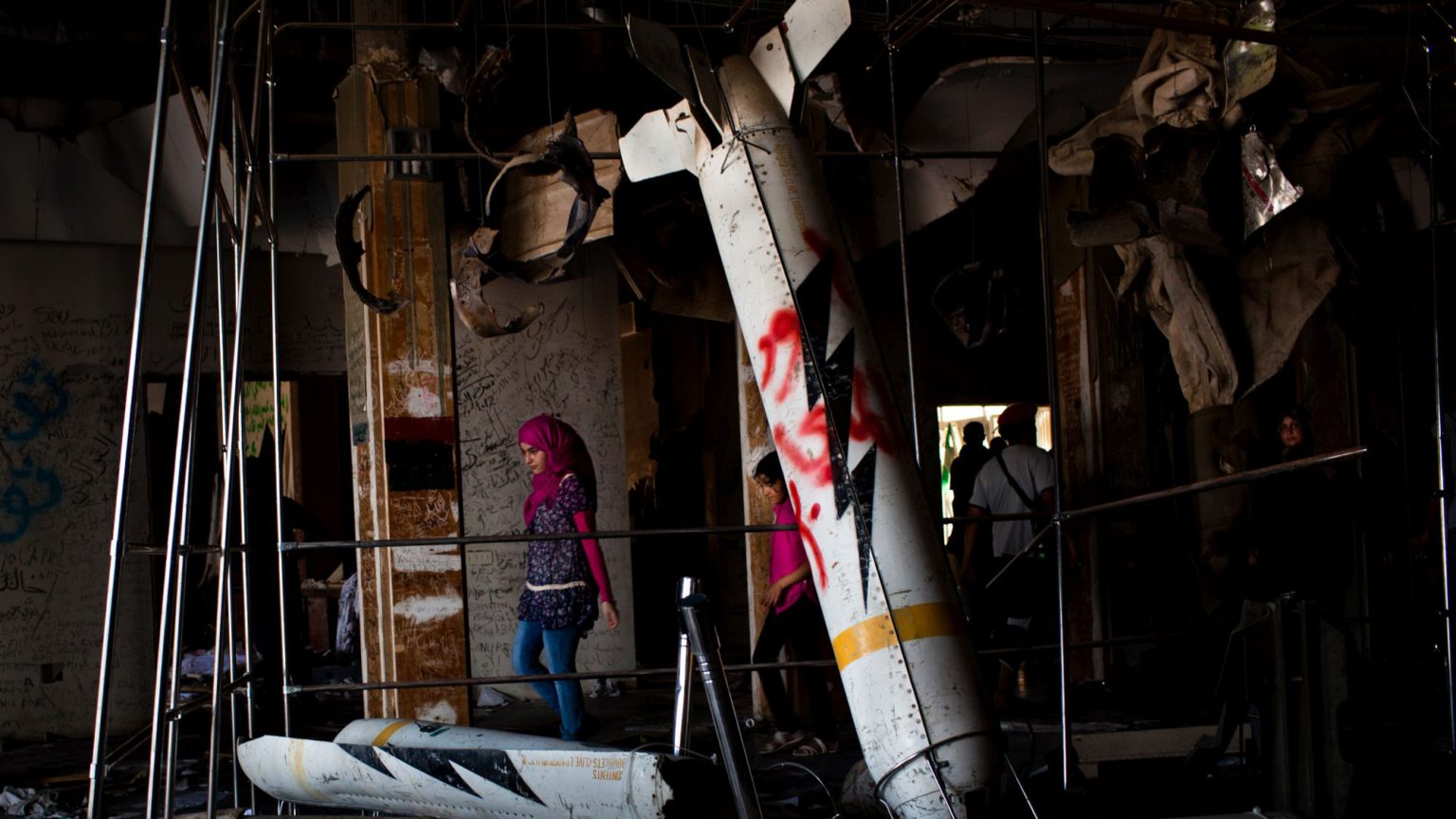 Donald Trump's decision to support General Khalifa Haftar, the 75-year-old leader of the self-styled Libyan National Army (LNA), in his military assault on Libya's UN-backed prime minister Fayez al-Serraj seemed typically whimsical. Not least because, just a few days prior, Trump's secretary of state Mike Pompeo had said that 'the administration at the highest levels [had made clear that] we oppose the military offensive [and] urge the immediate halt to these military operations'.
Cue the overexcited, psychobabbled commentary on Trump's love of a military strongman and the threat he poses to the international order.
But truth be told, Trump's decision to get behind a one-time ally of Gaddafi in his efforts to depose Libya's UN-recognised leader, is not the international consensus-breaker it looks like. It was certainly diplomatically clumsy and confusing, but it was not without its own cynical logic. After all, as Serraj's outburst last week over the perceived silence of his international allies shows, Libya's UN-backed ruler already feels abandoned by, well, the UN. As well he should. UN security council member Russia has moved behind Haftar, scuttling the British-led attempt last week to get the UN to call for a ceasefire. And, perhaps most important of all, France has long been backing Haftar, inviting him over for confabs with President Emmanuel Macron, and allegedly providing him with military backing. Which is all the more significant given France, under the presidency of Nicolas Sarkozy, led the 2011 intervention, alongside Britain and the US, against Gaddafi, and is therefore a key powerbroker in the political future of Libya.
Regional powers are also supporting Haftar. Libya's neighbour to the east, the military dictatorship of Egypt, is already in a near enough official alliance with the LNA, largely because the Egyptian state envisions a unified front against Islamist militias operating in western Egypt and eastern Libya. And the United Arab Emirates, while not as open in its support for the LNA as Egypt is, is a prime source of weaponry for Haftar.
Little wonder Trump probably felt that on the balance of powers, Haftar looked a better bet to unify Libya, albeit through force of arms, than the sitting duck Serraj. Not a dead cert by any means – as the western militias that have rallied to Serraj's defence show – but a stronger, more backed force nonetheless. Add into this mix Haftar's not entirely accurate claim, based on his three-year-long liberation of Benghazi, that he is fighting Islamist militias, including ISIS – the LNA actually features several Salafist militias – and one can see why, in Trump's mind, the decision to support Haftar makes brutal sense.
It should be said Serraj is not completely isolated, with Qatar and Turkey his principal, if not particularly effective, backers. And other Western states continue to abide by the UN's ruling that Serraj is the recognised leader of Libya. But Serraj's position as the UN's man in-situ is an increasingly nominal one, a legacy of the UN's most recent attempt, at the end of 2015, to bring Libya's warring factions together under the terms of the now largely defunct Libyan Political Agreement (LPA).
The LPA was born of the political conflict between the then governing General National Congress (GNC) and the legislature, the House of Representatives, whose election (on a turnout of just 18 per cent) in 2014 the GNC refused to accept. The UN moved in and foisted on Libya a so-called Government of National Accord, led by prime minister Serraj, and a Presidency Council, comprising, effectively, nine ministerial representatives of the most powerful factions in Libya. The only problem was that Libya's only elected body, the House of Representatives, now exiled in Tobruk, refused to recognise the PC, or the GNA, or to sanction the ministerial appointments, many of whom boycotted the PC anyway. And so the conflict between what are effectively the two centres of power in Libya, with Serraj in Tripoli in the West and the House of Representatives (and the LNA) in the east, has become more and more entrenched, and more and more militarised.
What it means is that Serraj may be 'recognised' by the UN as the leader of Libya, but he and it are hobbled by the fact that, to all intents and purposes, Libya does not exist in any coherent form anymore – certainly not as a unified territorial entity administered by a central state. Yes, since the West-backed overthrow of Gaddafi in 2011, the UN has tried – and predictably failed – to create a stable, centrally governed state from without. But the forces within what remains of Libya won't have it.
What it is important to remember is that those internal forces were unleashed by Gaddafi's removal – a removal backed and largely orchestrated by Western nation states and the UN. Without Gaddafi's dictatorial regime, which marshalled the assorted factions in the east and west, and the tribal south, Libya was deprived of a source of national coherence and authority. The result has been fragmentation along factional lines, the assumption of formerly state security roles by shifting combinations of militias, and an interminable, bloody struggle for regional ascendancy. The economy is flatlining, the infrastructure shattered, and many Libyans, especially the young, just long for some degree of stability and security.
In this fragmented, ruined condition, Libya exists as an indictment of Western interventionism. It is an indictment every bit as damning as post-2003 Iraq and post-2011 Syria. And in some ways more so, given that those nations are still, just about, for good or ill, hanging together as nations. Because that is what Libya is singularly not: a nation.
The grim irony of the UN-backed ruination of Libya is that since 2011, it has become even more of an existential concern for Western, especially European nations, than it ever was under Gaddafi. First, because the collapse of the Libyan state presented an opportunity for Islamist militias, including ISIS affiliates, to exploit the breakdown of law and order, which they did to great effect when they took control of the town of Sirtre on the Mediterranean coast in 2015. (It took a concerted US bombing campaign in 2016 to roll out ISIS, which destroyed Sirtre in the process.) And second, because if there is one aspect of Libya's economy that has boomed since 2011, it is human trafficking. European nations' response, through the European Union, has been, effectively, to pay Libyan coastal authorities, militias and security forces (which are often the same thing), to keep would-be migrants in detention centres and prisons, in which torture, murder and rape are rife. So entangled is the EU in Libya's brutal treatment of migrants that several NGOs have stated that it is complicit in crimes against humanity.
More grimly ironic still is what the US, France et al are now seemingly pushing Libya towards by backing Haftar and the LNA: a form of government that derives from military might rather than democratic right. A ruler, therefore, not unlike the one they so vaingloriously deposed eight years ago.
Tim Black is a spiked columnist.
Picture by: Getty.
To enquire about republishing spiked's content, a right to reply or to request a correction, please contact the managing editor, Viv Regan.