The gilets jaunes: democracy in action
The protesters are experimenting with new models of popular politics.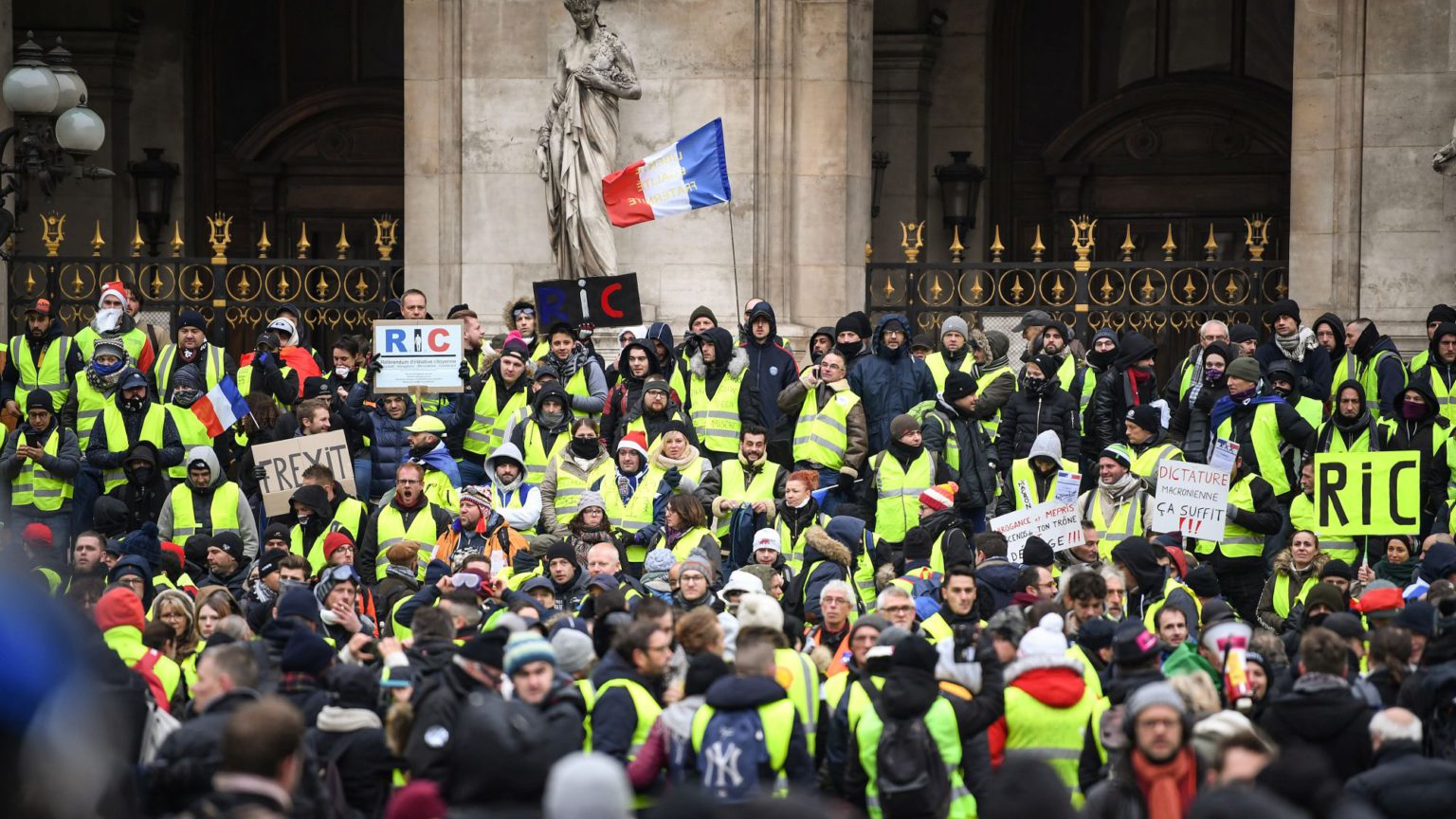 Some French citizens are also turning on them. Last weekend, a counter-movement emerged in Paris. The estimated 10,000 marchers were made up of three groups, the foulards rouges (red scarves); the gilets bleus, a movement started by police unions; and a group that bluntly calls itself 'Stop, that's enough now'. Many of them sympathise with the demands of the yellow vests, but they want an end to violence and disruption. They believe their concerns would be better met through France's existing institutions and Macron's 'great debate' initiative, the embattled president's three-month tour of town halls.
But it is wrong to contrast the yellow-vest movement and its insurrectional spirit with democracy. As Christophe Guilluy put it when I interviewed him for spiked recently, the yellow vests want democracy more than anything else. As citizens, they want to be taken seriously by their political masters.
One clear sign of this is that at every yellow-vest protest, on every march, at every roundabout, you will see protesters with 'RIC' scrawled on their jackets. That stands for référendum d'initiative citoyenne (citizens' initiative referendum). They are calling for a referendum to be triggered on any proposal that can gather 700,000 signatures or more. They argue that this would allow the public to veto laws, withdraw from treaties and amend the constitution.
Some yellow vests are also setting up representative political parties to push for their demands. Ingrid Levasseur, a care worker, has set up Ralliement d'initiative citoyenne, a yellow-vest party. Levasseur's party will contest the European Parliament elections in May 2019. Most of the other 79 candidates it plans to field have yet to be chosen, but among those already selected are an accountant, a stay-at-home mother, a small-business owner and a forklift operator.
The party's campaign director insists it will be no normal representative party, telling BFMTV, 'it will be the citizens who decide how we are going to vote in the European Parliament, project after project, and we will pull the European Parliament out of the sort of opacity it is in at the moment'. Polling on the new party by Elabe puts it at 13 per cent already – in third place, behind Marine Le Pen's National Rally and Macron's La République En Marche. Another prominent campaigner, Jacline Mouraud, started a second yellow-vest party, Les Émergents, earlier this week. It will contest next year's local elections.
Some reject the party approach. In Commercy, a small north-eastern town which has faced two decades of industrial collapse, a group of yellow vests have started their own citizens' popular assembly. 'We don't want representatives who will basically end up speaking in our place!', says one of their appeals on Facebook. 'Let's take back power over our lives, long live the yellow vests in all their diversity!' They have been experimenting with their own form of direct democracy for months and are feeling their way through. They meet every other day, while Saturdays are kept free for holding demonstrations. They have even organised two national 'assemblies of assemblies', bringing together delegates from regional groupings across the country.
While these differences in approach are often said to be indicative of a broader chaos in the movement, all of these experiments should be welcomed. As one writer in Open Democracy says of the Commercy assemblies, 'Who, in 1789, said that the revolt of the peasants would end in the Republic?'. Experimentation is essential in a living, breathing democracy, especially at a time when it is abundantly clear that the current institutions, at the local, national and European level, are failing to give voice to so many.
Fraser Myers is a staff writer at spiked and host of the spiked podcast. Follow him on Twitter: @FraserMyers.
To enquire about republishing spiked's content, a right to reply or to request a correction, please contact the managing editor, Viv Regan.