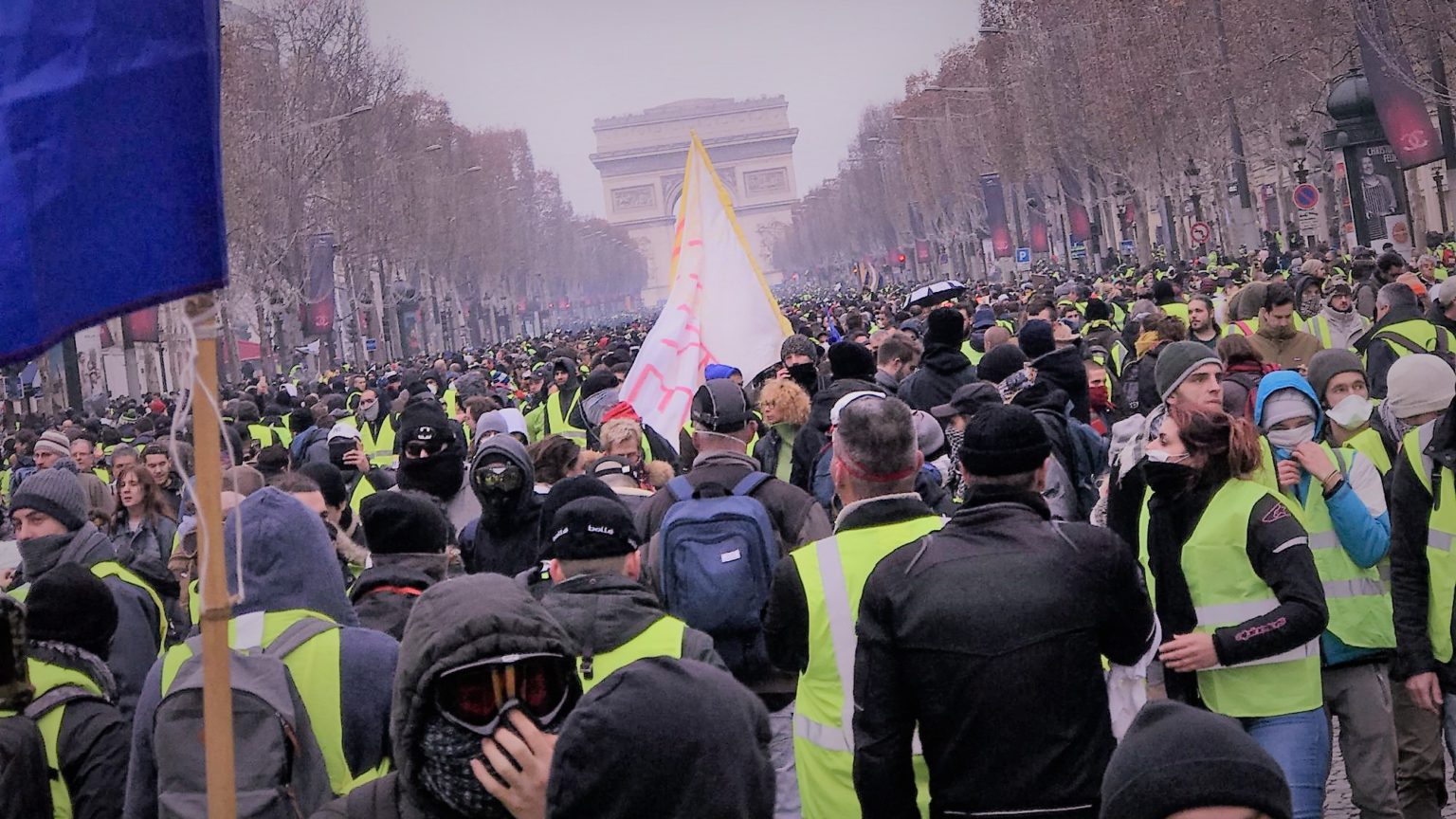 'It's time for the people to take power'
spiked's Fraser Myers reports from the barricades with the gilets jaunes.
For the past four weekends in a row, hundreds of thousands of gilets jaunes (yellow vests) have taken to the streets across France, organising blockades, go-slows and marches.
French motorists are required by law to own a yellow vest, which has now been fashioned into a symbol of resistance. Protesting en masse in eye-catching hi-vis, the sections of society which have been invisible for far too long are now impossible to ignore.
Last weekend, an estimated 125,000 protesters took part in demonstrations across the country. I joined the 10,000 or so who came to Paris to march on the Champs Élysées.
Paris was faced with the most significant revolt in France since 1968 – huge sections of the city were placed on lockdown, with the police ordering metro stations within a three-kilometre radius of the Champs Élysées to be closed. Shops were boarded up and major tourist attractions, like the Louvre and the Eiffel Tower, were shut. With checkpoints and roadblocks at every corner, guarded by armed police, Paris looked like a war zone. Huge stop-and-search operations were undertaken to prevent so-called casseurs (violent hooligans) from joining the protests. I was searched six times before I could get anywhere close to the Champs Élysees.
The gilets jaunes who made it through the gauntlet of gendarmes were largely in good spirits when I arrived, at various points chanting 'Macron resign!' and singing La Marseillaise.
The protesters had come from far and wide. I met people from the suburbs of Paris, northern regions like Brittany and Picardy, and from eastern regions like Lorraine. Some even came all the way from the south of France, from Bordeaux, Toulouse and Bouches-du-Rhône.
Christophe travelled 700km from Languedoc-Roussillon, the southernmost region of France, on the Spanish border. He had previously been protesting locally, blocking roundabouts, until he was asked to represent his region at the demo in Paris. 'Throughout the whole of France, we're angry because the president doesn't see the difficulties that French people are having', he told me.
Charline, who came from Aix-en-Provence in the south-east, had been protesting every weekend since 17 November. 'Macron doesn't listen to anyone outside of Paris, so we've come here to find him', she said.
The protests first emerged in response to a planned rise in fuel taxes. The price of diesel had already gone up by 23 per cent in a year and so an additional tax hike was seen as adding insult to injury. It was clear that people living outside of the big cities would be hit hardest by it. The gilets jaunes seemed to capture the anger of those who have been variously dubbed 'the France of the periphery' or 'the France of the roundabouts' – people who live on the outskirts of towns and rely on their cars to get by. For 40 years, successive governments have favoured the larger cities, while ignoring more suburban and rural areas.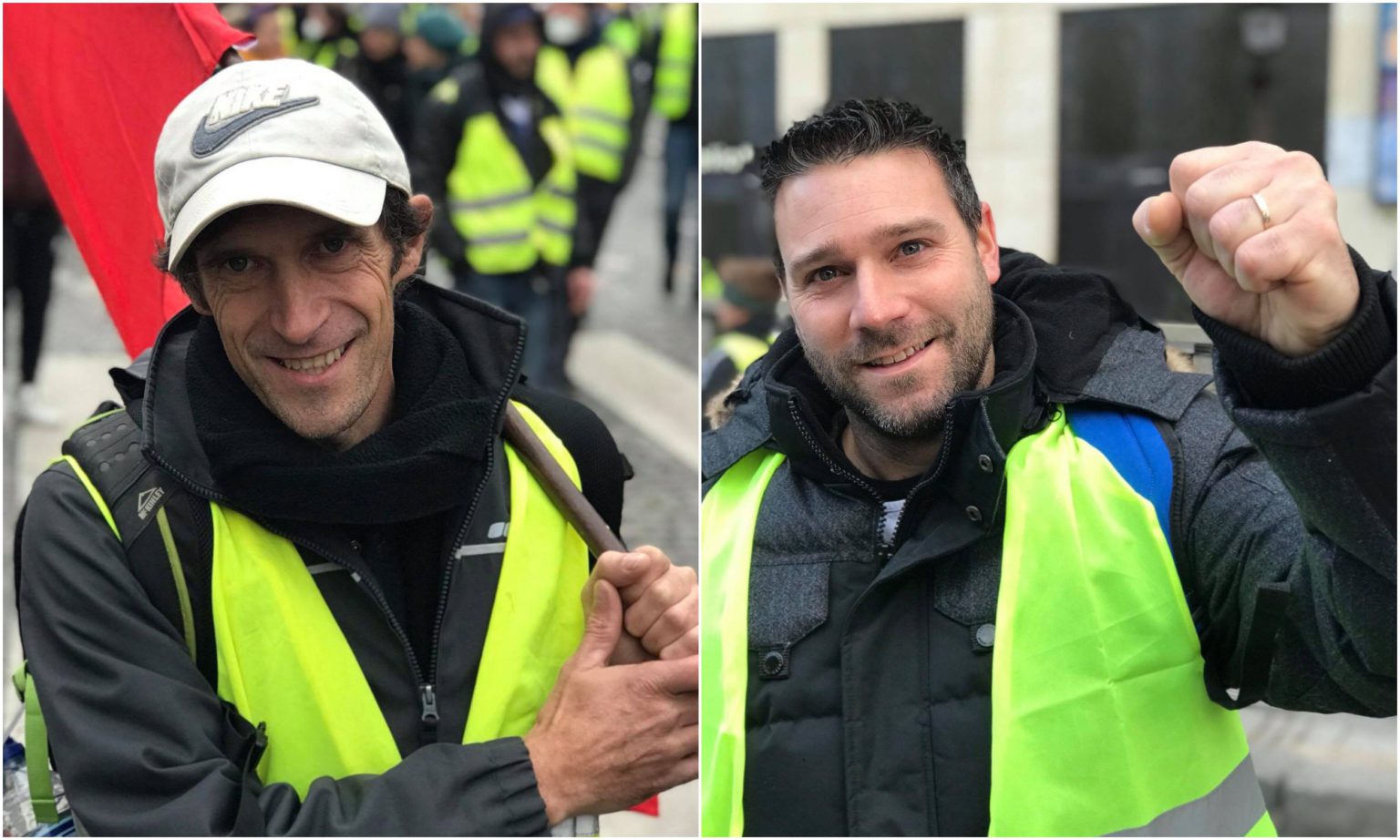 Hervé, a labourer who needs his car for his hour-long commute, said he had been hit hard by the high cost of petrol. President Macron's fuel tax was deliberately designed to make driving off-putting – to encourage people to use public transport or to buy a hybrid car so that France can meet its carbon-reduction targets. Hervé found this exasperating: 'With a salary like mine, you can't afford a new car.'
After three weeks of yellow-vest protests, the government postponed the fuel-tax rise. But this was too little, too late. The government's concession was largely ignored and the yellow vests' Acte IV of rebellion went ahead. 'I know they've frozen the fuel tax', said a sewage worker, who asked not to be named, from the outskirts of Bordeaux, 'but I don't care'. 'This is about having no money at the end of the month', he said. Most of the gilets jaunes I met echoed this sentiment.
Pamela, a single mother, said that while she earned 'an okay wage', 'I still can't make it to the end of the month'. 'All these expenses, taxes, council tax, car insurance, taxes on petrol, the price of food, I can't cope at all. I can just about survive. And that's what everyone here is saying. We can't take it anymore.'
Her friend, Élodie, said she had seen extreme poverty where she came from, just outside of Paris. 'I've seen people eating out of bins, people who work but can't afford an apartment and have to sleep in their cars. People are getting poorer and poorer.'
She was also concerned about the cost of living more broadly. 'It costs one euro for a baguette', said Élodie, 'do you think that's normal?'. 'Three euros for eggs', Pamela added. 'Then there's sugar, milk, children's clothes, I can't afford any of it.'
Lots of people I met were on low pay. 'You can't survive on the minimum wage', said Maxime, a removal man from Brittany. 'I'm paid €8.50 an hour. What can you do with that?' Gwenn, also from Brittany, works three shifts per day in a factory. 'Money comes in but with difficulty', she said. Nearly everyone I met called for higher salaries and an increase in the minimum wage.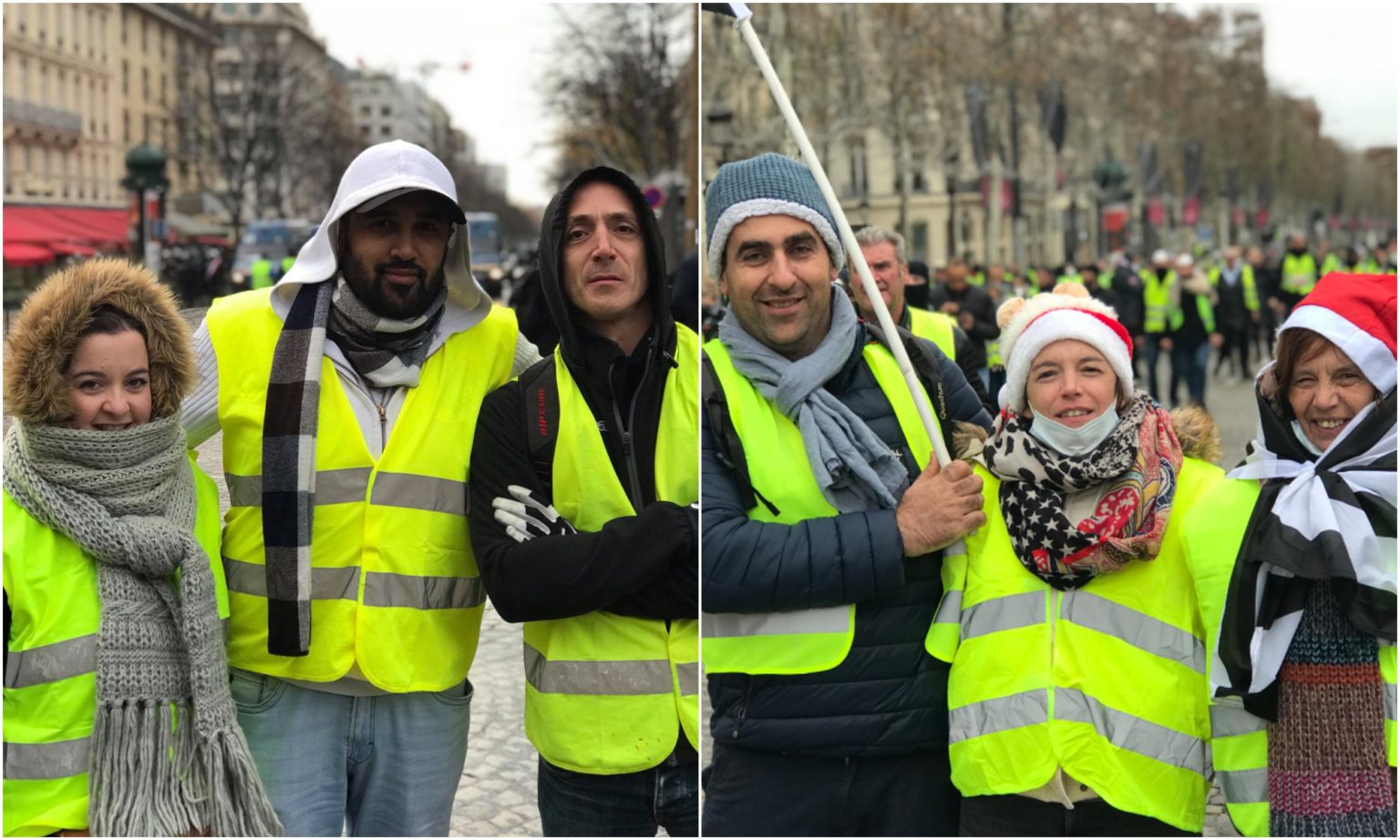 Another common complaint was high taxes. 'There is too much tax in France', said Gwenn. For Pamela, it was not just that she was overtaxed, but that she also got 'no help from the state in return – nothing!'
'We pay in loads of money in tax, but where does it go?', said Hervé. 'It's clearly not going into public services, which are constantly getting worse. Where I live, the post office has closed down, the hospital has closed down… It's terrible for old people, especially. They can't just travel to the next big town or go on the internet for everything.'
Maxime suspected that the state was 'lining its own pockets'. 'I went to visit Versaille recently. Louis XIV had everyone in the country working just for him. And what has changed?'
Two weeks ago, Macron began renovating his official residence. He spent €300,000 of taxpayers' money on a new carpet. A number of gilets jaunes brought this up. 'He doesn't live in the real world', said Christophe. 'He does this at the exact moment we are revolting against him!' Charline said that 'if we are making sacrifices, then Macron and his ministers need to pay attention to their lifestyles, too'.
Many protesters were calling for the reinstatement of the solidarity tax on wealth – a policy of the previous Socialist government which Macron quickly removed when he took office. This move cemented the image of him as a 'president for the rich' – a sentiment expressed by many placards at the protest. 'Hey Macron, look at your Rolex! Now is the hour of revolt!', said one.
Macron was viewed by many yellow vests as not only disconnected and indifferent – refitting carpets while Paris burns – but also as arrogant, disrespectful and rude. 'He must resign', said Pamela. 'He has proven time and again that he doesn't listen to us. We are just the "little people", the "people who are nothing" to him.' (She is alluding to a speech Macron gave to a group of tech startups, where he contrasted successful entrepreneurs like them with the left-behind 'people who are nothing'.) 'He has no respect for us whatsoever', said Pamela. 'He takes us for idiots', was the verdict of the Bordeaux sewage worker.
The French government displayed its contempt for the yellow vests early on. Ministers briefed the press that the protesters came from the far right. This slur was lapped up by politicians across the political spectrum and by many in the media, too. This was a movement of 'far-right hicks', said one prominent commentator.
Unsurprisingly, many protesters took umbrage at this. They felt their movement had been misrepresented by the establishment. This led many of them to be angry with the media, particularly the rolling-news channel BFM TV – Macron's mouthpiece, in the words of one woman. When someone in the crowd spotted BFM's cameras filming the protest from a rooftop, the crowd erupted into chants of 'BFM, fuck you!'.
The suggestion that these ordinary French citizens are somehow far right is insulting and untrue. Most of the gilets jaunes I spoke to were simply calling for higher wages, a greater redistribution of wealth and a rebalancing of political power towards ordinary people. No one I met expressed any views that could be deemed far right.
Some other ideas were certainly given an airing at the demo, but they were argued over respectfully. Julie from Picardie had a placard calling for pan-European taxes. As I was speaking to her, a man interrupted to say that the free circulation of capital, enabled by the EU, was the real problem. A number of protesters had signs calling for Frexit. 'We have no control over our economic policy in the EU. The European treaties prevent us from having real democracy', Noé, one of the few marchers from Paris, told me. Another held a banner accusing Macron of being a pawn of the EU and its 'dictatorship of austerity'.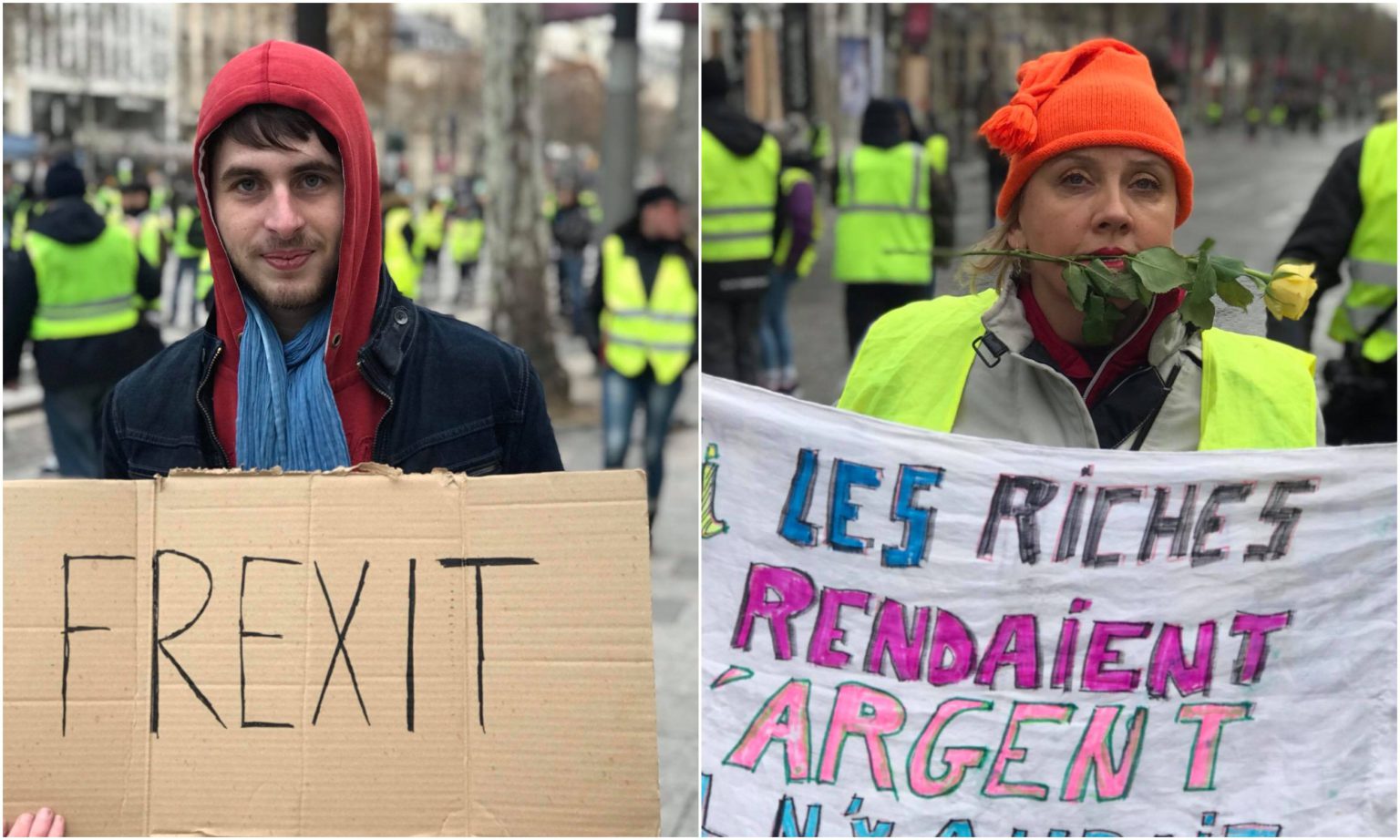 The political class has also tried to discredit the gilets jaunes by blaming Facebook algorithms and Russian interference for 'amplifying' people's anger. But it was eminently clear from talking to people that their frustrations with the status quo are grounded in their lived experience, not implanted in them by foreign actors.
The enormous police presence was another sign of the government's dismissive attitude towards the movement. Many marchers felt it was an insulting overreaction to a series of protests which, save a few acts of serious vandalism, had been disruptive but largely peaceful. More than 1,700 gilets jaunes were arrested across the country at the weekend, many pre-emptively, with 1,200 detained.
'People like us make up 80 per cent of the population. We are not violent thugs', said Pamela, angry that she had to be frisked and searched when she merely wanted to express her democratic right to protest. 'They see us as an inconvenience', she said.
Some protesters were angry with the police after a video went viral showing officers rounding up protesting schoolchildren, forcing them to kneel with their hands on their heads. 'You beat up kids', shouted a number of angry gilets jaunes at a line of riot police.
From what I saw, the police were aggressive and heavy-handed. They often charged at unarmed marchers, causing chaos in the crowds. They also fired teargas regularly – sometimes at obvious troublemakers, but at other times they fired it deep into the crowd. I was teargassed, too. Many gilets came prepared with gas masks. Some plucky protesters picked up the gas canisters and threw them back at the police. But with a police-to-protester ratio of nearly 1:1, the police always had the upper hand.
Others saw the police as potential allies. 'You have the same problems as us', said one protester, trying to persuade an officer to join the cause. 'They are not paid well, either', said Élodie.
For many, the protest was an opportunity to challenge not only their economic marginalisation but their political marginalisation, too. 'The people need to have more say in important decisions and in making laws', said Gwenn. 'For at least 25 years, governments have been ignoring democracy and the people', said Noé.
The gilets jaunes movement is giving people hope that they might finally be listened to. 'For years, loads of people have been marching and going on strike, but it was always one group of people at a time', said Hervé. 'But with the gilets jaunes, we've all come together. Our movement encompasses every sector and every region. I hope they will pay attention today.'
'The movement touches everyone', said Julian, a lorry driver from Seine-Saint-Denis. He had the ambitious goal of founding the French Sixth Republic, 'starting from a more equal basis'. Others shared his revolutionary aims. 'The people must take power', said Christophe. Many were excited by the emergence of copycat protests around Europe. 'We are fighting for our class, for everyone', said Élodie, 'this is the way things are going around the world'.
One thing is clear: President Macron knows that he can no longer ignore the gilets jaunes. Humbled and apologetic, he addressed the nation this week. He promised strong measures to tackle France's 'economic and social state of emergency'. He made a series of concessions, including a €100 rise in the monthly minimum wage, a tax break on overtime, and a tax cut for retirees. But this will not be enough to satisfy some of the gilets jaunes' more revolutionary ambitions.
Long may the revolt continue.
Fraser Myers is a staff writer at spiked and host of the spiked podcast. Follow him on Twitter: @FraserMyers.
Pictures by: Fraser Myers.
To enquire about republishing spiked's content, a right to reply or to request a correction, please contact the managing editor, Viv Regan.