Now we have seen Momentum's true colours
Their counter-protest at the Brexit Betrayal march betrayed their middle-class elitism.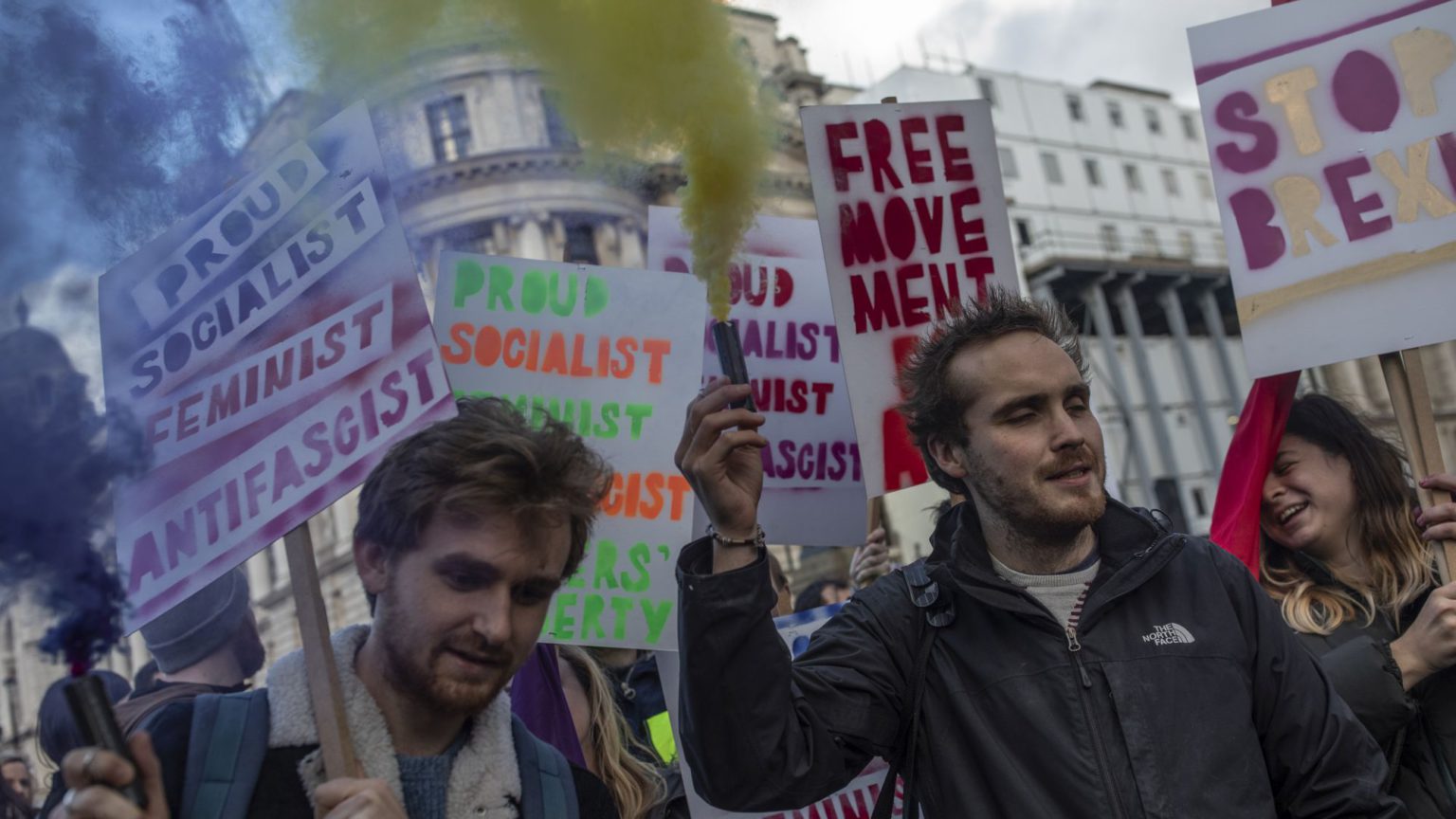 How are these for catastrophic optics. Across Europe people are in revolt. They're raging against the EU. They're beating the streets in their tens of thousands in France to rage against the Louis XVI of Euro-technocracy, Emmanuel Macron. Belgian 'yellow vests' tried to storm the European parliament. Dutch protesters are agitating against Brussels rule, too. And while this is all happening, as Europe teeters on the brink of continent-wide revolt, what is Momentum doing? It's popping into London to scream 'fascists!' at largely working-class people who are concerned about the betrayal of Brexit.
In the bad-optics stakes this is up there with Gordon Brown branding an elderly lady who raised concerns about mass immigration a 'bigoted woman', or Ed Miliband launching his manifesto on what looked for all the world like a tombstone. Yes, Momentum, the quite posh, mostly youthful Labour Party outfit that does Jeremy Corbyn's bidding online and on the streets, has chosen this moment of Euro-revolt to counter-protest a pro-Brexit march; to brand as Nazis a gathering of people concerned about Theresa May's awful deal; to play-act at chasing down fantasy fascists rather than taking sides against the very real forces infuriating millions of ordinary Europeans right now: the technocratic elites.
Momentum and other leftists, including the perma-protesters of the SWP, traipsed to the Brexit Betrayal demo in central London on Sunday. That demo was led by Tommy Robinson and attended by some Robinson supporters, some UKIP supporters, and people who are neither of these things but who are looking for a forum in which to express their anger with the political class's relentless assaults on Brexit. They wanted to make their voices heard ahead of the Commons' vote on May's Withdrawal Agreement this Tuesday. It is estimated that 2,000 turned up to the Brexit Betrayal march, while a reported 15,000 attended the anti-Brexit Betrayal march. Corbynistas are crowing about this having been a huge victory for the left when of course all it really shows is that their pre-march claims that Tommy Robinson is the new Oswald Mosley and Britain is infested with 1930s-style fascism was bunkum of the highest order.
The self-flattering narrative promoted by Corbynistas in relation to their counter-protest has at times been unhinged. Labour's shadow chancellor John McDonnell implored 'all Labour members' to join the counter-protest on the basis that 'the working class of Britain have a proud history of beating the far right'. That's true. Though it is no thanks to Labour, which, lest we forget, advised its members not to attend what became the Battle of Cable Street in 1936, during which East End Jews and radical leftists faced down Mosley's marchers. More importantly, what we had in Sunday's counter-protest was nothing like the working classes confronting fascism – it was mostly middle-class leftists shouting abuse at working-class people.
We come back to the optics question. Did no one in Momentum, or in McDonnell's office, or among the Media Studies Marxists (ie, not Marxists) of Novara Media, stop to think about what it might look like for plummy leftists to spend a day hurling epithets at notably less well-off people? To take photos of men with St George flag tattoos and mock them on social media, akin to when Lady Nugee (Emily Thornberry) took the piss out of people in Rochester who had the English flag hanging from their windows?
The two demos were actually a good snapshot of a very important divide in politics today – that between what David Goodhart refers to as Anywheres and Somewheres. The Anywheres are the new elites who prefer global institutions over national democracy because it means they can make decisions far away from the madding crowd; the Somewheres are those who still long for a sense of place, of national attachment. So we had the counter-protest leftists calling for the opening of borders and the Brexit Betrayal marchers demanding greater national democratic control. Anywheres vs Somewheres. But here's the thing: millions of Europeans are currently in revolt against the paternalistic, anti-democratic rule of the Anywheres, and at precisely that moment, Momentum makes clear that it is in the Anywhere camp. Sunday's counter-demo was a quite colossal self-defeat for the radical pretensions of the Corbynista movement.
It is actually quite disgraceful that the first protest by Labour's pseudo-radicals in the era of Yellow Vest rebellion involved slandering concerned Britons as 'fascists'. It doesn't matter what you think of Robinson or UKIP. The fact is that the people on the march were not fascists. Many were not even supporters of Robinson or UKIP. As a reporter for the Independent said, it would be 'disingenuous' to say this protest was 'only about Tommy Robinson'; lots of people were there simply because they 'passionately believe in Brexit' and they feel 'Theresa May's deal offers [Brexit] in name only'. To travel into London and libel normal, politically worried people as fascists is a pretty low form of politics and a searing indictment of Corbynistas' distance from the Brexit worldview and by extension from public sentiment.
This is about more than optics. It speaks to the great moral and political error that the British left has made since the populist revolt began, and particularly since the vote for Brexit. Which is that they have uncritically bought into the old, bruised establishment's depiction of this populist anger as a species of fascism. They have swallowed the political, bureaucratic and even religious elites' propaganda about the new populism representing a return of 1930s-style hatred. They have obediently parroted police exaggerations about post-Brexit hate crimes and bishops' warnings of the march of a New Nazism. And so when these leftists see working-class people gathering to defend Brexit, they think to themselves: 'They must be fascist scum.'
People across Europe are nailing their colours to the mast right now; Corbynistas have clearly nailed theirs to the technocratic status quo. Their counter-protest was a greater defeat for them than it was for Tommy Robinson.
To enquire about republishing spiked's content, a right to reply or to request a correction, please contact the managing editor, Viv Regan.