Love Island: a show with real heart
Only the bitter and jealous could fail to be won over by the Islanders.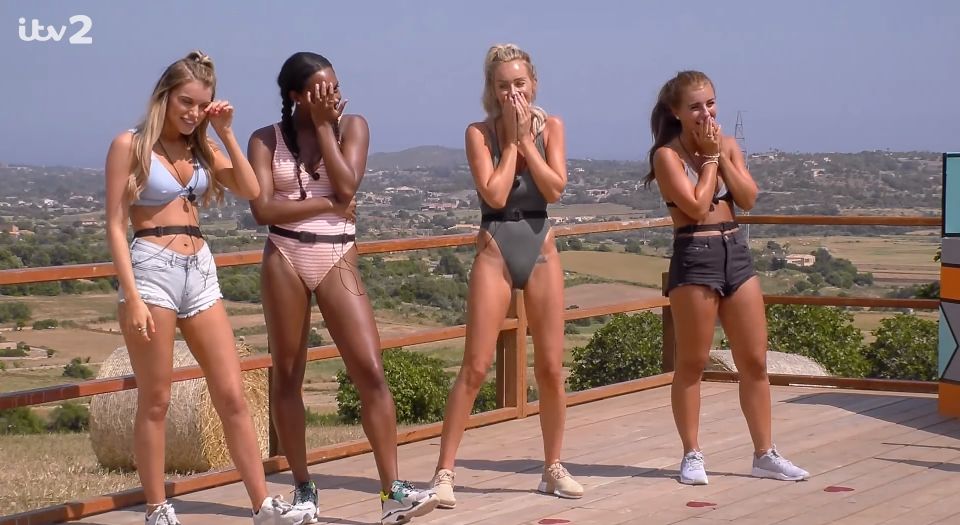 I've always been a fan of reality TV and in return the genre has paid court to me right back, proferring placements on a long list of such shows starting with Celebrity Detox and culminating in an offer of half-a-million pounds from Celebrity Big Brother. I turned them down because I'd miss both sex and solitude, but also because the showing of my peers on CBB has been tragic to behold – think of sad Liz Jones laying out her smorgasbord of sorrow for all to see, or mad Germaine Greer vomiting and wearing a colander on her head while revolving on a roundabout. Living your best lives, eh ladies!
But it's different for girls – by which I mean women under the age of 30. A smart, sexy young woman who plays her cards right can monetise her youth and beauty the way a sportsman utilises his skill for that bright shining mayfly moment before wear and tear takes over. And though some who mourn their salad days may bitch enviously, many of us are delighted by Love Island for exactly this reason.
For those of you who have been up on Mount Olympus for the past four years, Love Island is a show in which attractive young people are introduced to each other in a Spanish villa and then must form pairs – sex being a distinct possibility, as borne out by the presence of 200 condoms in the cupboard waiting to become the elephant in the room. After eight weeks of vulgar games and soppy dates, a final group of couples face a public vote and produces the triumphant duo who walk off with £50,000 in their hot little hands and a host of lucrative endorsement offers in their smartphones. It's a hybrid of being picked for games at school and a pick-up joint, so, predictably, it has been the catalyst for all kinds of virtue-signalling on the part of those wallflowers who aren't having as much sex as they'd like. When it won a BAFTA earlier this year, the amount of pearl-clutching that took place suggested the cast had collectively flashed in the face of Saint Attenborough.
The youthful residents, under the influence of alcohol, can behave in a volatile manner – girls have been removed for fighting, and a Miss Great Britain was stripped of her title for having sex on camera. But the reams of subsequent breast-beating (as opposed to breast-flashing – I know which I prefer) essays about the decline of morality and the end of the world as we know it are frankly far more grotesque than the antics which inspire them. If it was nuns looking down on the kids of today, I'd respect their point of view, but the idea of journalists – whose legendary pursuit of sex, drink and money puts a 1970s Aerosmith tour to shame – getting on their high horses and pretending to have intact hymens never fails to amuse me.
One of the most virulent and snobbish critics of these harmless kids, Giles Coren of The Times, once wrote an eye-popping account of his masturbation history which he presumably got paid for. I'd love to know the moral difference between him selling his sexuality for profit and the Love Island lookers doing the same, give or take a few nightmare visions of The GC in his solitary, sputtering splendour. Indeed, as the Islanders are young, free, single and attractive, with no children or spouses to embarrass, one might make a case for their moral superiority to him. Macaulay may have written that 'We know no spectacle so ridiculous as the British public in one of its periodical fits of morality', but this is twice as true of my tribe.
When the hack picking on the Love Islanders is a woman, carping at them in the name of a feminism – 'Setting it back a hundred years!' – they have rarely supported, my dander rises further than the temperature in the hot tub after a few cheeky Proseccos. There are few things sadder than the Menopause Mob lecturing girls on how to do life, love and liposuction when their own track records would barely bear inspection – busybody, fix thyself! Another old saw used by my fellow old hackettes is, 'Why do young girls just want to be famous? Why don't they want to be doctors or teachers?' Well, why didn't we? Because we too wanted an easy, well-paid job and to see our picture in the paper, presumably. Forget all the alarmist nagging about the way girls today are being encouraged to define themselves solely by their sexuality – if that was so, would female academic achievement be going up as never before? I think it far more likely that girls today just don't see why they have to choose between being a slut or a swot – they can be both, or neither, or either now and then, and it really doesn't matter.
Of course Love Island houses the normal number of models and fitness instructors who are drawn to reality shows as logically as bookworms are drawn to writing – but to write them off as being somehow below us is astonishingly smug and self-deceiving. One of last year's favourites, Camilla Thurlow, was a bomb disposal expert just back from Afghanistan (yes, these kids lead such empty, narcissistic lives!) who understandably chose to relax by having what appeared to be very enjoyable sex with a male model on national television. The most beautiful girl in the house, Rosie, is a lawyer; Zara is a civil servant; Alex is a doctor; 20-year-old Wes is a nuclear systems design engineer. They certainly can't be written off as slappers, especially by my kind – I've yet to meet a journalist who by the age of 21 had only had one lover, like the gorgeous Scouse model Hayley.
There's a genuine sweetness about these kids which I don't recall my generation possessing – we were nasty spitting punks who went on to become nasty spitting Thatcherites. But they are generally nobody's fools. (Apart from being fools for love – and IQ is no help in that arena, as we all know.) Unlike we their elders, who blew our youth on sex, drugs and rock 'n' roll, they have found a way to weaponise their hedonism and turn the physical into the fiscal – it's a sort of gap year for the unentitled. Saskia from Big Brother 6 once told me, 'I knew when I came out of the house there wouldn't be a limo waiting to whisk me off to Hollywood. I got some nice clothes, a couple of nice holidays and a nice boyfriend out of it. And soon I'm going to get back to work.'
There has been something of a hyped-up hoo-ha over the fact that there were 85,000 applicants for this year's Love Island – more than twice the number of youngsters who applied to go to Oxford and Cambridge combined. But in an age where social mobility is moving backwards, and in a country where the dull spawn of the famous pick up even the few enjoyable and well-paid jobs once open to bright working-class kids – actor, pop star, model, journalist – I'm not in the least outraged. What have they got to lose? And I'm sure that for the middle class who make up a sizeable part of the audience, and who in their youth were probably worrying about exams and careers and not being sexist, there is probably a real curiosity about and envy of these young physical beings who glory in the bodies the Lord gave them and don't overthink life – The Human Zoo meets High School Musical. Me, I grew up with kids like this and it's lovely to see their lack of pretension cut through the lazy thinking of the one poncey housemate, Eyal. When he was blathering on about being 'spiritual', Hayley asked him, splendidly, 'Does that mean you can see ghosts?'. Mutually amusing talking – banter – is valued most, with those who lack it not prized, no matter how good-looking they are.
The Islanders may speak a new lingo – pied off, cracking on, mugged off – but the stories they act out are as old as human nature itself. They put themselves out there, get hurt, learn lessons and live to love another day. These are hearts full of passion, jealousy and hate; as the old song almost said, 'You must crack on to this / A diss is still a diss / A pie is just a pie…'. Those who dismiss Love Island as cruel and vulgar fail to grasp that most of us will make cruel and vulgar choices in our romantic relationships at some point, unless we have had the bad luck to be walled up since before puberty. In an age of dating apps, ghosting and dick pics, I personally find something sweetly old-fashioned about this most open-hearted, open-minded and open-legged of dating shows.
Julie Burchill is a journalist and author based in Brighton.
Picture by: YouTube
To enquire about republishing spiked's content, a right to reply or to request a correction, please contact the managing editor, Viv Regan.