Anti-Trumpism: the ultimate virtue signal
The planned protests against Trump's UK visit are acts of self-promotion.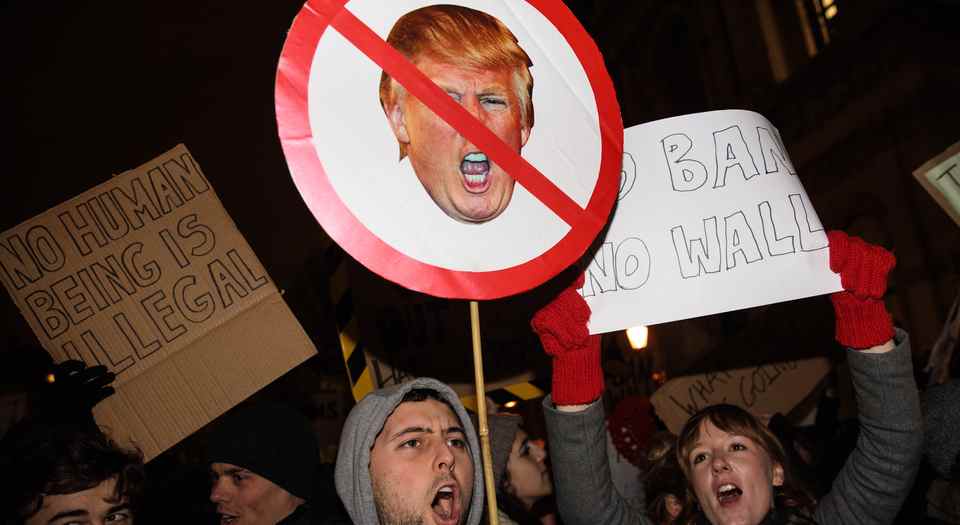 No sooner had US President Donald Trump let it slip to Piers Morgan that he had been invited for a state visit to the UK in October than the calls for anti-Trump protests in the UK picked up once again.
Labour's David Lammy jerked into action on Twitter: '[Trump] to be met by the biggest protest this country has ever seen. Who's in?' The Stop Trump Coalition quickly updated its Facebook page: 'It's just been announced: Donald Trump is coming to Britain on a visit later this year. We don't know when. But let's be ready – and be prepared to take to the streets in the most incredible protest in our history.' (And what a history of stopping Trump it has been.) The British press quickly picked up on the buzz of antagonism vibrating through social media. 'London braced for biggest protest in UK history', chirruped the Evening Standard. '"Incredible protest" planned for UK', reported the Guardian.
And what, you may wonder, is the point of these protests? The Stop Trump Coalition, which features such veterans of virtue-signalling as Lily Allen, Paloma Faith and Owen Jones, presumably wants to do what it says on its tin – stop Trump. Except it's not really clear what that means. Just as it's not really clear what fellow protest group, Stand Up to Trump, means by standing up to Trump. After all, what is it that avowed Stop Trumpers Brian Eno, Frankie Boyle, Ed Miliband, Caitlin Moran and the rest of the coalition are going to do? Trump's not actually accountable to Britain's celebocracy, despite their ability to sign things. He's accountable to the American electorate, those who voted for him – voted for him on the grounds that he was going to do what he pledged to, be it regenerate America's rust belt or tighten up US borders.
Journalist and campaigner Paul Mason might find the idea of Trump distasteful, and his policies unsupportable, but then Trump was never trying to appeal to Mason, or Lib Dem vicar Tim Farron, or even the International Relations Department at the School of African and Oriental Studies, all of whom are proudly listed as supporters on the Stop Trump Coalition website. Trump was trying to appeal to those he was to represent as the US president – American voters.
Perhaps all those intent on stopping, or standing up to, Trump mean to push Theresa May's government into exerting diplomatic pressure on Trump, which culminates in some form of stopping. Or perhaps they mean to show Trump up, embarrass him with placards, humiliate him with chants, and convince his American supporters that he's as bad an egg as Owen, Caitlin and Brian know him to be.
Or perhaps, just perhaps, the planned protests against Trump aren't really oriented towards any practical, this-worldly objectives. That would explain why the practical impossibility of stopping Trump fails to concern those ostensibly committed to doing just that. It would explain why the anti-democratic absurdity of protesting the electoral choice of another nation fails to strike those doing exactly this. And it would explain why they all seem so damn proud of it all. Because what really matters to Britain's anti-Trumpistas is not doing, but feeling – above all, feeling morally superior. The protests and, just as important, the tweeted talk of the protests, amount to showing to the world not the political errors of the current US administration, but what morally brilliant people the protesters are. This is what motors the anti-Trump protests in the UK: priggishness.
Everything about the anti-Trump protests is geared towards generating this feeling of moral superiority. 'The Stop Trump Coalition remains committed to challenging the politics of Trumpism and all forms of racism and oppression', reads the coalition's website. 'Donald Trump is not welcome here!', declares the Stand Up to Trump Facebook page, adding, 'We will be organising protests to oppose Trump's racism, sexism and bigotry'.
Trump here functions not as a politician, policy warts and all, but as little more than a symbol of contemporary evil, a totem pole of political incorrectness. Hence it is the anti-Trumpistas, rather than Trump and his supporters, who conjure up something called Trumpism, which seems to consist of little more than racism, sexism and bigotry. And once invented as such, Trump and Trumpism become easy objects to protest against, an easy way to demonstrate and show off one's moral rectitude. 'I am against racism', the protester can say; 'I am opposed to sexism; and, above all, I stand against oppression and bigotry.' Powerful stuff. Supporting racism, sexism and oppression are not Trump's actual positions, of course, or the positions of those who voted for him – who would be for bigotry and oppression? No, these are the names they've given to Trump's policies to depoliticise them, while simultaneously moralising (and demonising) them, so that they appear, already marked undebateable and indefensible, as the vice to the campaigners' virtue. If Trump didn't exist…
'We oppose [Trump's] state visit to the UK', concludes the Stop Trump Coalition on its website, 'and commit ourselves to one of the biggest demonstrations in British history to make very clear to our government, and to the world, that this is not in our name'. In that final flourish of a clause is a revealing nod to our recent political past, namely, the Iraq War protests of 2003. 'Not in my name' was the omnipresent slogan of those marches, capturing well the naval-gazing vanity of a movement defined less by a cogent principled opposition to military intervention in Iraq than by protesters' need to demonstrate what good people they were, that they were not to have their good names sullied by association with the British state's actions. These were huge demonstrations, too, attended by hundreds of thousands — and most telling of all, they did nothing to stop the war.
Tim Black is a spiked columnist.
Picture by: Getty Images.
To enquire about republishing spiked's content, a right to reply or to request a correction, please contact the managing editor, Viv Regan.