Stop this war on the homeless
Homeless people should enjoy the same civil rights as the rest of us.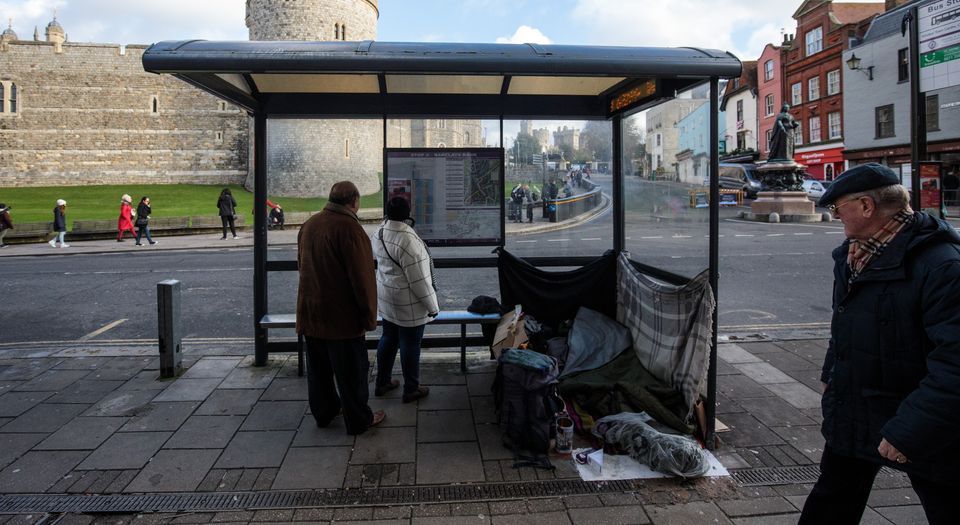 There has been a public outcry over the call by the leader of Windsor Council to remove homeless people before the royal wedding of Prince Harry and Meghan Markle in May. Apparently, the area's homeless are leaving their bags all over the place and this 'presents a beautiful town in a sadly unfavourable light'. Yet such an attitude to the homeless is not restricted to extremely well-off councils at times of royal events. The homeless are being pushed and hassled out of public spaces across the UK, and indeed in the rest of Europe and the US, too.
In a sense, this is nothing new. Since Medieval times the homeless have been derided as a threat to public order and social decency. To be a vagrant, without lord, land or property, was a threat to the established order of things, and the vagrancy acts of the early modern period targeted not only paupers but also travelling minstrels, tellers of fortunes, prostitutes, beggars, and all other shiftless, unrooted people who existed outside established social relations. Vagrants could be removed to their former place of residence, whipped, or subjected to hard labour. Homelessness was from the beginning a matter for the constable; it was a question of criminal law and public order.
In the 19th century, against a background of large numbers of homeless discharged military personnel, the 1824 Vagrancy Act made it an offence to sleep rough or beg. This act remains on the books today, and after decades in remission it is now being used with increasing frequency. Between 2006 and 2014, the number of court cases for vagrancy offences increased from 1,510 to 2,365.
But the Vagrancy Act is only the half of it. Since 1997, successive governments have created new, open-ended coercive powers, which have without fail been targeted at homeless populations. This began with the Anti-Social Behaviour Order, which was frequently used to impose behavioural constraints on street drinkers or rough sleepers. Then there were laws allowing alcohol confiscation (so-called Designated Public Space Orders), which were systematically used against homeless people drinking on the street. When I was campaigning against alcohol-confiscation laws in Brighton a decade ago, I met several homeless people who had their alcohol confiscated on a daily basis.
Since then, the powers have exploded, and the rights and protections for homeless people have worsened dramatically. Police and councils across the country seem to be making a unified attempt simply to remove homeless people from public spaces; to have them go away, go somewhere else, stop messing up the streets and bringing the area down. The question is only which criminal justice 'tool' (as they call laws) would be most convenient to use.
There are many options. Dispersal powers allow police officers to bar a person from a town centre or designated area for 48 hours, if they believe that somebody's behaviour 'is likely to contribute' to 'members of the public in the locality being harassed, alarmed or distressed'. If they re-enter the area, they can be fined or prosecuted. FOI research shows that these powers have been used particularly against homeless people and street drinkers, and, in some cases, against people handing out food for the homeless. Similar powers exist in the US, with orders known as 'stay out of area' orders, or 'trespass orders'.
In the UK, there are also Public Spaces Protection Orders, which allow councils to ban any activity they believe has a 'detrimental effect on the quality of life'. Several councils have criminalised lying down or sleeping in public, while others have banned tents, begging, bin raking, or other activities related to being homeless. Community Protection Notices have been used to give specific instructions to individual homeless people, to stay out of a particular town centre, to not beg, or to not accept charitable donations. It is then a crime for them to disobey this order. A group of homeless people have been fined up to a thousand pounds for begging or for street drinking: they now have Criminal Behaviour Orders, which means that they can be imprisoned if they break the order again.
The current crackdown on the homeless looks archaic in certain respects: we see the return of that old idea that it is the job of criminal justice to incorporate people socially. As in the 19th century, there is in effect a crime of being poor, of lacking house and property and means to sustain oneself. Homeless people are criminalised – fined, arrested, prosecuted – merely for going about their daily necessaries of sitting, sleeping and eating in public places.
And yet there is a different tone to it now. The crackdown comes less from the high point of public order and morals, and more from the subjective complaint that the presence of homeless people is harassing or 'detrimental' to other people's quality of life. The concern with the homeless is now more inchoate, de-centred and intangible, though it is nonetheless coercive for that. The homeless are seen as a messy, threatening presence, and both councils and police seek an urban realm that is clean, without conflict or discomfort. Perversely, the authorities cast members of the public as 'victims' of the homeless, whose very presence is seen as distressing and threatening.
Social-justice activists often say that the homeless should not be targeted because they are 'the most vulnerable in society'. It is certainly true that many lack power and means, and have other problems, but they should not be seen as being without agency. In my conversations with homeless people about civil liberties, I have found them to be frequently cogent and forthright, in many ways more on top of criminal-justice principles than their pursuing officers. (I remember one man, fed up of having his alcohol confiscated, who sought out a bench outside a church which was private property, and from which he could salute the police officers with impunity.)
Homeless people have a right to sit on a bench, to drink, to eat, to sleep in public, not because they are uniquely vulnerable, but because they are equal; because they have as much right to be in a public space as anyone else. If they are not committing an offence, then they should be left to go about their business.
They should be offered help – and there should be more hostels and more support – but they also have a right to refuse this help, for whatever reason. Many of the fines and orders have been used for those homeless people refusing to 'engage with support services', if they refuse the offer of a hostel place, for example. There are lots of good reasons why someone may refuse a hostel place – because of alcohol, violence, or police surveillance – but even if somebody's reason does not seem good, it remains their reason and it should be respected. Because somebody has suffered poverty and hardship does not deprive them of the right to a basic level of respect and autonomy of their person.
So yes, we should oppose the call to clean up Windsor for the royal wedding. But the problem is not just in Windsor – it is in every town and city centre across the country.
To enquire about republishing spiked's content, a right to reply or to request a correction, please contact the managing editor, Viv Regan.