After Carillion: we need to end zombie capitalism
The state is propping up business and making life more precarious for workers.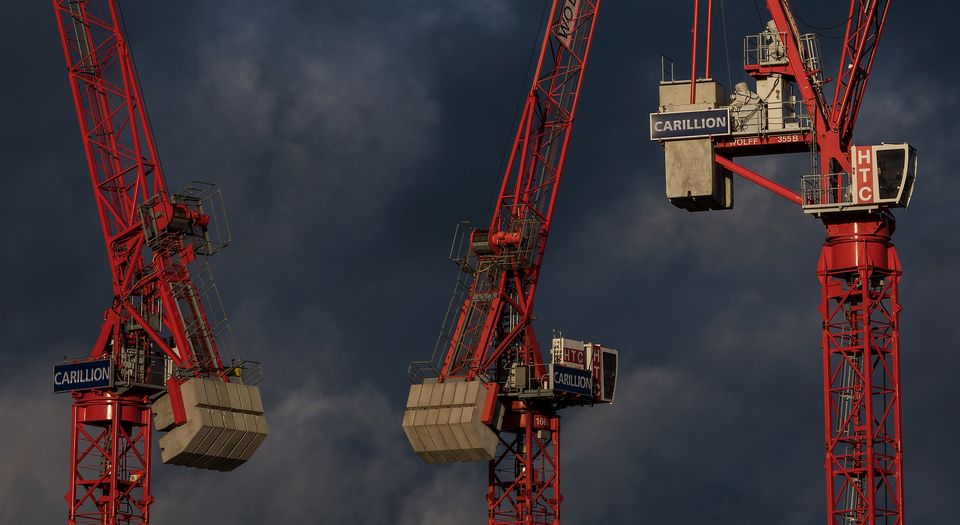 The liquidation of Carillion, Britain's second largest construction company, is extremely worrying for its 43,000 workers and their families worldwide, of whom 20,000 live in Britain. This big government contractor going bust means damaging disruption not just to its own employees, but also to its many suppliers and their employees. And it is bad news, too, for the many more thousands relying on Carillion for their pensions. The lifeboat Pension Protection Fund that will take over will be paying them less than they had been expecting. Unfortunately, though, much of the initial political and media reaction has been too narrow to learn the lessons from this calamity.
Carillion is being cited as an example of 'reckless corporate irresponsibility'. Meanwhile, the Tories are being bashed for 'gambling with public money to prop up' a failing business by granting it contracts last year. Guardian columnist Simon Jenkins, for example, claimed Carillion's demise is attributable to 'favouritism, cost escalation, excessive risk, obscene remuneration and reckless indebtedness'. Companies like this, he wrote, shouldn't exist: it 'was too big and too reliant on state contracts to be a true private entity. Government and Whitehall share the blame for its collapse.'
But whatever is eventually revealed about the specifics of this collapse, it is better that we focus now on its broader, deeper meaning. Carillion is not another 'unacceptable face of capitalism': it exemplifies the fragility of British capitalism. Yes, it wasn't a 'true private entity'. But that's a very rare breed these days, close to extinction. Most businesses exist in some form of state dependence. Nor is there anything exceptional about the government propping up businesses. Supporting zombie capitalism has been the defining feature of economic policy since the 1980s, in Britain and across most other advanced countries.
Criticising the government for doing deals with businesses that many knew to be financially troubled misses the wood for the trees. Even if the government's due diligence turns out to have been less than perfect, a rather bigger issue is the precarious position of millions of other people who work in other established companies. The real problem, this time at least, is less one of governmental incompetence than one of the zombie businesses, of all sizes, that operate up and down the country. And those making cheap anti-Tory points today should note that last week Labour-run Leeds Council awarded Carillion a contract for a new ring road.
Where, pray, can the government, or local councils, go to find strongly profitable, cash-rich, low-debt or debt-free British companies to do business with? Carillion is not the only British company that has had a tough time operating in our stagnating economy. Nor is it the only company whose 'aggressive' financial accounting practices have been given a positive bill of health by one of the Big Four auditors. It is not even unique among Britain's big construction companies.
The largest construction firm, Balfour Beatty, scraped a tiny £8million profit in its last accounts, representing a 'wafer-thin margin of just 0.1 per cent', according to a respected industry assessment of Britain's Top 100 construction companies published in August. This was after a loss of £199million the previous year. The review notes that 'red ink' was all over its balance sheets. The past year showed that 'many of the industry's big names still have plenty of issues to work through'. Their 'collective pre-tax profit dropped 4.1 per cent… and the margin also fell, from 1.7 per cent to 1.5 per cent'. Some 34 firms out of the Top 100 recorded falls in turnover, 12 dropped into the red, and another 28 saw their profit fall.
'It's at the top of the table where the biggest and most alarming casualties are found', the review continues. Five of the Top 10 were loss-making, and that excludes not just Balfour Beatty's slender profit, but Carillion itself, which reported a healthy-looking £147million profit last year, after a slightly bigger profit the previous year. The Top 10 companies together posted a collective pre-tax loss of nearly £80million, despite having total revenues of over £36 billion. Finding a financially secure construction company to do business with is clearly not easy for any government body. This is less a matter of lax diligence than of the state of dire corporate profitability.
Meanwhile, trying to uncover some specific evidence of government 'favouritism' for Carillion deflects from the real issue: that so many of our jobs these days rely on state support in one form or another. Outsourcing has certainly become a big part of the corporate welfare that sees public-sector contracts sustain chunks of the non-free market system. For Carillion, nearly two-fifths of its overall revenues came from its 450 contracts with the public sector.
Each year, the government procures about one third of its total budget from businesses. This spending – now about £270 billion – helps a lot of zombie companies to muddle through. But that's only one way in which the state sustains them. Ultra-low official interest rates make it easier to take on and service debt. In-work benefits subsidise low-wage employers. Run-of-the-mill state regulation usually favours incumbent businesses against the upstarts who would like to innovate.
Labour's suggestion, that we should directly run more public services, would make little difference to all this. Worse, arguing for more state intervention distracts from the grave economic damage being done by the pervasiveness of existing state intervention. What we need instead is an economic strategy that would reverse all the ways in which successive governments have been blocking creative destruction and underpinning economic atrophy.
Yes, Carillion was an indebted, unprofitable, state-dependent business. But this is the state of British business. It's the norm. Most companies in the same position are still managing to muddle through, but many are only a short step away from meeting Carillion's fate. In the interests of the Carillion workers and pensioners and the many millions living precariously, we are long overdue a national conversation about how to take us out of this zombie capitalism.
To enquire about republishing spiked's content, a right to reply or to request a correction, please contact the managing editor, Viv Regan.