Hands off the Sun!
Corbynistas calling for journalists to be sacked are like jumped-up Joe Stalins.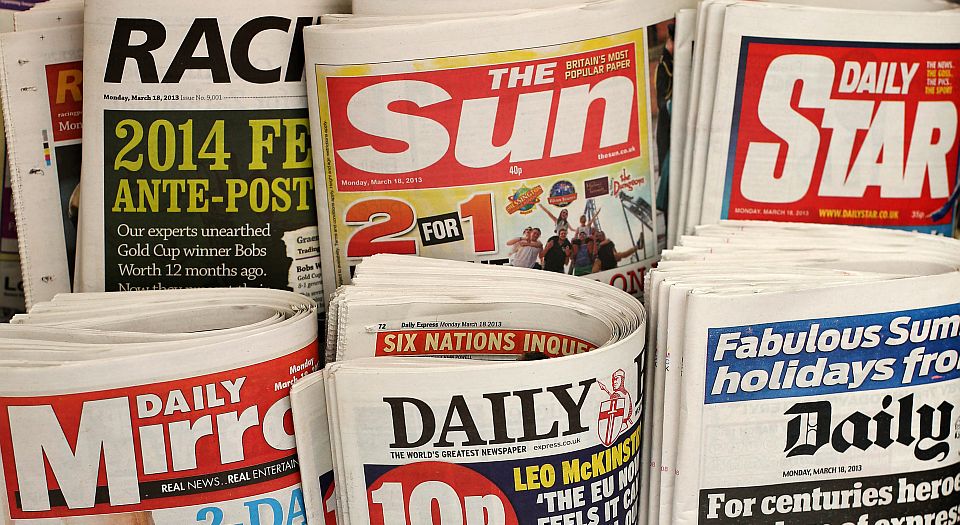 Imagine living in a country where politicians were so casually illiberal, so possessed of tinpot tyrannical urges, that they thought nothing of firing off letters of condemnation to the press when it said things they didn't like. A country where the political elite was so cavalier about the ideal of press freedom that it was happy to demand 'action' against journalists whose commentary it judged to be offensive. A country where parliamentarians formed censorious gangs and put pressure on editors to sack columnists for having the 'wrong' view.
Well, if you're a Brit like me, you live in that country. This week, taking their shameful place alongside Turkey's President Erdogan, who likewise bristles at any newspaper that publishes things he disagrees with, 107 British MPs wrote a letter condemning the Sun for publishing a column critical of aspects of Islam, and suggesting that the journalist who wrote it, Trevor Kavanagh, be sacked.
The MPs, including Labour's Naz Shah, Diane Abbott and Angela Rayner, and some Tories and Lib Dems too, insist that the Sun 'retract this article' — that is, unpublish it, bin it, and never say anything like this again — and that it 'strongly consider' whether Kavanagh has any place in its pages. That Kavanagh was political editor of the Sun for 20 years and is a core part of the paper's personality is of no moment whatsoever to these self-styled cleansers of the press. He upset them, so he must go.
Anyone who believes in press freedom ought to be alarmed by this abuse of power by MPs, who are scandalously using their electoral clout to try to chill the press. The first alarming thing about the letter is its hyperbole. Like all aspiring censors in history, the 107 signatories must turn what was merely a point of view about potential problems relating to Islam into the embodiment of evil, something likely to damage community life and stir up violence. Just as censors of old insisted degenerate art would pollute men's souls, and sexual literature would propel the populace into a frenzy, so the 107 censorious signatories claim Kavanagh has contributed to an 'atmosphere of hostility', used 'Nazi-like terminology', and given the impression that a 'Final Solution' is required for Muslims. Erm, calm down?
In truth, his column simply raised questions about Islam, which is a faith system. Are beliefs, ideas, no longer open to criticism? If so, that's politics over with. Kavanagh writes about last week's conviction of a predominantly Muslim grooming gang in Newscatle, which committed over 100 offences, including rape, against women and girls. He says it has become almost 'unsayable' to point out that, for some reason, a fairly significant number of Muslims are involved in some pretty awful misogynistic behaviour and other criminal activities. He suggests this is 'The Muslim Problem' but it is too often 'unspoken', because people fear a backlash if they criticise Islam. The nasty demand by politicians that he be sacked for writing this proves his point.
Kavanagh doesn't say anything racist or caricaturing about individual Muslims. He talks about Islam and Muslim culture. The rash response by those 107 MPs is really an attempt to ringfence Islam itself from stinging rebuke or just everyday criticism. Under the guise of protecting individual Muslims from harm, they're really seeking to protect the ideology of Islam from blasphemy. This makes their letter even worse: not only are they using their political authority to try to stymie press discussion — they're doing so to the medieval end of ensuring that a particular religion and the culture it might or might not have a role in fostering never be subjected to the same level of criticism as other belief systems.
Then there's their call for action. This should worry us all. They want the article taken down and Kavanagh taken down too: the letter asks the Sun's editor to think about whether 'Mr Kavanagh's brand of bigotry fits with your vision for the paper'. Who do they think they are? For 350 years Britain has had a press largely free from state interference, independent of the political class, and yet here we have a significant section of the legislative arm of government — a sixth of it — issuing dire warnings to a newspaper. The arrogance and disregard for historically hard-won liberties are astonishing. And the precedent set is a potentially lethal one: if politicians get the idea that they can bully the press whenever it says something they don't like, then we're all in trouble.
Naturally, Corbynistas are cheering on the largely Labourite letter-writers. So is Corbyn himself, who says Kavanagh's article was 'wrong, dangerous and must be condemned'. Perhaps we should get Kavanagh to stand in a public place with a placard round his neck saying 'DANGEROUS'? Corbynistas are sometimes referred to as Marxists. Please. Marx understood the value of an unfettered publishing sphere away from the threats and censorious ambitions of the political elite. The free press is 'the ever vigilant eye of the people's spirit, the embodiment of the people's trust in itself', he wrote. No, Corbynistas mimic someone else, a different figure from history. Careful guys, your Stalinism is showing.
Brendan O'Neill is editor of spiked.
To enquire about republishing spiked's content, a right to reply or to request a correction, please contact the managing editor, Viv Regan.