Venezuela and the global turn against democracy
The left-right point-scoring over Venezuela obscures the real tragedy.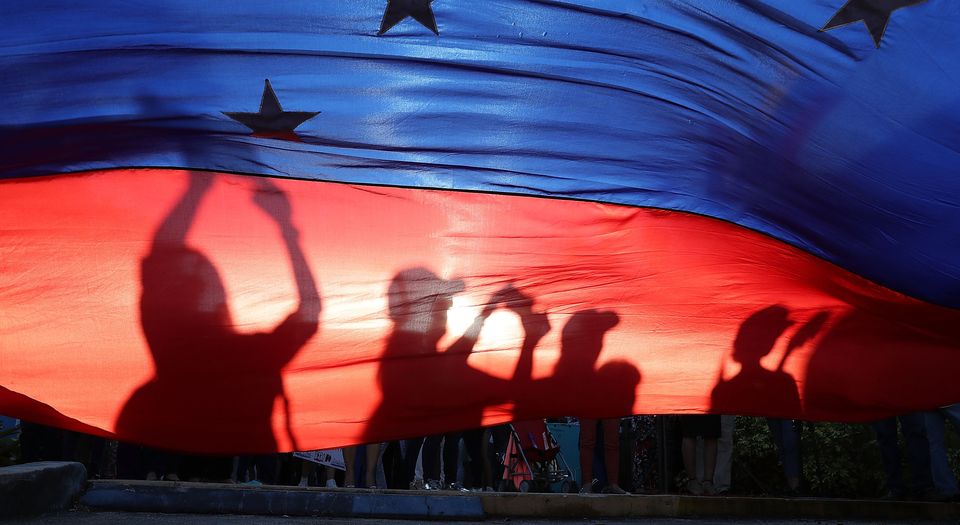 To see twilight descend on the democratic process, look to Venezuela. The Bolivarian Republic's election this week for its newly created 545-seat constituent assembly revealed its democracy is in a dire state.
Following months of rioting and protests, in which at least 122 people were killed, President Maduro sought to regain stability by creating a new political body with the power to overrule Venezuela's opposition-held congress. The vote, held yesterday, wasn't a referendum on the new constituent assembly's existence – that was a given. Instead, it was an opportunity to elect its members. The opposition parties boycotted the election, and the new body will be dominated by supporters of Maduro's ruling United Socialist Party of Venezuela (PSUV). As a result, the president will have control over a new body that has virtually unlimited powers – a worrying thought, given its first task will be to rewrite Venezuela's constitution.
The vote itself was shrouded by allegations of repression and electoral fraud. While Venezuela's National Electoral Council declared that more than eight million people took part in the vote, independent observers estimate it was less than half that. This is unsurprising given the opposition boycott and the photos that surfaced showing a number of polling stations completely empty.
Even those who did head to the polling stations faced pressure to support Maduro. Venezuela's state-run oil company, PDVSA, issued a warning to its managers explaining that anyone 'who tries to block the constituent assembly, who does not vote, or whose staff does not vote, must leave his job on Monday'. Throughout election day, reports emerged of police intimidation, and anti-government protests left 14 people dead. In response, Latin American countries declared that they will not recognise the vote. Even the European Union, itself no stranger to warped democratic procedure, has questioned the result's legitimacy.
Following the vote, Maduro disturbingly said the opposition 'already has its prison cell waiting'. In a turn of events reminiscent of Stalinist Russia, two of Venezuela's leading opposition leaders were mysteriously taken from their homes in the early hours of Tuesday morning.
The response of the global left has been one of reticence. Brazil's Workers' Party continues to support Maduro, as do a number of leftist parties in Chile and Colombia. In Britain, Labour's thorn-in-the-backside Ken Livingstone this week hailed Maduro as a rebel against the 'establishment elite'. And Labour leader Jeremy Corbyn has done little to distance himself from his previous assertion that Venezuela is 'an inspiration to all of us… and a better way of doing things'. 'It's called socialism', he said. It's become evident that today's left regard Venezuela almost as a child who, despite breaking everything he touches, 'still has his heart in the right place'.
Meanwhile, those on right who so gleefully use Venezuela as a stick with which to beat the left have continued to hold the nation up as proof that socialism always leads to tyranny. Of course, what both the left and the right fail to understand is that Venezuela is not socialist. As Trotsky wrote in The Revolution Betrayed, a nation cannot be called socialist if 'the state does not die away, but grows more and more despotic'.
With this so-called election, despotic is exactly what Venezuela has become. Maduro is intent on increasing his power at the expense of democracy. And the failure of left-wingers to condemn his actions reveals just how little they believe in popular rule. This is part of a global turn against democracy, seen from Erdogan's seizure of executive power in Turkey in April to Poland's attempted rejigging of its judicial system this month. Meanwhile, in the West, many of those who scorn the authoritarian turn of these nations continue to call for Trump to be impeached and Brexit to be derailed.
Beyond the left-right war of words over Venezuela something more profound is happening: democracy around the world is withering.
Jacob Furedi is a spiked columnist. Follow him on Twitter: @jacobfuredi
To enquire about republishing spiked's content, a right to reply or to request a correction, please contact the managing editor, Viv Regan.