Jamie Oliver vs Theresa May
How the mockney bore politicised school meals.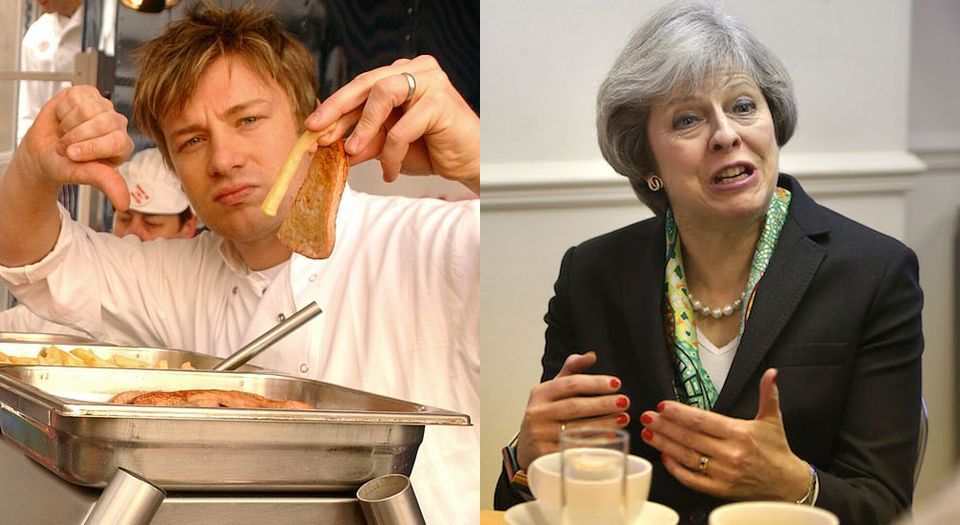 Once it was 'Thatcher, Thatcher, milk snatcher' that was shorthand for the callousness of a Tory prime minister. Now Theresa May is similarly accused of meanness over plans to reverse the policy of free school meals for all infants (that is, for five- to seven-year-olds), which was introduced under the coalition government in 2013. Cue another outraged intervention into public life from Jamie Oliver.
The Conservative Party election manifesto says: 'We do not believe that giving school lunches to all children free of charge for the first three years of primary school – regardless of the income of their parents – is a sensible use of public money. There is now good evidence that school breakfasts are at least as effective in helping children to make progress in school. So under a new Conservative government, schools in England will offer a free school breakfast to every child in every year of primary school, while children from low-income families will continue to receive free school lunches throughout their years in primary and secondary education.'
In other words, every child at primary school will receive free food if they want it, not just the youngest children, but it will be at breakfast not lunch. Poor children will continue to receive free lunches. No child should be going hungry at school for lack of money, but some parents will certainly be worse off as they will now have to pay for lunches again. In an interview for Channel 4 News, Oliver called the proposal 'awful' and 'short-sighted', suggesting it will increase obesity and ill-health. Having made the tendentious claim that abolishing free school lunches for some children will impact on obesity rates, Oliver piles on the hype: 'We know the diseases that the NHS is overtly paying for now and being punished for and crucified now on cost, which is largely obesity, type-2 diabetes and diet-related diseases.'
This is not about concern for parents who are struggling financially. An obvious way to save money would be for parents to give their children packed lunches instead. Not as interesting as a hot meal, but perfectly fine. But thanks to the intervention of Oliver (who famously referred to packed lunches as 'shit') and others, now lunchboxes are subject to minimum standards and inspections. In some schools, they are banned altogether, forcing parents to fork out for a canteen meal.
Meanwhile, Labour is going in the opposite direction, proposing to extend universal free school meals to all children in primary schools. The manifesto declares: 'To aid attainment, we will introduce free school meals for all primary school children, paid for by removing the VAT exemption on private school fees.'
Yet there is little evidence that school meals do improve attainment. In promoting the policy, Labour pointed to a report published in 2012 by the Institute for Fiscal Studies which suggested that pilot schemes for universal free school meals had 'increased attainment in disadvantaged areas'. Lorraine Dearden, one of the authors of the report, told BBC News that there had been a 'slight improvement' in children's attainment, but that 'we certainly do not know if this impact will be replicated nationwide'. She also noted that the pilot schemes had shown no effect on children's weight or attendance.
Providing a free meal at lunchtime for every pupil would be a nice idea. But at a time when the UK government is still borrowing around £60 billion per year more than it raises in taxes, it seems better to focus shrinking resources more on the classroom than the dinner hall. Trying to solve problems like childhood obesity or low levels of attainment through free meals is just bizarre. Obesity needs to be solved through the choices we make as adults. Educational success relies on good teaching and an outlook that emphasises the importance of knowledge rather than obsessing about food.
What is really bizarre is how school meals took on such political importance. And for that, we can thank a celebrity chef with a bee in his bonnet, aided and abetted by politicians – most notably Tony Blair and Nick Clegg – looking for a 'big idea' to show they can make a difference. If free school meals can qualify as a 'big idea', it shows how much we've been starved of proper politics.
Rob Lyons is a spiked columnist.
To enquire about republishing spiked's content, a right to reply or to request a correction, please contact the managing editor, Viv Regan.