Defending the right to choose in Trump's America
A new Arkansas law should worry everyone who believes in women's freedom.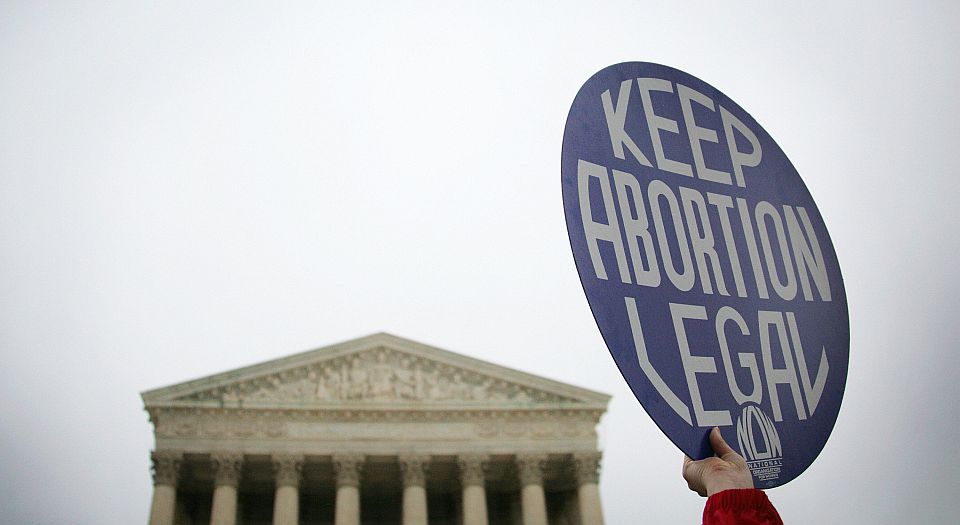 Late last month, the state legislature in Arkansas passed the graphically titled Arkansas Unborn Child Protection from Dismemberment Abortion Act, with overwhelming votes: 77 to 11 in the House of Representatives and 25 to 6 in the Senate. Arkansas governor Asa Hutchinson has signed it and it will, pending any legal challenges, become law later this year (90 days after the legislative session ends).
The act uses graphic language to describe what happens in an abortion. It bans: '"Dismemberment abortion", [which] means an abortion performed with the purpose of causing the death of an unborn child that purposely dismembers the living unborn child and extracts one piece at a time from the uterus through the use of clamps, grasping forceps, tongs, scissors, or similar instruments that, through the convergence of two rigid levers, slice, crush, or grasp a portion of the body of the unborn child to cut or tear off a portion of the body of the unborn child.'
All abortions are performed with the intention of 'causing the death of an unborn child' (or fetus, if we want to be scientifically accurate), so that part of the act is hardly relevant. The rest of the explanation is a reasonably accurate description of a routine procedure known as a dilation and evacuation (D&E) abortion, which is the method recommended by the American Congress of Obstetricians and Gynecologists for abortions after 14 weeks' gestation.
Attempts to restrict access to abortion are not new in the US, and with Republicans in the White House and controlling both the House and the Senate, as well as 33 states, we can expect these attacks to get worse. However, the main issue is the attitude that this law shows towards women. The headlines that it generated, both in the US and abroad, were suitably shocking: 'Arkansas passes law allowing rapists to sue victims who want an abortion', read the Independent; 'New Arkansas law allows men to block their wives' abortion even in cases of rape or incest', read the Daily Mail; 'New law lets husbands sue wives to stop abortion – even in rape cases', said CNN.
And yet, while these headlines are correct in pointing out that women who have been raped will be denied a certain kind of abortion, they are also misleading because the act has outlawed this method of abortion for anyone in Arkansas.
Unless the woman alerts a possible naysayer to the abortion beforehand, the right to sue only kicks in after (the already illegal) abortion has taken place, making it hard to prevent the abortion from taking place. Hypothetically, a man who is married to a formerly pregnant woman and is responsible for impregnating that woman could sue her after the fact and gain some financial relief. (If the pregnancy had been the result of rape, he is barred from any financial compensation.) But if the law is enacted, none of these abortions will take place in Arkansas, making these lurid headlines moot.
The new law is most likely an attempt to force an appeal to the Supreme Court, with the aim of rolling back women's access to abortion services nationally. It also gives state legislators an opportunity to describe in graphic detail how awful they think abortion is. And they love to do that: it plays very well with the anti-abortion lobby. It makes them feel good about themselves, and riles up the base. Everyone's a winner. Except, of course, those most intimately involved in the decision about whether to continue a pregnancy, those who are most affected by these obscene attempts to inhibit women's freedom: individual women.
The bill is what is known as a 'model bill' from the National Right to Life Committee. It has previously passed in six states and been ruled unconstitutional in four of them (Alabama, Kansas, Louisiana and Oklahoma). It is still on the books in Mississippi and West Virginia, where no doctors provide abortions at that gestation. Ingrid Duran, director of NRLC's Department of State Legislation, said that similar bills had also been introduced in Missouri, Rhode Island, South Carolina and Texas. According to the Guttmacher Institute, there are currently just four abortion providers in Arkansas. At least one, in Little Rock, provides abortions up to 21 weeks.
The Arkansas chapter of the American Civil Liberties Union has said it will challenge the constitutionality of the act in court.
David J Nolan is a communications professional in Washington DC.
To enquire about republishing spiked's content, a right to reply or to request a correction, please contact the managing editor, Viv Regan.