Stop vote-shaming Trump's female supporters
The feminist attacks on female Trump voters have been grotesque.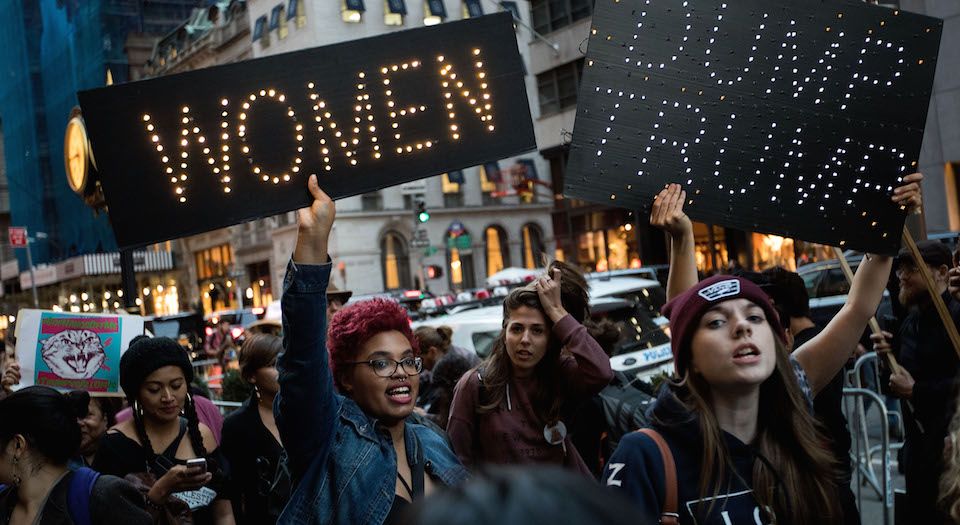 Since Donald Trump's election last Tuesday, many have taken to the streets, not just in protest, but in mourning. The great and good were so convinced that Hillary Clinton was going to win that, even after the fact, they simply couldn't believe the result. Then the exit polls came, and with them the news that 53 per cent of white women had voted for Trump.
Clinton supporters on both sides of the pond lost their minds. 'Most white women don't want to be part of an intersectional feminist sisterhood. Most white women just want to be one of the guys. And we will all suffer for it', wrote one American journalist, the morning after the vote. 'Dear fellow white women: you had the personification of safe white liberal feminism to vote for. You STILL picked racist patriarchy', tweeted one upset British columnist as the news rolled in. White women chose a misogynist, wrote an Irish Times columnist, 'like slaves fluffing the pillows of their master's rocking chair on his porch as he shouts abuse at them'.
White women are filled with self-hatred, an activist wrote: 'White women understand hate. We have been hating ourselves for so long that self-hatred feels normal. We may well hate people of different skin colours or religious beliefs as well, but we hate ourselves more.' Another American observer argued that it's now clear that 'far too many white women still see white men as their saviours'.
I could go on – there have been endless articles, tweets and public outpourings about how shameful it is that many female voters chose Trump over Clinton. Every woman quoted above claims to be a feminist, and yet they've denounced female Trump voters as selfish, traitors, blind idiots, slaves, self-haters. Supposedly progressive feminists argue that women have 'internalised misogyny' – that hatred towards women is so ingrained in their daily experience that they can't help being brainwashed by it and then expressing it in the ballot box. Apparently Clinton voters were able to rise above this subconscious force.
Yes, Trump has said he wants to roll back women's access to abortion; he's been a pig in many of his comments about women; and he's probably not the best candidate to argue for better childcare resources or maternity leave. But the idea that he will send every woman howling back to the dark ages is absurd; that smacks more of fearmongering than a serious feminism designed to criticise and challenge the new president.
White women didn't vote for Trump because they hate themselves. The fact is, not every woman in the US is a card-carrying feminist. Not all college-educated women go to Harvard and scream at their professors for using the wrong pronoun. In fact, as Elizabeth Nolan Brown points out in Reason, Trump's female fanbase was made up of mostly older white women, without a college degree, living in rural areas, 'unlikely candidates to be reading progressive, feminist-focused, millennial publications. Who, exactly, are these impassioned public screeds aimed at white "female misogynists" supposed to sway?'
This election proved that asking women to vote on the basis of their gender, rather than their political ideas, doesn't work. Clinton's campaign was a vacuous insult to free-thinking women. Trump is certainly no champion of women's liberation, but the rejection of Clinton's vagina-voting sisterhood, which encouraged women to fall in line rather than think for themselves, nonetheless felt pretty good.
Forget the 'betrayal' by female Trump voters; the way middle-class media feminists like Caroline Criado-Perez, Polly Toynbee and Jessica Valenti have insulted ordinary women for their political beliefs is far more shameful. By claiming that female Trump voters are merely adhering to 'the patriarchy', or have internalised self-hatred, or are mentally enslaved by their men, these feminists strip women of agency. Rather than deal with the fact that some women don't agree with them, and argue for what they believe in, they smear opposing views as stupid and blind. And rather than accept that politics doesn't go your way unless you make a good case, they bury their heads in the sand and weep. As one celebrity feminist wrote: 'Wednesday was a day of mourning. Thursday, too. Hell, I'm giving us till Sunday.'
The more feminism presents itself as a superior girls' club, a 'sisterhood' which only welcomes women who toe the line, the faster it will descend into the dustbin of history. Maybe it's about time.
Ella Whelan is assistant editor at spiked. Follow her on Twitter: @Ella_M_Whelan
Picture by: Getty Images.
To enquire about republishing spiked's content, a right to reply or to request a correction, please contact the managing editor, Viv Regan.