The rise of Safe Space segregation
Campus identity politics has morphed into a new racialism.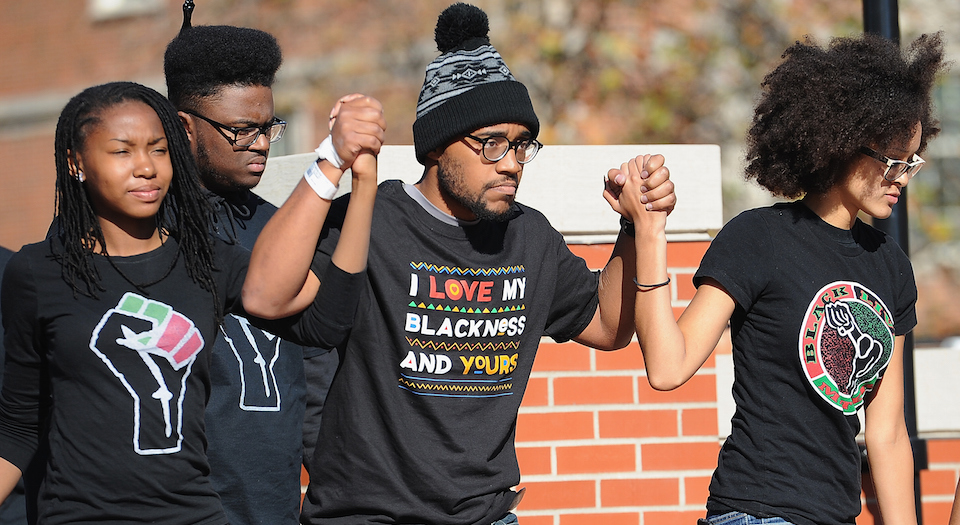 Probably the most corrosive thing about Safe Space ideology is that it encourages the segregation and racialisation of campus life. I witnessed this firsthand during a recent visit to an American campus, where I was greeted by the sight of students racially and ethnically segregated from one another while they were eating lunch. When I pointed out that the practice of segregated cafeteria tables violated the spirit of the academy, my host told me, 'it's their choice to find their own space'.
Unfortunately, university authorities tend to condone this kind of voluntary segregation. For example, Morton Schapiro, the president of Northwestern University, has said that it is understandable that black students eating in a cafeteria would not want white undergraduates to join them. 'We all deserve Safe Spaces', he wrote, and 'black students had every right to enjoy their lunches in peace'. Schapiro's apology for Safe Space segregation is based on the proposition that everyone should be able to go somewhere where they will be protected from being made uncomfortable by other kinds of people. In others words, the advocacy of Safe Spaces has meshed with the idea that those from minority cultures need to be able to cultivate their identities free from the presence of people who are not like them.
The divisive potential of Safe Spaces was exposed towards the end of last year, when African-American university students on several US campuses demanded segregated Safe Spaces. Here, Safe Spaces acquired an explicitly racialised dimension. For example, at Oberlin College, students demanded that 'spaces throughout the Oberlin College campus be designated as a Safe Space for Africana-identifying students'.
In recent months, many American universities have acquiesced to a form of self-segregation, and have provided racially segregated housing for their black students. Not that they put it in those terms. California State University in Los Angeles, for instance, takes exception to the claim made by critics that it offers racially segregated housing. Instead, it describes its new scheme as a 'new black living-learning community'. On its housing-services page, CalState says that it is an initiative designed to 'enhance the residential experience for students who are part of, or interested in, issues of concern to the black community living on campus, by offering the opportunity to connect with faculty and peers'. Whatever euphemisms CalState chooses to describe its 'new black living-learning community', it is clear that its aim is not to enhance a common campus experience and culture.
It is now far from unusual for universities to organise white-only, black-only or Latino-only retreats and away days. For example, the University of Vermont provides a Safe Space for white students to explore their 'white privilege'. Columbia University offers a 'students-of-colour leadership retreat' for those who self-identify as 'African/African-American/Black, Latino/Hispanic, Asian/Asian-American, Pacific Islander, Arab and Middle-Eastern, Native and Indigenous, and Multiethnic/Multiracial'.
Predictably, the influence of the culture of self-segregation on campuses has also spread to British universities. The main basis of segregation in Britain, however, is that of sexuality. New undergraduates at the University of Birmingham have demanded LGBT-only housing, so that LGBT students could be accommodated in an environment that is safe from intrusion by their heterosexual classmates. Students at the University of York and the University of Central Lancashire are also demanding LGBT-only housing.
The cause of segregating people along identity lines has also been internalised by sections of the academic community. At this year's University and College Union's equality conference, it was decided that only identities that need protecting would be welcomed. So, in order to create a Safe Space, only those equality officers who were gay, disabled or from an ethnic minority could attend. Consequently, union equality officers who did not tick the right boxes were excluded from their own equality conference.
If academics can demand the exclusion of peers who do not possess the right identity, why can't students do the same? In April 2015, University College London's students' union posted a statement on its website supporting Goldsmiths Students' Union decision to exclude men and white people from meetings about anti-racist campaigns:
'Self-defining spaces are so important because the reality is it is not possible to have discussions that need to be had with your oppressors in the room – even if they are saying nothing. BME [black and minority ethnic] students are used to going through life facing microaggressions – sometimes to the point where they don't even notice it anymore until someone like them tells them horror stories of their experiences'.
In the bizarre world of students' union politics, any group can face a call to be excluded from another's space. In March this year, the National Union of Students' LGBT campaign group passed a resolution calling for the abolition of representatives for gay men. According to supporters of this motion, white gay men are almost as privileged as white heterosexual men. The campaign also suggested that gay men have become accomplices in the oppression of others, stating that 'misogyny, transphobia, racism and biphobia are often present in LGBT+ societies', and that such acts of oppression are 'more likely to occur when the society is dominated by white, cis gay men'.
It is clear that the attraction of Safe Spaces for some individuals is that they quarantine them from the ideas and questions of people who are not like them. Sadly, the consequence of this demand is that it encourages the segmentation of university life.
Calls for segregated Safe Spaces are the logical outcome of a student movement that attaches a fundamental significance to the validation of personal identity. This cultivation of identity has encouraged the psychic distancing of people to the point where some students demand to be allowed to share spaces only with those with whom they identify. That's bad news for a democratic society.
That the Safe Space movement has morphed into a call for segregation indicates how the institutional accommodation to identity politics subverts the foundation on which a tolerant and liberal university is constituted. Whereas, historically, the university freed students from the social and cultural baggage of their past, today it encourages students to carry that baggage with them. Once an individual student enters a campus cafeteria, they represent an objectification of this or that cultural fact, be it race or gender. This fossilisation of identity, accomplished through reducing students to their cultural background, strips people of their individual agency and capacity for moral autonomy.
How long before the call for racially segregated housing is heard on British campuses?
Frank Furedi is a sociologist and commentator and author of the What's Happened To The University?: A Sociological Exploration of its Infantilisation (buy this book from Amazon(UK)).
To enquire about republishing spiked's content, a right to reply or to request a correction, please contact the managing editor, Viv Regan.