The culture of complaint
A new Tate exhibition shows that contemporary art is now just about whinging.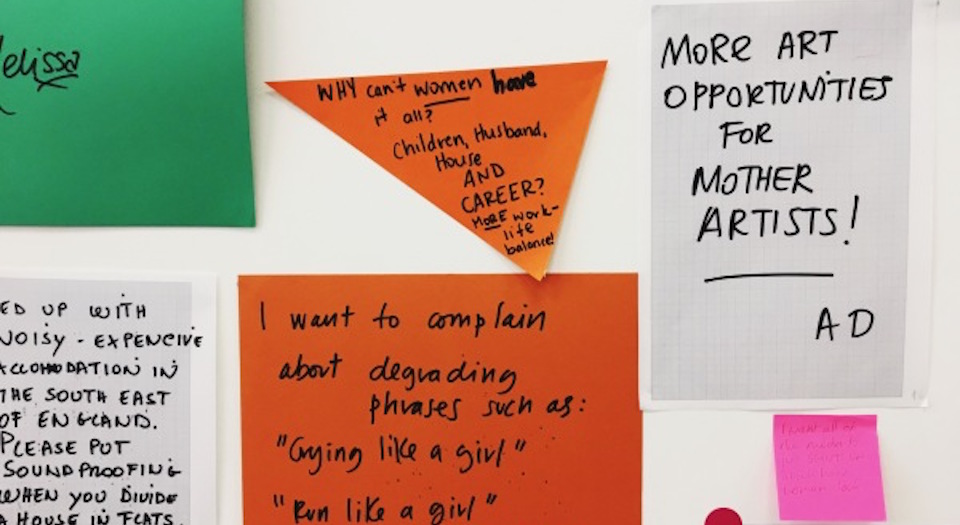 It perhaps shouldn't be surprising that Tate Modern decided to open its new 'Exchange' space, on the fifth floor of its new extension, with the Complaints Department, an installation by the Guerrilla Girls. As the late Robert Hughes wrote in his sharp critique of the contemporary art world back in the early 1990s, the 'culture of complaint' has become mainstream. In pushing the victim to the heart of art's raison d'être, and making therapy one of its central functions, contemporary art, and the museums which have followed in its wake, has created a Dante-esque purgatory of endless and pointless whinging.
According to the Tate website, 'Tate Exchange is about the exchange of ideas and artists working with the public'. It is part of Tate's strategy for community engagement: 'From a small charity in the Welsh valleys to a community radio station in East London, to healthcare trusts, volunteer groups and university departments, organisations and members of the public will have the chance to become involved in Tate's creative process.'
Tate Modern, one of the most important and influential modern art galleries in the world, is expressing its commitment to public engagement by inviting people to complain. In the echoey space, plastered with Guerrilla Girls' agitprop posters, members of the public are invited to sit at a table filled with coloured paper and pens, scribble out their complaints and pin them to one of the boards around the room. After a couple of days, the boards were full of complaints about everything from elitist art collectors to low wages for cleaners, from the lack of affordable housing to the misuse of the apostrophe. The boards created a silent, confused, colourful cacophony of grumbling.
Are we supposed to take this seriously? I would say so. The Guerrilla Girls, an activist collective of female artists based in New York, has been complaining for over 30 years. Always wearing gorilla (geddit?) masks in public, because it wants be anonymous and to deliver its complaints with a disarming sense of humour, the group seeks to expose persistent 'discrimination' – by which it means a lack of representation – in galleries in relation to women and minorities. Now the Guerrilla Girls' complaining modus operandi is being embraced by art museums internationally.
The Guerrilla Girls' approach is particularly galling because each member assumes the name of a great female artist, such as Freda Kahlo and Kathe Kollwitz. Both of these women suffered deeply in their lives – a fact trivialised by the Guerrilla Girls' appropriation of their names to complain about a lack of representation in art galleries.
Since Robert Hughes wrote his book over 20 years ago, the culture of complaint has become ever more prevalent. Complaining has become an art form and a way of life. Much of contemporary art (as represented on the other floors of Tate Modern's new extension) is a complaint about greedy corporations and the inhumanity men show to men – or, more often, to women. And it invites us to join in. Tate Exchange touts itself as 'a space for everyone to collaborate, test ideas and discover new perspectives on life, through art'. That is, it's a space for complaining.
The corrosive effect of turning complaining into an artistic endeavour is becoming clear. A recent fracas in the US, at the St Louis Contemporary Art Museum, is a case in point. The first solo exhibition of artist Kelley Walker's work faced a barrage of complaints from the local black community due to his decision to use magazine photographs of black people in some of his artworks.
Ironically, Walker's artistic intent was entirely in-keeping with modern, worthy tastes: he wanted to highlight (that is, complain about) the distorted representations of black people in the media. The problem is (complaint one) he is a white male, and (complaint two) he used and disfigured the photographs without getting 'permission' from the black community. Furthermore (complaint three), the exhibition took place in a city where racial tensions are very high. How insensitive.
Walker has been forced to apologise and the curator has resigned under the pressure of complaints. This is just another nail in the coffin of free artistic expression. As more and more complaints are made, the world of art becomes gridlocked and paralysed, caught up in, and incapacitated by, increasingly convoluted bickering about cultural identity and who is authorised to do what. The Tate should have no part in it.
To enquire about republishing spiked's content, a right to reply or to request a correction, please contact the managing editor, Viv Regan.