Me Before You: an infomercial for assisted suicide
Dodge this romantic drama with a depressing pay-off.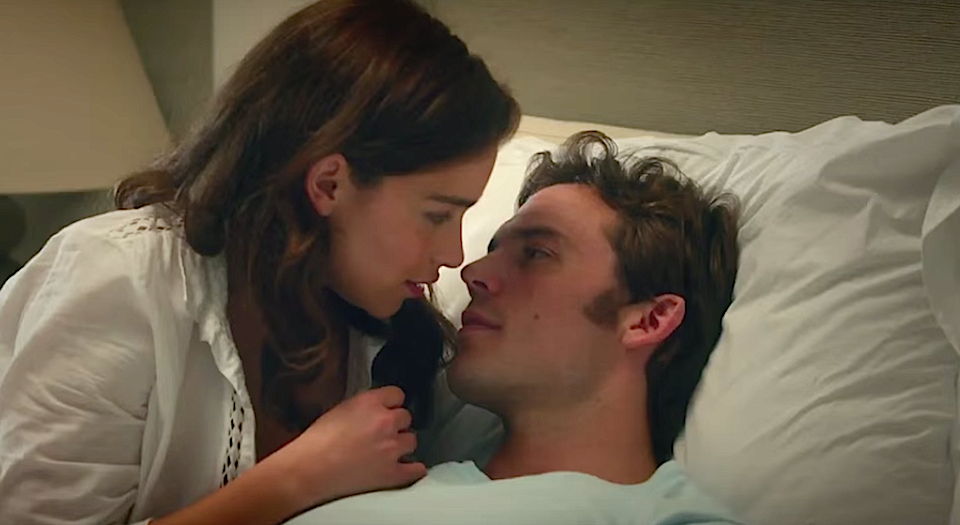 Why do we celebrate (and in some places, actively assist) what can only rationally be regarded as a self-centred and cowardly decision to destroy oneself?
The film Me Before You, released last Friday, would have been a fairly standard romantic weepie, except for — SPOILER ALERT — its inclusion of suicide. Will Traynor, a ridiculously rich, successful and stupidly handsome fellow, has an accident that renders him quadriplegic. His mother hires a companion — an annoyingly ditzy, wacky with a capital W, working-class girl, for whom Will would ordinarily be strictly out of bounds — who manages to cheer Will up and, lo, they fall in love. Then Will kills himself. At a Dignitas clinic. Because apparently he is a determined guy. He leaves her some money.
At one level, of course, the film is artistic expression (I use the word artistic loosely), absolutely free to say whatever it wants. Yet the film is not only bad art; it's also propaganda for the so-called right to die. The author of the novel on which the film is based (and the script), Jo Jo Moyes, continues to protest that it is only about an individual, and that it is not 'by any means' sending out a message. But, in the same breath, she insists that 'unless you put yourself in somebody's shoes, I think you shouldn't judge their action', and says this is about 'autonomy and choice'.
The sophomoric presentation of the issue at the heart of the film might have been lifted from a GCSE Ethics and Philosophy textbook on the case for the right to die. The family is upset about Will's decision. Mother tearfully resists and tells him to wait; father is grimly resigned because it's Will's decision and he must be able to make it. Girlfriend tearfully upset but finally accepting. All accept his decision and are at Will's deathbed at Dignitas's beautiful Swiss chalet (in reality, it is a grim house in a Swiss industrial park).
The protests by disabled people outside cinemas showing Me Before You are completely understandable. Will's rejection of his life, his refusal to live hampered by disability, is a direct insult to those who do so every day. The film presents Will as determined and courageous, belying the fact that disabled people struggle and suffer with lives beset by disabilities, choosing to live. Which is more courageous — to die, to be defeated by one's disabilities, to bail out; or to continue suffering and battling past whatever barriers are put in the way, to continue to live?
No one seems to know any more. This is why this same plotline features in so many TV and filmic dramas. Real suicides are usually tragic, often sordid and always awful. But suicide as a plot device allows the author to weigh the value of continued existence against the ends that the character killing him or herself seeks.
What is weighed up in these modern dramas about assisted suicide? On one scale, Will's life is mere existence, increasingly meaningless, adrift, dependent on others, helpless, pointless, isolated, and devoid of any pleasure. On the other scale are the last vestiges of his social existence, his being as a son, lover, and friend. Me Before You is the opposite of life-affirming; it reassures the audience that giving up is okay. It's the equivalent of George Bailey jumping into the icy waters and everyone standing around saying 'Yeah, nice one, mate', somewhat changing the end of It's a Wonderful Life.
Such a view perverts the relationship between the individual and his community and indicates the erosion of a general moral sense of right and wrong. Paradoxically, suicide must be an option if a community is to be made up of free individuals, but the community has an interest in preventing the purposeful destruction of any of its members, no matter that the killer and victim are one and the same. Contra Moyes' sentiments, we must judge whether the taking of a life is understandable in the circumstances, whether it is praiseworthy or blameworthy. But it is a good general rule that killing — even oneself — is wrong.
These dramas highlight the fact that no one seems sure that human existence is worth it. Few seem confident enough to assert moral rules; there is no more right and wrong, only 'right for you' and 'right for me'.
In the end, films like this tap into the anxiety and uncertainty that many feel about the future. What if I was paralysed? Would I want to die? Moyes mentioned that she was inspired to write the book after hearing about the case of Daniel James, the paralysed rugby player who killed himself at Dignitas a few years ago.
More inspiring but less well-known is the example of Matt Hampson, who was paralysed from the neck down 11 years ago. He told his father that the injury would make him a better person. Matt didn't believe that himself at first, but said last year that he is beginning to believe it after launching the Matt Hampson Foundation, which helps people with life-altering injuries.
Instead of paying money to see a mediocre infomercial for the right to die, why not donate that money to the Matt Hampson Foundation instead?
Kevin Yuill teaches American studies at the University of Sunderland. His latest book, Assisted Suicide: The Liberal, Humanist Case Against Legalisation, is published by Palgrave Macmillan. (Buy this book from Amazon (UK).)
Watch the trailer for Me Before You:

To enquire about republishing spiked's content, a right to reply or to request a correction, please contact the managing editor, Viv Regan.