'Women are being jailed for having abortions'
Ella Whelan discusses abortion and freedom with American pro-choicers.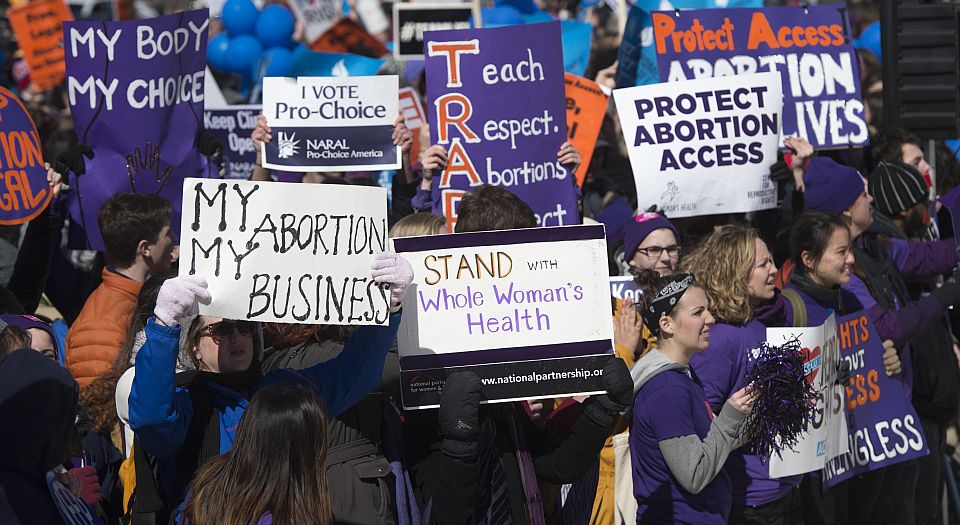 The US is obsessed with abortion – or so it would seem, going by the presidential campaign. Every candidate has been asked over and over again about whether they think abortion should be legal. And, following Republican frontrunner Donald Trump's comments about punishing women who seek an abortion, the issue is still prominent in the debate between the candidates.
But is this all it seems? In Washington DC, I spoke to the president and CEO of the National Abortion Federation, Vicki Saporta, who told me that, despite the recent media frenzy, the US abortion debate is not so much a moral debate about legality as a complex battle over access. Anti-choice lobbyists and states with anti-choice governors are now trying to pass new laws aimed at choking clinics through overregulation. 'The things that are required, like how many parking spaces there are or how many janitorial closets a clinic has, and what the shrubbery looks like outside, do nothing to improve patient care – it just makes it impossible for clinics to meet the requirements', she said.
Under current law, 38 states require an abortion to be performed by a licensed physician, 18 states require an abortion to be performed in a hospital after a specified point in the pregnancy, and 18 states require the involvement of a second physician after a specified point. This all leads to the closure of clinics which have no access to ambulatory care or are too remote for a licensed physician to visit often. In addition, the Guttmacher Institute has found that '28 states require a woman seeking an abortion to wait a specified period of time, usually 24 hours, between when she receives counselling and the procedure is performed, and 14 of these states have laws that effectively require the woman make two separate trips to the clinic to obtain the procedure'. This means that access to abortion for poor women, who are unlikely to have the time or the money to make multiple trips to what are often far-flung clinics, is severely limited.
While, Saporta went on, public support for abortion remains high, anti-choice advocates are tightening access by the backdoor. 'The majority of people [in the US] do not want to see Roe v Wade overturned, but they are more accepting of these restrictions, particularly if they sound reasonable. The anti-choice groups that are advocating for these laws try to veil them in this guise of trying to protect women's health and making things safer – most people say, "well, if it could be safer, what is the harm?".' According to Saporta, the harm is clear: clinics are closing at an alarming rate as a result of these arbitrary restrictions. 'In Texas, such laws have halved the number of clinics and it will be halved again.'
In Texas the prospect for women's freedom looks particularly bleak. This is down to the introduction of the Texas House Bill 2, or HB2, which requires clinics to upgrade to surgical-grade facilities. This means that unless abortion providers obtain partnerships with local hospitals, whereby they are able to admit their patients if necessary, clinics will not be allowed to operate. If the law passes, it would shut down all but 10 abortion clinics in the state. Worse still, the bill would mean women would have to make at least two visits to a clinic for a surgical procedure, and four for a pill-based procedure. This is a nothing short of a crackdown on women's ability to access abortion services. The bill is currently being examined by the US Supreme Court.
Another key battleground is the legal status of abortion medication. When I visited the NAF office, Saporta and her colleagues were celebrating good news: the US Food and Drug Administration (FDA) had relaxed the guidelines for mifepristone, a pill used to induce abortion. The FDA reduced the dosage from 600 milligrams to 200 milligrams, thereby reducing the number of visits a woman must make to a doctor and extending the period in which she can take the medication.
But while Saporta was happy to see the change, it was a long time coming. The NAF had, she said, been issuing what is now the FDA guidance since 2000. That is, it has taken 16 years for the FDA to catch up, and this discrepancy has given politicians who are keen to limit abortion another technical excuse to do so. Even now, she said, states are using the complicated labelling system to restrict access: 'In Arizona, they just passed a law that said you have to follow a label that was in effect in December 2015 – the FDA has looked at the science and has determined that there is now a new label, and Arizona just decides to ignore that because all it wants to do is limit women's access to abortion.'
In New York, I visited Gynuity Health Projects, a research and technical-assistance organisation for reproductive health. I spoke to the president, Beverly Winikoff. She, like Saporta, thinks the biggest obstacle is access. However, she also pointed to another key blindspot in the frenzied response to Trump's comments. Women, she said, are already being jailed for having abortions outside of clinics: 'Something that is absolutely legal in a clinic is sending women to prison for 20 years because they did it in the parking lot or at home. That's crazy. If you take your appendix out at home, you're not going to go to jail – you're stupid and crazy, but you're not going to go to jail.'
This is not just happening in the US. Just last week in the UK, news broke that a woman in Northern Ireland – which is exempt from the 1967 Abortion Act – had been reported to the police by her housemates for inducing an abortion at home. She now faces a three-month suspended prison sentence. For all the outrage at Trump's comments, the criminalisation of women continues on both sides of the Atlantic.
I asked Saporta and Winikoff what they think the future holds for women's reproductive rights. Is the US regressing in its attitude to women's freedom, or is there hope on the horizon? Both were optimistic. The NAF continues to train abortion providers, offer support to women seeking abortion, and is fighting new restrictive laws on the basis that they create undue burden for women. Gynuity has launched an exciting new telemedicine project to post abortion pills to women and offer medical advice via Skype – something that will dramatically change women's access to abortion care for the better.
While there is still a long way to go before full decriminalisation in the US, Winikoff suggested it is time to be pragmatic. 'It would be nice to argue for something positive, an argument that would move our attitudes to women's reproductive rights forward. But, at the moment, all our time is taken up defending the law we already have.' Though the majority of Americans support the idea that women should have access to abortion as prescribed by existing law, underhanded and sneaky attacks on access in the name of protecting women continue.
There has been a lot of noise about abortion during this presidential campaign, but the real attacks on women's reproductive rights have been obscured. This was summed up by the outrage to Trump's comments from within the Republican Party, whose line on the issue is that doctors, not women, should be criminalised. (Of course, the result is the same – women's access to abortion is decreased.) And, while Democratic candidates Hillary Clinton and Bernie Sanders may sound off about their support for women's equality, neither has offered tangible solutions to the current attack on abortion access.
What both the US and the UK need is an honest and open debate about abortion. First up, this means realising that our laws are not as liberal as many people seem to think, and that Trump's call for criminalising women seemed, if anything, behind the times – such criminalisation is already happening.
Ella Whelan is assistant editor at spiked.
Picture by: Getty Images.
To enquire about republishing spiked's content, a right to reply or to request a correction, please contact the managing editor, Viv Regan.